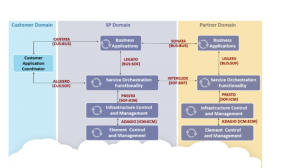 Colt Technology Services and Zeetta Networks will reveal (on 29th October 2018 at MEF18) a proof of concept demonstration of a 'blockchain-based carrier marketplace for LSO Sonata'. The PoC will demonstrate how network carriers can buy and sell network services in a secure, distributed and trusted marketplace.
If deployed, this could lower the cost of business-to-business interactions for network service providers, and increase the size and efficiency of the market.
Vassilis Seferidis, CEO of Zeetta Networks, said: "With the rise of 5G networks and the requirements for low latency and high bandwidth applications, automation of business-to-business interaction is required for the optimum utilisation and monetisation of network capabilities. This goes beyond the traditional VPN connectivity offered today by incorporating network virtualisation and slicing.
"Zeetta's patented Smart Contract technology automates the commercial transactional process, allowing carriers to trade interconnect slices and restructure and re-purpose network slices to match the exact requirements of customers and their applications."
What is the need?
Network carriers need to work closely to enable a seamless experience for customers. Yet the scale and complexity of business interactions between all the parties in a network service value chain is only increasing. To address this needs:
a secure, distributed system
watertight security to maintain business privacy and transaction integrity.
A distributed ledger, or blockchain-based solution, creates an environment within which business can securely transact along with automation to support dynamic network services and assurance. If this is in place, carriers and providers can:
execute Smart Contracts with potential business partners
do this in a private, secure environment
have all interactions encrypted and recorded in the chain
reduce complexity and costs
drive up market demand for global connectivity.
Mirko Voltolini, Head of Network on Demand at Colt Technology Services, said: "Blockchain technology is a disrupter to the slow and error-prone manual approach most traditional business processes have been run so far. Above all, it removes the need to have a trusted third party intermediary to carry out B2B transactions among multiple entities.
"Coupled with SDN it has the potential to extend automation from the network to the business, it's a revolution to the telecom market."
What is LSO Sonata?
LSO is Lifecycle Service Orchestration. LSO Sonata belongs to the family of LSO Reference Points (defined in MEF 55). It defines the management reference point supporting the management and operational interaction (for example, serviceability, ordering, billing, trouble ticketing, etc.) between two network providers (say a service provider and partner domain). The intention is for LSO Sonata to support non-control cross domain interactions between:
a service provider's business applications
a partner's business applications.
In effect, LSO Sonata connects between the BSS functions of a service provider domain and a Partner domain. In addition it connects 'east-west' in parallel to LSO Interlude.
Colt and Zeetta
Colt enables the digital transformation of businesses through an intelligent, cloud-integrated network known as the Colt IQ Network. The Colt IQ Network connects 850+ data centres across Europe, Asia and North America's largest business hubs, with over 27,000 'on-net' buildings.
Colt is an innovator and pioneer with Software Defined Networks (SDN) as well as Network Function Virtualisation (NFV). It is working with Zeetta Networks to deliver an innovative blockchain solution for network carriers.
Zeetta Networks develops fully programmable, open ICT network infrastructures made possible by the network slicing and network splicing capabilities of NetOS, a programmable network infrastructure platform. With NetOS at the heart of a network, an operator (or enterprise) can:
monitor and automate the management of their infrastructure and the services
offer users a single console, in real time and on demand.
The network splicing capability of NetOS enables a wide range of network technologies to integrate within a single network topology, including:
optical
packet
Wi-Fi
low power IoT radio protocols.
Enterprise Times: what does this mean
Though Colt and Zeetta Networks are showing only a PoC, it does detail how blockchain within network carriers can facilitate secure transmissions without compromising network security while enabling global network carriers to integrate functions. In the ever-increasing complexity of the telco world, anything which appears to make such integration more straightforward has to be welcome.
What is less clear, but may become so, is the nature of this LSO Sonata implementation. Will this be open or will it be permissioned? Most likely it will be the latter which would throw up some interesting challenges about how non-participants can 'join'.