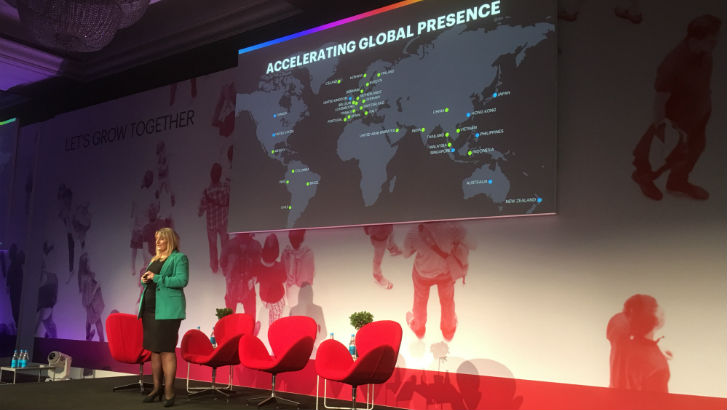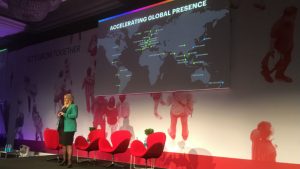 NetSuite held its largest ever UK SuiteConnect event in London yesterday. The event was packed out with around 1000 people. The main keynote was kicked off by Nicky Tozer, the new VP EMEA. She took over the reins from Mark Woodhams who has now joined BlackLine.
Enterprise Times spoke to Tozer later in the day. Her appointment is a recognition of her ability and a recognition that Oracle does not want to upset the rapid growth that NetSuite is delivering to its parent company.
NetSuite now has 15,000 customers globally across 190 countries. It has offices in 30 countries, compared to the 9 that existed prior to the acquisition. It already has more than 7,000 employees. Jim McGeever, EVP NetSuite revealed later that this would reach 8,000 by the end of Oracle's fiscal year next May. McGeever joined the company when there were 50 employees and has lived through that growth.
The NetSuite customer base is diverse but in line with the theme of the event "Lets Grow Together", it attracts fast growing companies. Tozer revealed that one third of companies that went through a IPO in the last year are NetSuite customers. While NetSuite were keen to announce their success they also talked about how they are helping customers with their own success and growth. Tozer adding "Customers are at the heart of what we do in our business"
Growth continues for NetSuite
NetSuite is investing in the enablement of customer growth. That this goes hand in hand with their own growth, of course, is a bonus. That growth is both into new industries but also into new geographies. This year NetSuite is investing in localisation for several countries in EMEA. It includes the Benelux countries, France, Germany, the Nordic countries, Portugal, Spain, Italy and UAE. This includes support for local languages and also support for local tax rules and reporting.
Tozer added that NetSuite has rapidly expanded its partner network. It now has around 100 partners across EMEA. Additionally, it now has offices across Europe to support those partners and customers. These are not just sales offices but also contain solution and implementation consultants. Europe also benefits from a new data centre in Frankfurt. This is vital if it is to attack the DACH market and especially Germany.
Further data centres are planned to support NetSuite's expansion in China, Chicago, Japan and Australia. This mirrors the Oracle data centre expansion and more are likely to follow
Tempering growth to make it sustainable
This expansion is funded by Oracle. If anything Mark Hurd wants NetSuite to grow faster.  In McGeever NetSuite has a leader who is resisting the temptation to invest in unsustainable growth. Goldberg has also limited the growth of the development function to 30% according to McGeever. This explains why NetSuite continues to churn out significant updates but they are not attacking every vertical.
The reasoning behind this is sound, it takes time to onboard and mentor new hires. If NetSuite were spending all their time doing that, very little would be produced over several months. There are problems with rapid growth and McGeever is also aiming to maintain as much of the NetSuite culture as he can. He added: "I like to take advantage of Oracle scale. I try to avoid the disadvantages of Oracle scale."
SuiteSuccess enables growth
Key to the growth of both NetSuite and its Customers is SuiteSuccess. This is the package of best practices and McGeever has championed since its inception. It enables rapid deployment of NetSuite and then looks to provide tools to support customers through their cloud journey. This allows them to take advantage of the cloud ERP solution to enable and support the business as it grows.
It is an additional service but on direct NetSuite sales, there is a 95% take up. The challenge for Tozer is to get partners to support it too, at the moment the take is much less, despite the training for partners to support SuiteSuccess being free.
Tozer announced that more SuiteSuccess applications would be rolled out across Europe.
Manufacturing, is now available in the UK and Ireland.
FinancialsFirst, already available in the UK, is now available in Finland, France, Germany, Netherlands and Sweden.
Starter, a SuiteSuccess solution for small but rapidly growing companies and already available in UK and Ireland is now available to Denmark and Sweden.
In total there are 53 SuiteSuccess packages spread across 10 industries. Not all are available in Europe. Some of these address micro verticals and some have been developed to support multinational, multi subsidiary companies such as Google and PE firms as they roll out NetSuite to their investments.
Customers grow faster with NetSuite
McGeever brought out some impressive statistics that were shown at SuiteWorld. They indicate that on average NetSuite customers grow 19% faster. NetSuite Oneworld (multi national customers) that also adopt SuiteCommerce grow at 44%. It is still early days for SuiteSuccess but it will be interesting to see whether NetSuite reveals the growth percentage for SuiteSuccess customers.
McGeever also pointed out the SuiteSuccess is not the cause of the growth. He commented: "We think our job is to enable you to grow, we want you to be the hero of your growth" In doing so he demonstrated a reluctance to overhype the product and also demonstrate that companies need to make their own decisions on their growth ultimately.
"We deliver the operational experience… I want to make NetSuite the easiest to consume financial management application on the planet."
Thought Leadership
Another way that NetSuite is helping customers grow is through their media channel GrowWire. This is not a typical vendor microsite. It contains a range of articles across different industries businesses though. Content is created from both NetSuite and independent thought leader and include video and podcasts.
The content aims to help organisations deliver growth and typical articles include "3 Lessons in Humble Leadership from Four-Star General Stanley McChrystal", 6 Key Metrics Every Food And Beverage Company Should Track and Looking to Raise Money for Your Startup? Here's Some Advice.
The keynote continued with an inspirational, amusing and insightful speech by Richard Reed. Reed is co-founder of Innocent and now co-Founder of Venture Capital and PE firm JamJar Investments. (Read more about his speech in this article by Roy Edwards: Eight secret ingredients for success).
What does this mean
There was a vibrancy and excitement at SuiteConnect that is not always felt at vendor events. There are five things that we learnt or confirmed at this event.
It is continuing to rapidly grow but at what appears to be a sustainable pace.
Oracle is leaving it alone, but continues to invest heavily in the company. One might argue that Oracle NetSuite will outpace Oracle Fusion.
It is still managing to maintain much of its culture for the time being.
It is having more impact on Oracle than any other acquisition that Oracle has done previously.
SuiteSuccess will become a model that other SaaS vendors, if they aren't already should replicate for their own products and customers.
Importantly NetSuite will continue to expand geographically. as they add industry verticals there will be few ERP deals that they not in the mix for.