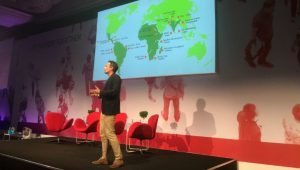 Richard Reed closed the keynote at the Oracle NetSuite's SuiteConnect event in London. Starting from a market stall, Reed set up Innocent Drinks with two friends. A smoothie and drinks company that now produces more than a million smoothies a day and sells in 17 countries across Europe.
Innocent Drinks started life in 1999, after selling smoothies at a music festival. Reed and friends put up a big sign asking people if they thought they should give up their jobs to make smoothies, and put a bin saying 'Yes' and a bin saying 'No" in front of the stall. People voted with their empties. At the end of the weekend, the 'Yes' bin was full, so they resigned from their jobs the next day and got cracking.
Innocent Drinks was sold to Coca-Cola in 2013. Reed is also co-founder of JamJar Investments, an early investor in Deliveroo (coincidentally an Oracle NetSuite customer.)
Reed shared his journey at Innocent Drinks in an entertaining and interesting presentation. He discussed the company's ethics and business culture.
The eight things Reed found to be true:
Stay focused on the business remained the underlying philosophy of the company. As neatly summarised by Reed, 'Keeping the main thing, the main thing.'
Attract and retain the best people. Individuals who are motivated to go the extra distance. People with the skills and talents that will contribute to the business. Reed stressed the importance of zero tolerance for employees that don't live the company values.  As Dan Walker, Head of Talent at Apple once suggested, "I'd rather have a hole, than an arsehole."
Remain entrepreneurial. Do not become paralysed by perfection. Empower your employees to take risk. "If you're 70% sure, then go for it." He cited the example of the "big knit", an employee idea where knitted hats would be sold with Innocent drinks and the company would donate 25p to Age UK. Reed thought the idea was mad originally, did not believe the employee would get the hats knittted by volunteers. However since 2003 7.5 million hats have been knitted by those volunteers and raised more than £2.5 for the charity.
Start small, think big. Innocents Drinks started life as stalls at music festivals and has since become a multi-million pounds business. The big knit is an example of this, it started with 1000 hats.
Chase beauty. Business need to have an unrelentless commitment to detail. It's important to allow creatives to emphasise design. To maximise the smell, the look or the taste – the right-hand side of the brain. As Reed suggested, 'Celebrate the quest to make the best version.'
Be ethical. Reed noted that business has a massive impact on the world. But that impact was not always positive. He was determined that Innocent Drinks would have high ethical values. All drink products are made from 100% natural ingredients, sourced ethically. Used sustainable packaging in a resource efficient business. The company donates 10% of profits to charities and good causes every year. The company was proud that 97% of people say they are proud to work for Innocent.
Read, listen ask and steal. Feel to use ideas from any sources. Innocent have sought inspiration from a wide range of sources e.g. The film, Dumb and Dumber inspired the company's delivery van made from grass.
Listen up. Reed emphasised the need for businesses to genuinely listen to customers, suppliers and partners.  Good communications with customers can keep businesses honest and focussed on the needs of customers. Thereby hopefully avoiding corporate mistakes.
Reed's presentation provided an honest and invaluable insight of Innocent's evolvement from start up to major international entity. He provided plenty of food for thought of the tangible and intangible ingredients, that helped ensure business success.