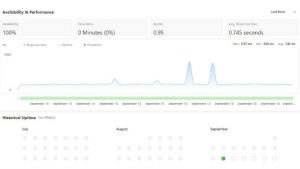 Freshworks has launched Freshping a free website monitoring service. The new product is based on Insping a company it acquired in February 2018. At its basic level Freshping does more than other up time services such as UptimeRobot. Freshping stores 6 months of historical data and pings every minute compared to UptimeRobots 2 months and every five minutes. It allows 5 integrations to other applications.
The premium account starts at $42 per month and allows up to 250 checks, 100 users and 36 months of data. It also adds global latency monitoring, alert flood protection and extra false alert protection. The latter two are not explained in great detail.
What do you get?
The fresh services allows the user to create up to 50 different checks. These include:
HTTP/HTTPS
ICMP Ping
TCP (Port check)
UDP
Web Socket
DNS
The solution also integrates to Freshdesk, Freshservice, Webhook, Slack and Twilio. It allows up to 30 users on the same account. This makes it suitable for small IT departments or businesses who only want to set up a single monitoring account. It also allows the check to test from ten different locations. Currently these are:
US East (N Virginia)
US West (Oregon)
Asia Pacific (Mumbai)
Asia Pacific (Tokyo)
Canada (Central)
Asia Pacific (Singapore)
Asia Pacific (Sydney)
EU (Ireland)
EU (London)
S America (San Paolo)
Users can set a latency threshold figure, useful for multinational companies checking response time from different regions.
Girish Mathrubootham, Co-founder and CEO of Freshworks commented: "Service uptime is one of the most critical elements in achieving customer satisfaction, whether it is for internal or customer-facing systems.
"Freshping's integration with Freshservice and Freshdesk empowers IT to provide proactive support for mission critical systems with real-time alerts and smart workflow routing when downtime occurs. SLAs can now be fulfilled much more easily and faster with the combined solution."
Why free?
Offering a tool free of charge is unusual, especially as Freshworks will have spent money on the acquisition of Insping. However, the strength of Freshping is the integration to the Freshworks products that are not free and what it can add to those applications. Mathrubootham added: "We wanted to build a simple-to-use and reliable website monitoring tool for our internal needs. Insping was already being used by over 3000 SMBs and had reported close to a million downtime incidents with near perfect accuracy."
"As we became more accustomed to using Insping, we built integrations with existing Freshworks products. This changed the way we looked at monitoring our own websites and we saw real value in bringing that technology to SMBs. We wanted to give back to the community and decided to make it free forever."
With Freshdesk, Freshping alerts will automatically create tickets after a down incident. Freshdesk can then initiate the further alerting that is necessary depending upon the nature of the down alert. With Freshservice, public facing servers and hardware downtimes are reported as incidents. This allows IT teams to complete incident management and capture downtimes accurately for SLA reporting and asset monitoring.
What does this mean
The free service that Freshping is offering is impressive. It delivers a service that many will find very useful without the necessity for any additional software. For Freshworks users it integrates seamlessly with their existing applications and they will no doubt switch across to the free service.
For companies looking for a premium service, for the price $42 per month it does not seem to add a huge amount. A factor of five increase in terms of monitoring seems negligible and IT Teams will want to see better configuration options before they start to invest that amount in a tool. A comparable network monitoring tool such as Pingdom from Solarwinds does far more for only $9.95 per month.