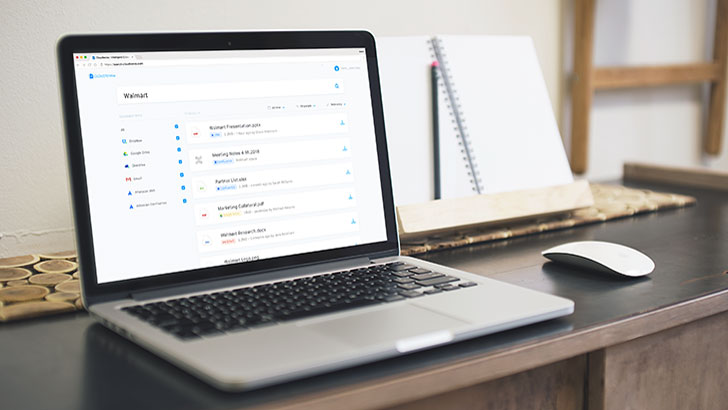 Cloudtenna is the latest company to jump into the enterprise file search market. It has launched the public beta of its solution called DirectSearch. This announcement is seen as Cloudtenna coming out of stealth mode. It boasts a leadership group with a lot of experience in file management, including the cloud. The company has also secured $4 million in seed funding.
Enterprise Times caught up with Aaron Ganek, CEO, Cloudtenna in San Francisco prior to the launch to understand what Cloudtenna is bringing to the market.
The enterprise file search space is a crowded market. The arrival of PC-based networks in the 1980's heralded users asking: "where is my file?" This has led to a booming industry in tracking down data across the enterprise. IDC estimates that for a company of 1000+ users, between $3 million and $6 million is wasted per year searching for files.
The challenge today is that files are not all stored on company storage devices. Many exist solely on end-users devices, in email, cloud services (some officially sanctioned and others not). Being able to locate a file is not just about reducing user frustration. There are also strong compliance and security reasons for knowing where a file is stored.
To search across all these locations means users having to work with a mishmash of tools. Aaron Ganek, CEO, Cloudtenna says that: "In a given day, employees use 8-10 different tools."
What is Cloudtenna DirectSearch?
The problem with many existing file search and discovery tools is that they are repository focused. This leaves users with multiple repositories to search when they are looking for files. Ganek says that this means they are good for historical reporting but poor when it comes to productivity. One of the reasons for this is the way that they search for and index files.
To get around this, DirectSearch cataloguing file activity. It means that changes are immediately logged so that users see differences in real-time, not the next time the file system is indexed.
The beta product has seven connectors to different systems with Ganek confirming that Cloudtenna will add up to 26 in the first year. He also promised that Cloudtenna would continue to maintain the connectors. The connector framework is one of the things that has taken time to resolve.
This use of a connector framework and APIs means that DirectSearch can be pointed at a wide variety of sources. This includes operating systems, enterprise software repositories, cloud-based systems and, in the future, even local devices.
More than just file indexing
Another difference is that DirectSearch looks at more than just the file names and content. It uses file metadata, does full-text indexing and logs user activity. Cataloguing the metadata opens up some interesting possibilities for DirectSearch. For example, it is able to grab the access control lists (ACL) for each file.
This means that it knows who is allowed to access and search a file. One of the tools used to deal with this is Spark. Cloudtenna uses Spark in its own cloud environment to explode the file tree for each user. In doing so it can deliver a highly personalised search.
Many file search and discovery tools list all results from across the enterprise. Only when the user attempts to open them do they get access denied. Rather than create result lists with irrelevant data, the user sees just what they can access. The result of a personalised search is that Ganek claims DirectSearch will have results in 400-600ms.
Improving file security and compliance auditing
For many organisations, the increased attentions of regulators means that they need to act urgently. When a breach occurs, one of the biggest problems is knowing what was accessed. Ganek believes that the user activity logging component in DirectSearch can provide a quick answer to this problem.
As DirectSearch understands ACLs and is doing user activity monitoring, it can see, by user, what has been accessed and when. It can also see when new data has been added to a system. In the case of a breach, the attention is almost exclusively on what has been accessed not what has been left behind. The latter is where hackers often leave malware that will allow them access to a system at a later date.
Changing ACLs and granting new users permission to access file libraries is an unreported data breach problem. It often occurs in collaborative environments where users share data with other people, often external to the company, who would otherwise not have permission to access the files. DirectSearch can now provide administrators with a view on what each user is doing.
This approach should dovetail into the user behaviour tools that organisations are using for cyber security. It will spot both malicious insiders and show when a user has potentially had their security credentials compromised and used.
What does this mean
Solving the problem of enterprise search and discovery is still more art than science. However, One of the big problems for Cloudtenna will be proving that DirectSearch can work at scale. Dealing with this problem inside SMEs is difficult but the scale of enterprise file storage and spread of systems is why most solutions fail.
Ganek, as befits someone launching a new company, believes that DirectSearch is capable of scaling to any size of organisation. Only time will tell if he is right.
It will be interesting to see how long Cloudtenna keeps DirectSearch in beta. Long betas are a thing of the past but much will depend on early customer demand for new connectors. Cloudtenna will also want to monitor those organisations who are seeking to use DirectSearch at scale to see what improvements they can find.
One area that will be of special concern will be the use of Spark to explode the ACLs. This is being done on Cloudtenna's own cloud infrastructure. As customers ramp up their use, Cloudtenna could end up having to expand their own resources to deal with Spark.
Bryan Pham, CTO, Cloudtenna said: "Today's workers are using literally dozens of file repositories, which has become a critical problem not only for individual productivity but for corporate IT departments and for vendors of platforms that would benefit from improved search functions. There are incomplete point solutions that partially solve a piece of the puzzle, but DirectSearch will revolutionize the way people find and work with files day in and day out."
If everything goes well with the beta, Cloudtenna could be the start point for a new generation of enterprise search and discovery tools.