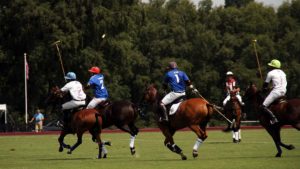 Oracle has announced that it is leveraging its AI capabilities to deliver a better consumer experience to attendees of Heineken Urban Polo.
Heineken Urban Polo is a series of events in New Zealand cities that combines polo, fine cuisine and music. The Oracle Intelligent Bot will answer questions about the event through a Facebook interface. It enables attendees to ask questions about how to get there, where the bar is, what times the matches start, when the pony parade is on, rules of the game, details of players, which DJs are playing and when. As more people interact with the bot it will apply machine learning to improve its answers about the various subjects.
Simon Wilson, Director, Heineken Urban Polo, said, "The chatbot's been a really powerful tool for us, helping enhance the consumer experience and attaining a 'closeness' and personal means of contacting our consumers and followers.
"In short it enables attendees to get all the information they want, when they want – in a way that is very familiar to them – through the messaging tools they're already using. The information is not pushed or promoted to them enhancing the personal experience; anything that makes the customer feel like we care is really powerful."
The solution was implemented in only four weeks by Oracle Gold partner Friday Solutions and digital media content experts Eyemagnet. With the Urban Polo events due to extend to Singapore the bot will gain a wider airing in 2019.
What does this mean
Duncan Richards, Digital Specialist, Oracle Australia and New Zealand, commented: "The future of events is digital. No one wants a programme any more. Even asking attendees to download an app for just one event is intrusive. This is a way for organisers to get really close to their customers, engage with them and improve the consumer experience. There is so much potential for more. Right now it is conversation, and the ability to pull in other digital content like maps or video, but next year it could be incorporating VR, with attendees getting to participate in the polo match."
Polo is known as the sport of kings and isn't accessible to everyone. There are many other sports that could leverage this technology. Events such as the Olympics may provide a sterner test to the AI engine. However, there are several sports where the audience might seek more information about the event and participants. This is a practical application of chatbots that could become general usage within a few years. The days of printed event programmes are numbered.