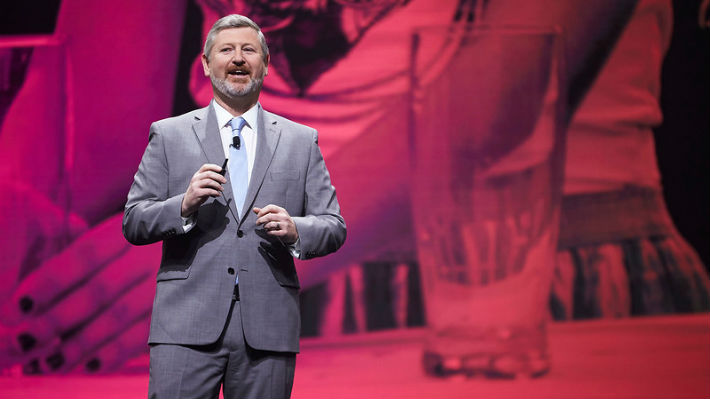 If NetSuite has changed since its acquisition by Oracle, the slightly mad extravaganza of noise and activity that commenced Suiteworld 2018 was the same dramatic beginning as others if much shorter. Jim McGeever, EVP NetSuite Global Business Unit began with the words: "and some thought Oracle was going to change us."
The same non-Oracle tongue in cheek humour continued with some not so subtle digs at both SAP and Microsoft on the safe harbour slide. It may have followed the Oracle process, but it was done in the NetSuite way. In fact NetSuite has changed, McGeever said: "We are no longer focused on billings we are focused on customer satisfaction." That focus is also on growth financed by the investment that Oracle is making in the company.
That investment will almost certainly continue with Mark Hurd later commenting in a video link that: "I think that the acquisition if we'd described it has gone exactly as we'd have described it. We bought NetSuite to grow NetSuite…we are simply ecstatic about the performance."
McGeever revealed that the last 18 months has been the most successful in NetSuite's history. It has had one of its highest customer retention rates in Q3, employee retention is one of the best in its history, customer satisfaction improved, the gained the most new customers and had its fastest revenue growth.
It has also invested in its product. While most of the information will be delivered by Evan Goldberg during the Wednesday keynote McGeever shared some highlights of product announcements. Some of the news was also made available in press releases
Ready, set, watch GROW WIRE
One of the new innovations that marketing is launching is GROW WIRE. This is a platform that will host content that business leaders can turn to if they want information on how to grow their companies and how others have leveraged NetSuite. It is not, McGeever insisted, a portal for product information. Instead it will be made up of 6 distinct types of content.
Website: At the heart of it is a website that will act as a platform for the content
Growlab: An area where customer stories and articles on how companies have grown
Podcast: Podcasts for people to listen to
TV: A TV station, the first program will be shown during the Thursday keynote. It isn't clear whether this is on demand or constantly streaming, the former is more likely
Community: A forum for people to share insights and ask questions.
The intent, one assumes is for NetSuite to better engage with its customer base.
NetSuite will reveal more on Thursday and there are several questions around the site that they will need to answer. It will be open to both customers, prospects and others, though it is not clear whether registration is required.
It hopes that the new community will help customers grow as they share their experiences, challenges and insights.  In some ways the easy part is creating content for the site, getting the users to participate is tougher. McGeever also shared his principles for growth.
Ready, set, grow internationally
Last year NetSuite made investments to grow their footprint outside the US. This year that growth continues with more investment in EMEA, APAC and LATAM. In Asia, China is its fastest growing market. This year it will be the fourth largest and in 2019 McGeever revealed it will become NetSuite's second largest market, the US retaining its position as number one.
In Asia NetSuite has added improved localisations in China and Japan and will look to grow its teams there. In Europe it will increase its sales teams from 60 at the acquisition date to 600 by the end of the year. Germany will see NetSuite increase the size of its sales teams significantly. This is a major play by NetSuite as it looks to attack the heartland of SAP.  McGeever commented that he wanted NetSuite "More German in Germany than SAP."
It will also add localisations for France, Brazil and Mexico as well. Increasing its sales teams as it looks to expand its market presence. NetSuite now has customers in 199 countries with increasingly strong localisations. This is a huge unique selling point for the vendor.  While it does face challenges from vendors in verticals and local markets there is none that can support a multinational company in the same way that NetSuite does in a single instance of the software in the mid market.
Ready, Set, Grow the product
While Evan Goldbergs keynote on Wednesday will provide some detail behind the product improvements, McGeever flagged several important ones. NetSuite also announced the release of version 18.2. This has several feature enhancements around finance. It includes SuiteTax, a module that enables multiple indirect tax within a single subsidiary
Suite Commerce Advanced (SCA) has improved. New features include administration controls and templates that users can use to deploy the solution rapidly. There is now a SuiteSuccess for SCA and NetSuite has committed to implement the first 1,000 customers free of charge. What this means is that NetSuite will help customers through the process. For those with data preparation issues beyond several examples the customer will need to find the resource to do it themselves. McGeever was unwilling to put a monetary value against the offer in a later Q&A session.
SuiteSuccess has been extended to include new 14 editions. It has also been updated so that HCM elements are now include in the ladder to success at every stage beyond the first. There are also new features to support microverticals such as health and beauty, food and beverage and emerging retailer.
SuiteAnalytics has also launched. This is NetSuite's first foray into machine learning and AI and, in typical Goldberg style, it seems a pragmatic approach at first glance. NetSuite are not over promising but delivering augmented intelligence at different points in their applications where they believe customers most need it. Not only does it flag outliers but also suggests a better course of action, letting the user be the final arbiter. McGeever described it as delivering "intelligent insight within NetSuite."
What does it mean
NetSuite is expanding fast. Mcgeever believes that he can sustain that growth and the culture through retaining long serving leadership in EMEA and APAc in addition to making sure that new hires are led by those who have lived and breathed NetSuite for a while. While this will help it may not be the only action that NetSuite needs to undertake in the coming months.
Only once the dust settled has on SuiteWorld and the partners and customers have started to realise the changes that are coming and the opportunities that they bring, will this years event be measured. NetSuite has brought out two significant modules for the year ahead and will continue to localise the software.