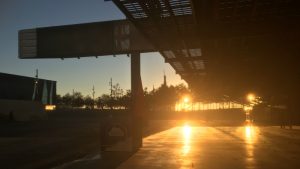 Gonzalo Benedit, president, EMEA and APJ, Workday opened Workday Rising 2017 on the first day of the event to a packed hall. The event is larger than previous years with 60% being first time attendees. This reflects the growth that Workday has had over the last year in Europe.
Eighteen months ago it had 100 customers headquartered in Europe. Now that number stands at more than double that. In country terms the number is much higher. There are more than 500 in Germany and the UK, and more than 300 in France and Netherlands. Workday itself is now a substantial operation with 1,200 employees across the region. It also has offices in 13 countries across the region with plans, according to Benedit, to open more in the coming months. He would not be drawn on where though. This is because of the (mainly) US headquartered companies with branches in those countries.
Benedit believes the company is having an impact in the continent.  His call to action was: "I believe that we can shape the future of work, we can shape the future of business."
So who are those customers?
Workday also issued an update on its recent successes across Europe. In fact it issued two of them, one for mid-market and one covering large enterprise. Surprisingly SAP SuccessFactors decided that this was also the optimum time to do so as well. In a battle of new clients, Workday comprehensively won. Workday named fifteen new customers while SuccessFactors listed only five.
In the mid-market Workday has had success in France, Germany, Norway and the UK. The organisations include:
In large enterprises Workday has had also won some new deals. These are nearly all multinational companies with operations in several countries. It announced:
SAP SuccessFactors
There are five with the Al-Futtaim Group and Palfinger AG being significant wins
What does this mean
In a canned statement Benedit said: "As finance and HR leaders continue to drive digital transformation in their organisations, large enterprise companies are increasingly turning to Workday as the trusted, proven system of choice. The combination of market-leading innovation and technology, aligned with a culture of trust and transparency, continues to drive customer momentum for Workday in Europe."
The proof was in the room. Whether SAP SuccessFactors, or indeed Oracle is having a similar level of success is hard to say. However, when Aneel Bhusri takes to the stage for the main keynote and reveals there are now 1900 attendees, that is an indication of just how far Workday has come in the last year.