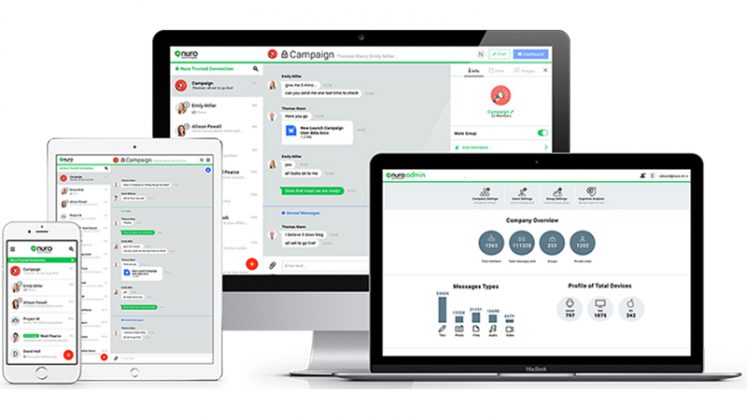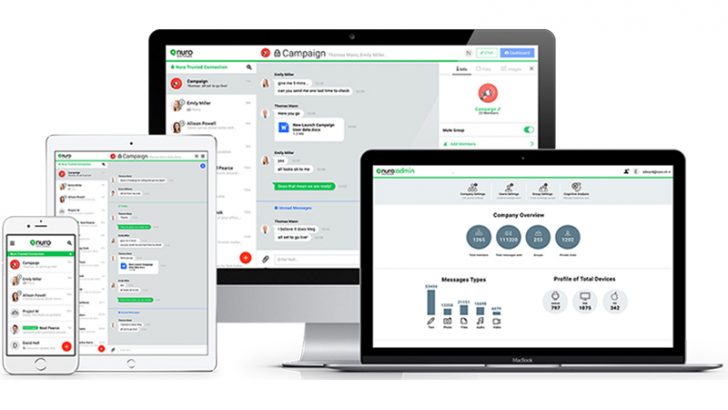 Security provider Nuro Secure Messaging Ltd has launched the next version of its messaging app. Nuro Enterprise II is targeted at securing group-messaging and collaboration platforms.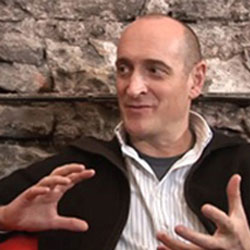 Nuro wants to replace the many of the cloud-based messaging apps that are currently used across organisations. The majority of these apps are designed for consumer not business use. Their usage is  not approved by IT and they fail to meet enterprise security standards. Users are sending and storing increasing amounts of sensitive data with these apps. Security provider Skyhigh Networks says that 28.2% of files shared by users are with business partners and 9.2% contain highly sensitive data.
According to J R Smith, co-founder and executive chairman of Nuro: "Our secure collaboration and group messaging solution is a fully integrated platform designed to give CEO's peace of mind by giving them security and privacy as well as full ownership and manageability over the immense amount of messages, data and classified information that is exchanged inside and outside their organizations each and every day."
What is Nuro Enterprise II delivering?
There are three areas in which Nuro is announcing new capabilities with Nuro Enterprise II. These are enterprise, IT administration and customer focused benefits. Some of the key features across those areas are:
Enterprise Benefits
Safeguarding privacy: The use of a secure encrypted channel for every session removes the threat of interception. Only those involved in the chat or group can access the data in clear. All data sent through the app, including document and images, is stored within Nuro not on external servers
Preventing data Leakage: Nuro encrypts all data
Compliance ready: A centralised database holds record of all conversations allowing compliance officers to audit everything
IT Administration Benefits
Flexible deployment: Nuro can be delivered both on-premises and via the cloud as a Software as a Service (SaaS) app. This enables customers in highly sensitive environments to keep control of their data
Centralized management: A single dashboard makes it easy for IT operators to manage all users irrespective of whether they are internal users or partners
Customer Benefits
Simple to use: Users can download Nuro Enterprise II from the Apple Store or Google Play
Enhanced productivity: A common chat platform speeds up familiarity for users. They also gain the benefit of knowing conversations are secure and private
Internal and external use: Nuro can be used both inside and outside the enterprise. This provides a secure mechanism for talking to suppliers and customers. Especially important when dealing with support issues or collaborating on new products
Cognitive computing support via IBM Watson
Nuro is using IBM Watson APIs for security and to detect risk inside chats and group messaging. This is an interesting move as it enables Nuro to apply a set of specialised analytics to conversations. IBM announced at InterConnect in February 2016 it was adding Emotion APIs to Watson. This has the potential to do real-time scanning of video, audio and text to identify behaviours in conversations. Nuro has not yet committed to taking this API on but it does have a security potential.
There are other challenges here for Nuro. To understand relationships between words and phrases it is necessary to teach Watson. This doesn't just happen once, it has to happen in every language that Watson is to analyse. This will put some pressure on Nuro. Customer want multi-language solutions but they don't want false positives that will raise questions over trust.
Nuro sends data to IBM Watson instances hosted by IBM SoftLayer. This will change as IBM makes it easier for customers to deploy Watson on their own servers. Nuro has said it will release its code to those customers who do install Watson locally. Nuro is also looking to deploy Watson on its own server farm to keep greater control over the data.
Conclusion
Nuro is closing a major security gap with Nuro Enterprise II. Taking control of the different communication channels in use across an enterprise is difficult. Users are bringing their own collaboration and chat applications into the enterprise creating major security risks. As a result, any application that can improve the protection of data will get a favourable reception by security teams.
The challenge for them will be the attitude of governments to encryption in applications. Nuro has yet to make it possible for customers to Bring Your Own Key (BYOK) in terms of encryption. This is something that enterprise security teams are beginning to ask for.