Barclays Bank announces the launch of Barclays iPortal, its first biometric banking solution for business customers.
Online and mobile banking is now the norm for business and consumers. As such, banks have had to adjust to new ways to ensure that transactions are secure and that there is no risk of fraud. For some time now banks have been offering anti-virus and anti-malware software to their customers along with card readers that authenticate the customer before a transaction.
Michael Mueller, Head of Cash Management at Barclays commented: "Traditionally online banking systems have not always made life easy for businesses. Corporate banking solutions that bridge existing products produce disparate, complex and outdated systems that require multiple logins on a variety of platforms, making banking a time-consuming and disjointed process. With iPortal, we are changing all that."
iPortal raising the bar
Barclays iPortal is a whole new product built from the ground up. This is good news for Barclays customers as it means that there has been significant attention given to security, user interface and more importantly the user experience.
One of the key targets that Barclays set itself was to raise the bar in terms of security. Customers will be issued with the Barclays Biometric Reader which will use their fingerprints as part of a multi-factor authentication process. There are, of course, concerns about the use of biometric devices as several black hat and other conferences have sought to debunk myths around them.
To avoid this, Barclays is using the Hitachi's Finger Vein Authentication Technology (VeinID). Unlike early generations of fingerprint scanners, the Hitachi technology cannot be fooled by a fingerprint attached to a hot sausage, a finger that has been cut off or where the user is not alive. As macabre as this sounds, these are all security cases that have to be considered in order for the technology to be considered secure.
Whenever a customer makes a payment or when confirmation of a transaction is required the device's infrared lights scan the blood flow in a user's finger. More secure than a fingerprint, the solution eliminates the need to remember PIN and passwords.
Not quite portable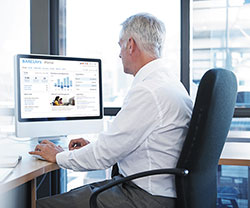 The first version is designed around those customers using desktops and laptops as the Hitachi reader is a USB device. In November Barclays will launch their web apps which will enable customers to use smartphones and tablets to connect to iPortal.
At that point they will need to change the fingerprint reader as there will be no USB connectivity and the likelihood is that they will move to a Bluetooth connected solution. What is not known at the moment is whether that solution will also be supplied by Hitachi or whether they will look at any of the other biometric readers on the market.
Conclusion
This is a good move by Barclays who have taken a year since they first announced there intention to use the technology to beta test and resolve any issues with customers. Designing iPortal from the ground up makes sense and shows a change of approach from the usual banking sector IT behaviour of building on older technology that often fails to excite customers.
While it is a shame that they are coming to market without the mobile solution immediately, we can expect to see an immediate reaction from other banks who will be keen to not be seen as falling behind.