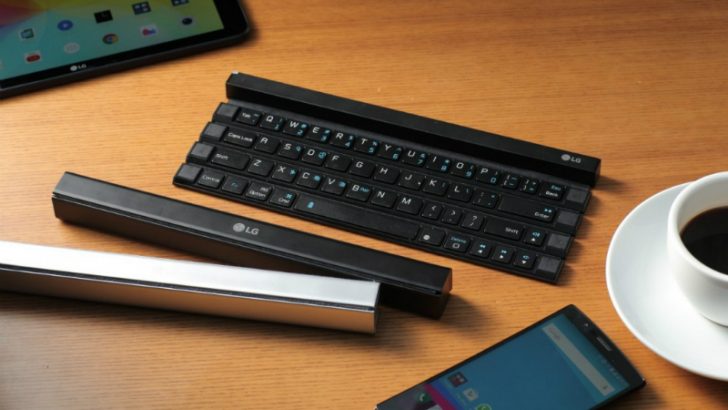 For those people who find typing on a smartphone or even tablet cumbersome LG have announced a new robust yet portable keyboard for tablets. Named the Rolly keyboard model KBB-700, the device will be unveiled in Berlin at IFA and will be LG's latest attempt to increase market share in the lucrative mobile accessories market.
Rolly Keyboard
There have been similar keyboards before, but few have matched the apparent robustness, longevity and compactness of the new Rolly Keyboard. LG have been careful with the design to maximise its similarity to a standard keyboard and have only just fallen short. The keyboard initially looks like a square baton before being unrolled revealing four rows of keys. The top row doubling up with the traditional QWRTY row with the numeric keys.
Once rolled up the keyboard can be neatly held in a pocket or briefcase and if the device becomes popular no doubt someone will produce a tablet carry case capable of holding the Rolly. Once unrolled it delivers a pitch of 17mm, which is only a single mm short of that found on many desktop keyboards.
It also feels more like a proper keyboard, built from durable polycarbonate and blacl ABS plastic it offers a tactile feedback that is missing on most of the other tablet keyboards, such as those made from silicon. The design does not end there as they have also includes two fold out arms from the baton that will hold a tablet in place as shown below. This supports tablet devices up to 10 inches in diameter.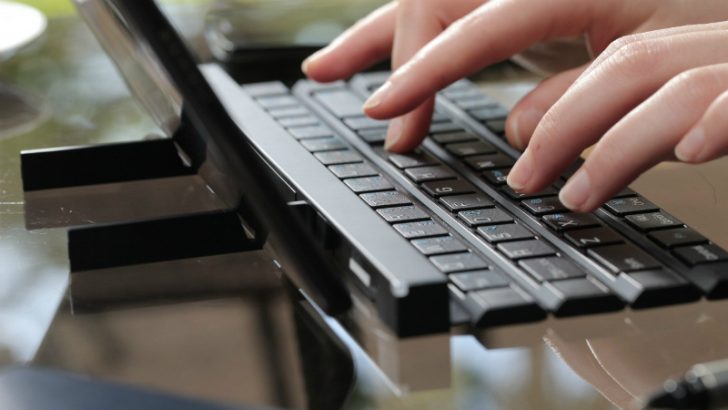 As most people carry more than a single device, LG have also thought to allow it to pair to two devices, so that it will be possible to switch between a Smart Phone and Tablet as the press of a key.  The device is powered by a single AAA battery that should last around 3 months. As the device uses the low powered Bluetooth 3.0, that time should not be reduced much with a double pairing.
Seo Young-jae, vice president in charge of Innovative Personal Devices at LG Electronics Mobile Communications Company commenting in the press release said "LG Rolly Keyboard is just one of the many premium input devices we'll be unveiling in the coming months as we expand our accessories offerings."
"The goal was to create a product that could add more value to LG smartphones and tablets at the same time offering a unique design proposition that hadn't been explored before."
Conclusion
There is no pricing available yet and while the device is being made available in the US in September its first showing is at IFA 2015 in Berlin from September 4th. The proof of the device will be once people start to use them. While there are individuals who use keyboards, their use is not yet widespread. If this device delivers on its promise though LG may find that a segment of the mobile accessories market is there for the taking.
Business users travelling between locations, especially on trains may find the option of adding a keyboard that feels nice is worth the hassle and cost. Depending upon the price it may also make a nice stocking filler for someone who does a lot of typing on their ipad or iphone..