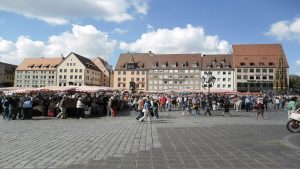 It has been a while in coming but Infor has finally launched its app marketplace. The Infor Marketplace will allow customers to find and source add-ons and micro-vertical solutions for their organisation. Partners and ISVs can request that their software be added, a huge benefit in awareness and lead generation.
In the keynote of Inforum 2022, Soma Somasundaram, Infor chief technology officer & president of products, commented: "We're actually working on a marketplace that we'll be launching very shortly. That will allow for partners to work with us to actually go deeper into micro verticals, that they really have built their business around and bring their IP, not just for the region they're serving, but for a global audience."
The new Marketplace is now live and available at https://market.infor.com. The Marketplace is built on the AppDirect platform. AppDirect powers several app marketplaces, including ADP, Vodafone and ABB. This is the first iteration of what will hopefully improve over time.
As of writing, the site has 12 applications from Infor, 14 extensions for Birst and 40 applications from third party vendors. The intent is to make it "a real-time provisioning platform, where users can conduct frictionless e-commerce."
The site contains a range of filters and searches to find the exact solution as the marketplace scales. Surprisingly it does not include all of the applications found on the existing Infor M3 marketplace created by the Infor Cloud ERP Alliance partner Leanswift Solutions Inc. Hopefully, over time, these will make an appearance. The delay may be because of the curation process that vendors must go through.
The Marketplace
Now live, and presumably crafted after the keynote was recorded, Somasundaram commented, "The launch of Infor Marketplace underscores our commitment to providing a smart, preconfigured and modern enterprise ecosystem. We expect to provide access to hundreds of solutions that have been pre-integrated with Infor software or built with Infor platform technologies.
"From partner-developed apps, which support certain niche industry parameters, to free Infor-developed content such as visualizations, extensions and reusable widgets, the Infor Marketplace is intended to showcase new and innovative solutions for our customers."
Each entry on the Marketplace provides a rich set of information about the products. There is a general overview, features, review (though few are available yet), Q&A, policies, support information, and further resources. However, it is impossible to filter entries by partner yet, nor is there a partner page available.
Current entrants will need to chivvy existing customers to create reviews on the Marketplace so that prospects can identify those solutions that are liked. There is currently no pricing information available, nor information of current or recent versions of the solutions. If Infor intends for clients to initiate the free trials and other applications on their cloud platform, there is still some work. Infor is looking to do this in the coming months with the addition of
billing
payment processing
automated provisioning.
That will be an achievement, but it will be placed ahead of many other marketplaces available.
Early views
The Marketplace is a step on a journey for Infor. One that Kevin Samuelson, CEO Infor added during the keynote, "Our expectation should be that we have certainly a core and deep expertise in our products and capabilities. But our ecosystem is going to provide us the scale and the breadth and the capability and the dimensionality to that business that we absolutely have to continue to foster and own and be accountable for helping them mature and helping us mature alongside our customers."
Some partners were also asked to comment. Visual K, which offers a Human Talent Informastion Solution on the Marketplace and is an Infor Gold partner, welcomes the announcement.
Rene Nazario, CEO of Visual K, said, "We are very excited about the new opportunities and possibilities that the Infor Marketplace can give us exposure to. In this day and age, people are used to licensing apps from an online store, so this is a major step in that direction. The setup is designed to be painless, and we are looking forward to the ability to receive feedback. This should be a win-win for all parties involved."
Antoinette Habets, VP of Acumen Group, commented, "The Marketplace can help facilitate greater awareness of existing business and technical applications that extend Infor solutions for all customers. It is designed to solve specific vertical or business requirements while increasing their ROI from the platform.
"Before the Marketplace, customers weren't always aware of the available integrated solutions that can further automate and streamline their operations. These extensions can help improve workflows, reduce costs and deliver greater efficiencies. The Marketplace also can serve as a great self-service resource for customers."
Enterprise Times: What does this mean
Finally, it's arrived. That a partner had already seen the need for a marketplace showed that Infor finally needed to add its own. In partnering with a third party, it has solved many of the issues faced by other vendors. The AppDirect platform should enable it to grow the Marketplace quickly in terms of functionality.
However, there will be sticking points, both in terms of the technology integration it plans and the entry information provided. Partners and ISV will need to update their entries regularly. It is a challenge found in some of the best marketplaces, including Salesforce.
This was the major announcement from Infor at what was a fairly tame set of keynotes. Rather than take the stage, it was more of a meeting of peers. The Infor messaging was clear, though. The Infor solutions are built for specific industries in mind. It has developed functionality and implementation accelerators to speed time to value for verticals within those industries.
The next drive empowers partners to create and showcase micro-vertical expertise for each solution. One example of this is Infor partner Anthesis, which has developed solutions for pet foods and the animal feed industry in Europe.  The Marketplace may allow it to sell beyond its home region.