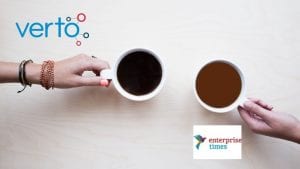 Enterprise Times recently spoke with Chris Wright, CEO of TMI Systems. TMI systems are responsible for Verto and the recently announced Verto 365. Enterprise Times first asked Wright to talk about Verto and what it is.
"Verto is a cloud-based software as a service solution that enables you to manage everything from simple day to day workspaces and activities through to major projects, all within a single platform. Further enhanced by the fact that it can be used entirely now within Microsoft Teams."
How successful is TMI Systems and Verto to date?
"We're still classed as an SME and have 16 employees, and expect that to grow to twenty this year. We were operating out of an office in the Kings Cross area before the first lockdown and the pandemic. We decided to close that last March. Since then we, like many of our clients, have been home and remote working. We have no immediate plans to return to an office. I expect we may look at that in the final quarter of this year.
"As far as size and growth, last year, 2020, was our most successful year to date. We grew our turnover to well over 1 million. This year is particularly successful. This time by the end of June, we will have achieved last year's turnover. We're confidently predicting growth of over 50% on the previous year.
"As far as customers, we have approximately 100 paying clients. We have about 100,000 users, who in turn are probably supporting something like 250,000 teams. The largest share of our business (80%) is across the UK public sector. Probably well over half our business is with the NHS. In addition to that, we work with councils and, more recently, central government organisations."
On Verto
Why did you pick Verto as a product name?
"When we set up TMI back in 2008, our first client was a council that were struggling to manage projects. They were using emails and spreadsheets. They were going through what we just described as upskilling their teams and creating new processes, and so on.
"We thought, what characterised Verto was its use in supporting business change and transformation. So we thought, let's see if we can find a name that supports that. We Googled it and Verto in Latin means to change or transform, and we thought it was apt and appropriate for use as a product name."
What's your vision for that Verto?
"Our vision is to be part of a suite of tightly integrated tools that come together and provide all of the management information that our customers need to run their business. We think it's all about making smart decisions based on data."
Could you expand what you mean by being part of a suite?
"It's come about through the enormous growth in the use of Microsoft Teams and Office365 that has largely been bought forward as a result of the pandemic. We see explosive growth in using Microsoft Teams. It is why we focused so much on bringing Verto to that platform.
"We're just in the final stages and jumping through some hoops with Microsoft to have Verto 365 accredited as an approved Microsoft Team's application. That will mean it will appear on Microsoft's commercial marketplace.
"We see the growth of these applications that can be accessed or run through Microsoft Teams. Those lead to greater integration with Office 365. That is a priority for us. As a result of that, it will be integration with those tools via the Microsoft Teams platform."
On routes to market
What are your routes to market
"Because of our public sector, quite a lot of our businesses is through the Digital Marketplace, the GCloud framework. We increasingly see enquiries coming through our website from businesses that have had these challenges combining work collaboration and project management. They are now looking to use tools to do that, rather than the traditional approach of just file sharing, spreadsheets and an awful lot of email. "
What about the channel?
"We serve each client directly. We're not using resellers currently. Although I think that will change due to the Microsoft commercial marketplace and the eventual approval of the Verto365 Microsoft Teams app.  That will open up channel reseller opportunities."
Besides Microsoft, do you have any other strategic partnerships?
"No, Verto can integrate with Slack. But because of our public sector focus, we have had very little demand for that because they're predominantly Microsoft and Microsoft Teams users.
"It's probably on the longer-term integration roadmap. But because of the explosive growth in the use of Microsoft Teams on our client base, our focus has been on enabling our users to fully surface Verto within Microsoft Teams."
On product
What is the product architecture?
"​It's deployed using AWS providing us with limitless scalability. It's an ASP.net Microsoft solution, developed with C# and sits on a SQL Server 2019 database."
How often do you have major releases?
"Major releases are probably four annually, but typically we have releases every month."
What's on a product roadmap?
"The big thing is completing the full Verto365 Microsoft Teams integration and then wider integration with the Office365 suite, including Microsoft Dynamics and Microsoft Project. The other piece is providing better access to customer data, building in their own reporting or integrations using ODATA. We see clients increasingly using their own reporting solutions. So, providing links to take and use data from Verto within their reporting, such as Microsoft Power BI."
Are you looking to integrate into any other ERP solution, or will you focus on Microsoft Dynamics?
"Probably over 50% of our clients actually do integrate Verto with their ERP solution, such as SAP, Oracle and Agresso (Unit4). That typically involves us helping them create interfaces or use API's between Verto and those applications for the elements and data that they wish to exchange between the two."
On progress
What else have you achieved this year besides growth?
"One of our big achievements has been the agreement with UKRI to extend Verto across all of their councils and organisations within the UKRI family. This piece of work started some 18 months ago, with Verto initially being used by four of their councils, including Innovate.
"Following the successful rollout, it's now being extended to the remainder of the organisation. They are now our largest client. That's probably been the most significant event this year. We're also pleased to see that Lloyd's of London have recently extended their use of Verto as well to more of the organisation."
What do you hope to achieve in the next six to 12 months?
"We're hoping to extend business into further central government organisations. Several have been targeted. Most significant is getting Verto365 as an approved Microsoft team's application and getting it onto the Microsoft commercial marketplace.
Any plans for international growth?
"We think that the marketplace will facilitate that. It's difficult as an SME, to extend your business across territories without embarking on a reseller program. We think the commercial marketplace will provide opportunities to do that."
On Funding
Are you still bootstrapped? Do you have any plans for further fundraising?
"We currently have an investor, a company called Sadita. They invested in 2019.  We have the opportunity to increase their stake and provide additional working capital for expansion.
"At present, given our growth curve and the opportunity to move onto the Microsoft commercial marketplace, we think we're in a good place. We think that provides a cost-effective route to market and means we won't have to secure additional working capital to achieve it."
Do you have any plans for acquisitions?
"We're not planning to acquire anybody. We think there could well be further consolidation (in the wider market). We've seen acquisitions of both project management and performance management applications within the last 12 months
"We saw Ideagen acquire Huddle at the beginning of the year. They also previously acquired a performance management business called Qualsys. Internationally, there have been some bigger acquisitions lately with Clarizen and Changepoint."
How do you see the competitive market evolving in 2021?
"There will be further consolidation out there. We were seeing some of the international players like Asana and Monday.com continue to expand. At the same time, locally, we have a couple of competitors that we come across, Cora Systems, and another is Best Outcome.
"Where we tend to differ from the major international competitors is our ability to adapt the application to suit their different business processes and needs. To some extent, by offering local support and working with each client to adapt and customise Verto to meet their different business processes and activities.
"It's a combination of the software and the support that makes it sticky and supports the client. The difficult thing with some of the big international offerings is the ability to configure and support it locally."
The book question
What's the latest book or business book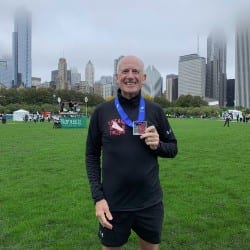 "The latest book was probably Peppa Pig at the dentist with my grandson. On a personal note, the latest book I read was The Art of Running Faster by Julian Goater and Don Melvin (Amazon Aus, UK, US).
"My daughter got me into marathon running when I was at the tender age of fifty-five. As a result, I've since done seven marathons. The reason for reading that book now is I've just got into the New York Marathon in November."
Does it have a takeout for business?
"Yes, absolutely. Marathons are probably one of those few sports or pastimes that involve commitment, dedication to training and no matter what level you are or age. It's something you can still achieve. You get a sense of achievement and accomplishment—that and the fact that you're never, never too late to start or indeed to improve."