Infor has appointed Anwen Robinson as senior vice-president and general manager for United Kingdom & Ireland. Robinson started in February, taking over the role after several changes in the EMEA leadership. Cormac Watters, President International, left in December 2020. Several of his team followed.  Watters moved to Oracle, and Simon Quinton, the previous head of UK&I, left to become country manager at Tableau Software.
These departures brought about several changes in the leadership strategy. Rod Johnson, previously President of the Americas and a peer to Watters, became Global President, Chief Revenue Officer. In Europe, Joerg Jung had already assumed the position of Executive Vice President EMEA in October 2020 after the departure of Simon Niesler the previous year. Robinson, therefore, comes into a relatively new leadership structure. However, she will have known Jung from her time at Unit4, where they both held senior positions. Jung was MD of DACH, and Robinson spent nineteen years at the company, rising to become SVP for UNIT4's Channels, Partnerships and Alliances (ecosystem) business worldwide in 2015.
After leaving Unit4, she became Operating Officer at TechnologyOne; an Australian company with a growing presence in the UK, especially in the public sector. She has a deep experience of SaaS software but has spent little time working within the Manufacturing SaaS sector. However, she has a degree in mechanical engineering and may need to recall some of the language from that degree course.
The importance of channel
Upon her appointment, Jung commented: "With her expertise in cloud ERP and channel development, Anwen has the perfect blend of experience to develop our ongoing investment in the UK market. We continue to build momentum throughout the UK and Ireland as businesses look to cloud technologies as part of their digital transformation, and Anwen will play a critical role in this evolution."
That reference to the channel is important. Infor recently launched a drive for new partners in the UK & Ireland, led by Andy Berry, Infor executive vice president of channel and alliances across EMEA and APAC. Can Robinson persuade Unit4 and Technology One partners to add the Infor solutions to their portfolio? There is little crossover between Infor and those two companies solutions, so it could happen.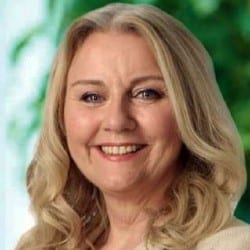 Robinson herself commented: "The cloud-first, industry-specific strategy within Infor has gained a lot of traction in the UK. My immediate focus will be building on this early success and demonstrating to businesses throughout the UK and Ireland that modern, cloud-based enterprise software can ensure their digital transformation projects leave them ready for the challenges of a changed world."
Infor has a strong team in the UK and a core set of solid partners. However, it has not delivered the growth that might have been expected over the last few years. Two major projects failed to complete. One at Travis Perkins and a second at Fuller's was halted as a result of an acquisition. There are success stories, though. For example, Triumph Motorcycles and Liberty Steel are nearing the completion of their ERP projects, according to publicly available information.
Enterprise Times: What does this mean
Jorg has brought in a trusted sales leader into the UK whom he hopes and expects will lead a resurgence in growth. Robinson is, to an extent, an anomaly in the Infor leadership as she has not worked at either Oracle or SAP in the past. This might signal a different and more empathic approach to the Infor heritage in the region that could drive success. As a company, Infor now has products to challenge both SAP and Oracle in its chosen verticals. Can Robison turn potential into revenue?