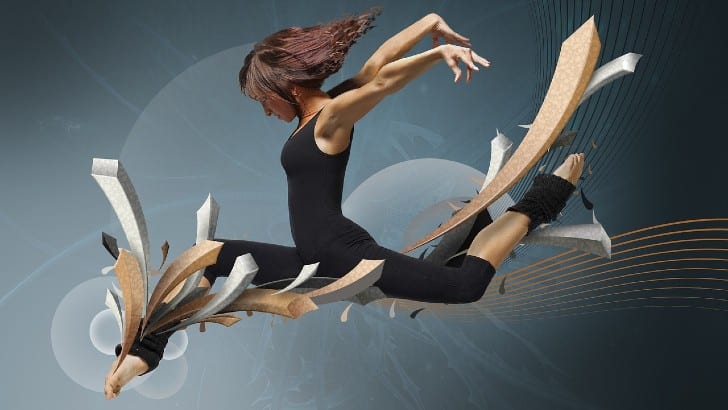 Changepoint has unveiled the latest updates for its products. It continues to address three capabilities that modern enterprises need, adaptability, agility and alignment. Matt Scheuing, CEO, Changepoint, highlighted how organisations need these to meet the ever-changing business landscape that they face today in a recent keynote. Scheuing commented: "The new capabilities come at a time of unprecedented change that Changepoint sees as an inflection point and pivot from a focus on work to a focus on outcomes. As organizations grapple with constant change, whether by internal or external business factors, they must remain adaptable and agile to align myriad enterprise portfolios to drive better business outcomes."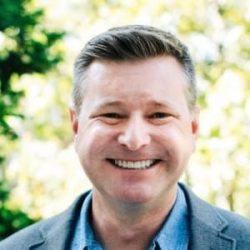 Broadly speaking, the update has two themes. It introduces a new scenario planning feature that gives organisations even better control of strategic portfolio management. Secondly, there are improvements in how Changepoint is making data available.
It also enables users to take advantage of enhanced analytics tools to leverage that data. Enterprise Times spoke to the product team at Changepoint to get a better understanding of what the release contains. The new Scenario planning tools particularly excites.
Eric Bergman, Vice President of Products, sees three major improvements for customers. He commented: "The first with our strategic portfolio management is continuous planning for an unpredictable future. The second is prescriptive insights that improve business performance. The third is ubiquitous data to drive decision making agility, making better faster business decisions, is really important because that enables managers to enable those teams to change and adapt to those changing business priorities."
Scenario Planning
The new feature is available as part of Changepoint's Strategic Portfolio Management (SPM). At its heart, is a visual roadmap of projects and programs that an organisation has planned. Users can group projects by different category types and see the duration of each entity on a timeline. The user can then move, compress or extend the timeline for any given project.
Users are then able to see the impact of those changes on dimensions such as overall CapEx, engineering effort or specific limited resource types such as architects, project managers or QA Effort. Currently, users switch between views to see where resources are constrained. On the roadmap is a feature that graphically highlights if one of these dimensions is at risk.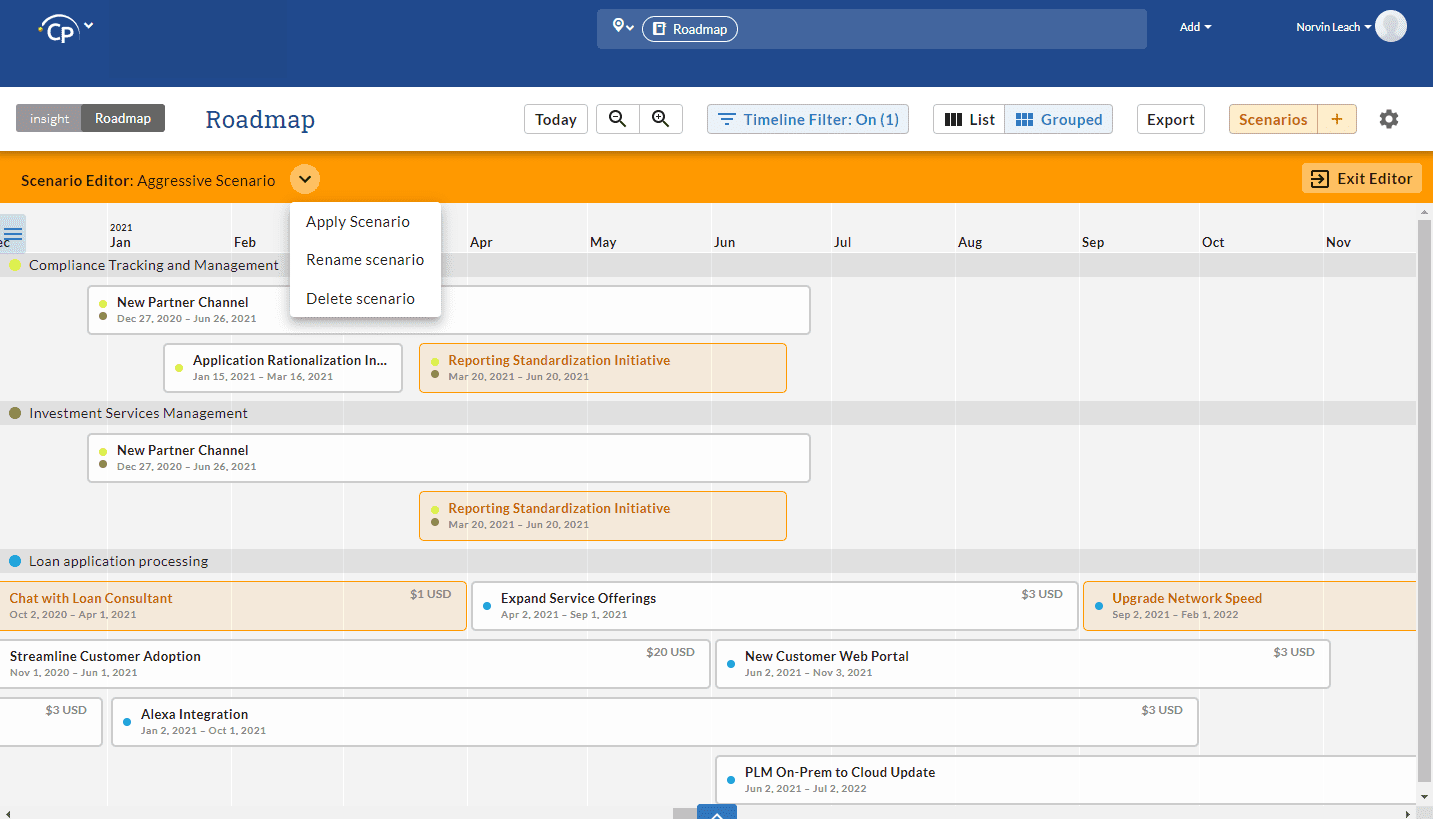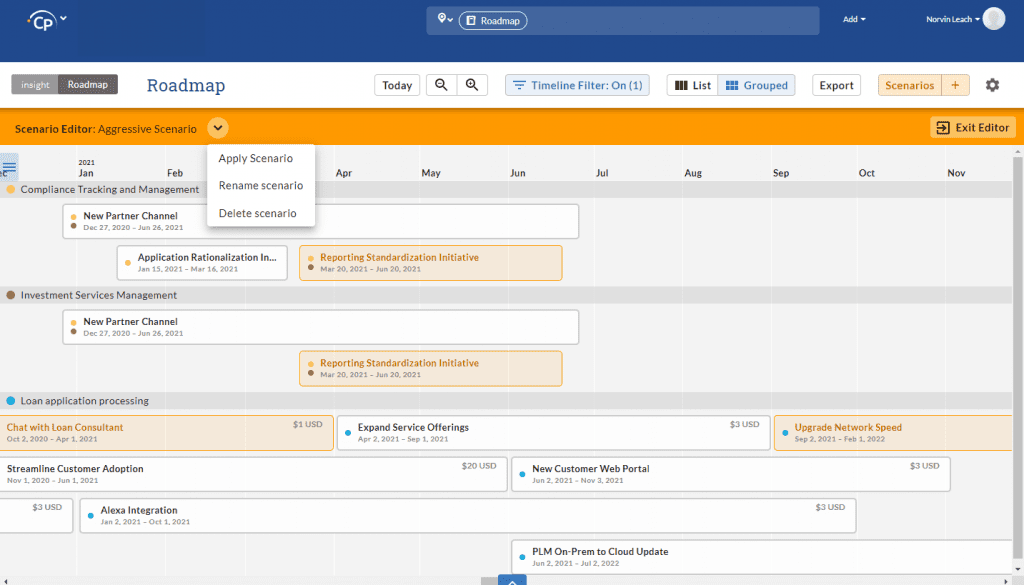 Where a resource is constrained, the lack of availability is highlighted in red. A project can then be extended so that constraints are removed, and the project becomes achievable on the forecasted data.
Where this new feature becomes useful is that users can save iterations of the roadmap and create what-if type scenarios. For example, if a project is required sooner, the impact of the change may mean certain resources are constrained. A user can create a scenario and extend or move other projects to identify how the company can still achieve its objectives, with the cost and resource constraint. Once a scenario is agreed, this can become that active strategy. allowing information to be fed down through the relevant projects with timelines and resourcing requirements updated.
Furthermore, in this new distributed working environment, multiple users can share the capacity planning screen. This helps reach agreement quickly during a single meeting. There is no need for potential plans to be disseminated by email as all scenarios are shareable and can be adjusted in real-time.
Taking capacity modelling to a new level
Bergman explained who benefits saying IT is for: "Portfolio managers, product managers, strategic leaders, programme managers that are responsible for an outcome. They've been given a budget and a capacity and within that new world. They are free to make decisions. They are enabled to make iterative, daily, weekly, monthly types of decisions around priorities and how they allocate and spend and deploy people and money."
Bergman then explained why this is important adding: "This is one of the key capabilities about being enterprise aware, is to be able to pivot around the various portfolios, such as your systems, your applications, your business capabilities, your strategies. So you can see the impact of things and more importantly, you can see the alignment of your demands, of your resources on your spend to those different portfolios."
This is also the first iteration of scenario planning. On the roadmap is a feature that Bergman described as Scenario Comparisons. This will enable users to directly compare different scenarios on screen rather than having to switch between them. Changepoint is also planning to apply augmented intelligence to the feature. This will allow the system to calculate optimal scenarios for users.
This new feature enables organisations to map, review constraint risks such as cost and resourcing against their current plans. It will enable organisations to deliver alignment against strategic goals in an agile and adaptable way as they evolve.
Making data work
Changepoint has also rolled out new self -service analytics capabilities built on the IBM Cognos engine. Changepoint does not develop its own analytics tools but instead white labels the IBM Cognos solution. This latest update provides users with the latest powerful features available on the Cognos platform. There are three areas of improvement:
New customizable interactive dashboards
Explorations, that allow users to visualize the data relationships between entities
A natural language interface for analytics powered by IBM Watson
This sees a stronger analytics functionality rolled out across the SPM solution. Changepoint has already created dashboards for several personas including Service Practice Leaders, delivery managers, project managers, resource managers and consultants. There are already ten dashboards for the PPM product. This release sees the introduction of two new interactive dashboards for the Services Automation (SA) product. These are supported by more than 30 existing more traditional reports, over time these will be replaced with the interactive dashboards.
Explorations enable users to drill down into data to find anomalies and unexpected relationships. They effectively provide the answers to questions the user doesn't know to ask. The user can focus on one entity, say, project manager. The exploration will then highlight the relationships and their strength with other entities. This may, for example, highlight a correlation between profitability and project manager.
Changepoint has also built a cloud-native Analytics Data Platform, powered by Snowflake. A new connector between Changepoint and Snowflake enables users to ingest data into Snowflake. They are then able to use third-party tools such as Qlik, PowerBI or Tableau to interrogate that data, alongside other third-party data for deeper analytics. This data platform is available for Changepoint Project Portfolio Management (PPM) customers.
Enterprise Times: What does this mean
This is another solid update from Changepoint as it looks to move its product suite forward. The Scenario planning for SPM has huge potential. It allows organisations to manage better their portfolio of projects and initiatives across the organisation simply and effectively. That the information then cascades down to PPM ensures that administration overhead is minimised.
The work on the analytics side demonstrates that Changepoint can leverage IBM Cognos and other third-party solutions such as Snowflake to enhance their suite. This means that in time SPM, SA and PPM will all have analytics solutions that smaller rivals can only dream of.
As Eric Bergman, Vice President of Product at Changepoint said: "The future is less about managing individual projects, and more about managing the entire enterprise portfolio. We think these new capabilities will help our customers harness the opportunity to shift away from frameworks of command-and-control to embrace mindsets of adaptability, agility and alignment."
While the update was impressive, it is perhaps surprising that Changepoint did not include any quotes about the new options from customers.