ERF Electrical (ERF) has rolled out a cloud-based ERP solution from Infor, CloudSuite Distribution. Project planning began in February 2019 and it was completed on time and under budget in December 2019. The decision to move to a multi-tenant cloud solution is part of a wider transformation initiative led by Vicki Partridge, Head of ICT at ERF Electrical. Partridge had already led a project transforming the ERF infrastructure to a hybrid model with the help of Riverlite. Going to a cloud ERP allows ERF to leverage the latest version of Infor's ERP software without painful upgrades.
The project
Infor consultancy led the project via remote workshops and used the Infor Agility methodology in a phased approach. Delivering changes in bite-sized chunks for users lessened the change management challenges. The remote workshops also helped to reduce the costs from implementation. The use of time-bounded workshops helped ensure that knowledge transfer was both focused and better, in a way that on-premises engagements rarely achieve.
This appears to have been a textbook implementation. The flexibility of CloudSuite distribution ensured that screens were similar to those in the historic solution. This also helped to minimise the training required and sers readily accepted the enhancements during the roll-out. They were seen as iterative improvements rather than something scary and new.
Partridge commented: "We have always planned to take to the cloud so we could focus on business process and systems functionality rather than be bogged down with the administrative tasks of running on-premise system environments. By removing the need for cumbersome upgrades that traditionally comes with on-premise installations, we will ensure we can focus on the customer. Our main objective from day one was to trade as normal with no impact on our customer experience, or awareness that we had even changed our ERP.  We achieved this with no negative impact on trading numbers."
Award winning
ERF is now live. The solution integrates enterprise resource planning (ERP), customer relationship management (CRM) and the online trading platform. There was no major disruption to the day-to-day running of the business or its operations during the project. The benefits also included improvements to processes that drive the customer experience.
Partridge has worked at ERF for more than two decades. Her understanding of the business will have contributed to the success of the project. That success meant that she was nominated and won the Customer Excellence Award from Infor for the Chief Information Officer of the Year (EMEA). It is a vindication of the success of the project. The award citation included: "According to Vicki's colleagues, she played a crucial role in the project and was the driver for its success. Without her passion, knowledge, focus and discipline, the project would not have been such an enormous achievement."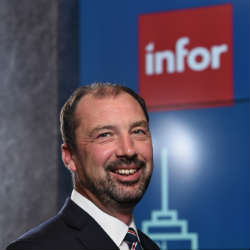 Phil Lewis, Infor vice president of solution consulting in EMEA: "Cloud technology is now seen as a platform for continued agility as businesses look to keep evolving processes. This demands not only continual upgrades but also quick, easy integration across various applications and a user interface that ensures adoption is just as quick. As an Inforum 2020 customer award winner, ERF Electrical has already been recognised by Infor for this project precisely because it delivers on all these fronts."
Enterprise Times: What does this mean
Organisations must consider the risk to their day to day business when migrating key systems. In taking a phased approach, ERF listened to advice from its vendor that has already accomplished this for many other organisations. While Infor carried out most of the work remotely, this was before COVID-19.
What is clear is that even before lockdown Infor was working on increasing the efficiency of its delivery organisation. That work meant that during lockdown, there was little impact of the delivery cadence of the Infor consulting team. Lewis spoke to Enterprise Times earlier this year about the impact of the pandemic on the ERP installation processes.
ERF Electrical completed the installation and are now befitting from having a cloud-based solution. Staff can work from anywhere. The IT team no longer has to look after on-premise equipment or even to an extent staff. ERF has only had to close one branch during the second lockdown as its systems continue to support the business effectively. ERF can also leverage the multi-tenant cloud ERP solution to ensure that future business change is easily accommodated.