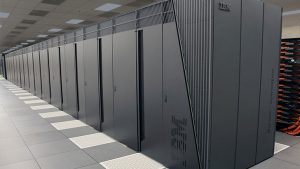 COBOL, the language that refuses to die, has been given another lease of life by COVID-19. Research from Job Site, Indeed, shows a significant surge in demand for COBOL programmers. Driving this is the need for mainframe programmers to work on older systems that run on mainframes, used by organisations in both the public and private sector.
Indeed passed its data to NTT DATA UK to analyse. It compared that data with similar data from Google Trends. Simon Williams, CEO of NTT DATA UK, said: "It comes as no surprise that there has been a surge in interest in COBOL. There are a lot of legacy systems in operation, reliant on legacy code. This has to be a wakeup call – if organisations don't have the skills to maintain their code, they need to modernise.
"Legacy modernisation has been a balance between the risk of replacing old technology and the risk of not having the skills to maintain it. This time has accelerated the realisation that half moving to digital is not enough. Whether it is moving off legacy code or migration to the cloud business, need to go fully digital. This also gives businesses the opportunity to update and modernise their systems."
What does the data say about COBOL?
The data sets are interesting, not least because of the difference between Indeed and Google. What is of particular interest is the sudden jump both saw in response to the Governor of New York.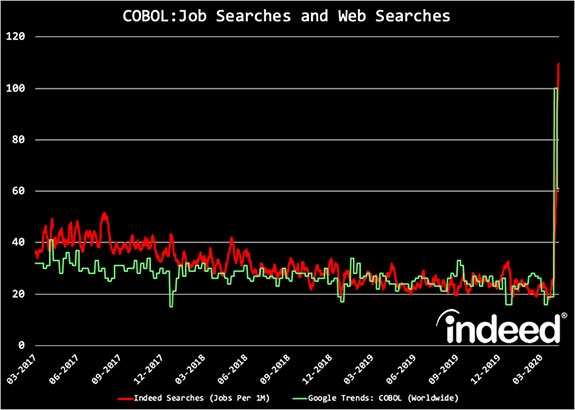 Governor Murphy (New Jersey) made a plea on April 5th for COBOL programmers due to the surge in unemployment claims. The impact was that Indeed saw a jump in jobs searches per million for COBOL rise from 26.2 to 38.8. It climbed quickly to 69.4 by April 10th and on April 15th, hit 109.7. This is the last day for which data is available.
Google Trends shows a slightly different picture. It jumped from 19 to 100 on April 5th and stayed there until April 12th when it dropped to 61. Without having more insight into the data sets, it is hard to say if these jumps will be sustained or fall back.
IBM, who has seen its mainframe business continue to rise over the last five years, has seen a steady increase in people learning COBOL and other skills for its IBM Z series mainframes. BMC, one of the two biggest software companies supporting and delivering COBOL solutions, signed an agreement to acquire its largest competitor, Compuware, from Thoma Bravo in March. That deal looks like a very smart move.
Will software be migrated off of COBOL post-COVID-19?
That's anyone's guess. UK analyst firm Synonym Advisory thinks not. It told Enterprise Times: "We saw an even bigger panic for COBOL programmers in the late 1990s as the millennium approached. At the time, everyone predicted a significant retooling of enterprise apps onto other platforms and operating systems. A degree of that has happened.
"However, there is a lot of very old COBOL code that sits at the heart of government and enterprise IT systems. It runs core programs that cannot be allowed to fail. Many of those are poorly documented, and as long as they continue to work, IT managers are prepared to leave them alone.
"While we might see some code move as the COVID-19 pandemic dies down, it is unlikely to see the end of COBOL. The reality is that COBOL code will continue to exist for at least the next decade if not well beyond."
Enterprise Times: What does this mean?
COBOL, the computer language that would not die sounds like the start of an urban legend. The reality is that COBOL is anything but a myth. It is a critical and often ignored part of the core IT software infrastructure inside many organisations. There will, as usual, be a lot of people saying get rid of COBOL, but few of them will be able to deliver any realistic cost of rewriting/migrating software or a viable timeline for doing so.
For now, those COBOL programmers who have been wondering if they will ever see the glorious pay scales of the late 1990s have one more chance to top up pension pots.