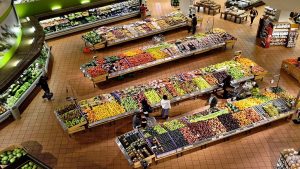 Digital Goodie has expanded its partnership for the launch of Co-op's dedicated online grocery shop and home delivery service. Digital Goodie is the creator of Digital Goodie Connected Commerce platform. The Co-op is the UK convenience store operator and co-operative. In March 2020 the two companies launched a digital storefront in March 2019.
Initially launched as a proof of concept, the Co-op plans same-day city-centre deliveries from 650 stores by end of 2020. From November, the service entered a new phase operating according to the headless commerce paradigm. As a result, the Co-op developed consumer front-ends in production use.
An end-to-end platform
Co-op's online service and eCommerce operations run on Digital Goodie's Connected Commerce platform, a software as a service (SaaS) platform. The platform provides an end-to-end service to retail customers. It includes commerce, OMS and in-store picking modules all optimised for FMCG. The commerce engine follows the headless paradigm, providing logical separation between user interface and business logic layers. Retailers can take full control of the end user experience utilising the platform's open API's to build and design user experience without dependencies on Digital Goodie as the platform vendor.
The Co-op's vision is to make ordering food online as convenient as ordering takeaway food. This vision demands a lot from the underlying e-commerce platform. Given the Co-op consumer promise, super-fast home deliveries are a requirement. The company is aiming to have groceries delivered as rapidly as under two hours from order. Delivery is not the only aspect that needs to be fast. The company recognises the need to be equally fast when it comes to the user experience innovation. This is where headless enters the picture.
The original launch of the Co-op's service used an online storefront designed by Digital Goodie. The Co-op planned to take full control of what matters most: the end user experience. Co-op's Digital Team started designing & building their own storefront implementation, on-top-of the Digital Goodie platform. This took place immediately after the first online store went live in March. The first Co-op developed storefront went live in August. In November, all traffic was running through the Co-op's own site.
A digital partnership
The vision for the near future includes native mobile applications, which will again be developed by the Co-op's digital team. The Co-op digital team has busy times ahead in this partnership. It is to deliver functionality driven by the increasing speed of innovation in the industry and demand for convenience by consumers.
Chris Conway, Head of Food Digital at the Co-op says, "Convenience lies at the heart of our offering. We have major online expansion plans which will make it easier than ever for customers to shop with us. Such growth can only be facilitated with a digital partner that offers modern and agile technology. We are delighted to continue working with the Digital Goodie team who are intrinsic in bringing these plans to life."
Moris Chemtov, Global CEO of Digital Goodie, said: "We were impressed how the Co-op were focused on digitalisation. Furthermore, how agile they are in their approach. The speed by which they were able to design and build their own storefront is a testament to these traits. However, it is also a testament to the robustness and completeness of Digital Goodie's headless commerce platform."
Enterprise Times: What this means for business?
Digital Goodie is a Finnish digital commerce technology company providing a modern and fully customisable connected commerce platform. The platform aims to connect online and brick and mortar worlds in one seamless and simple user experience.
The Co-op partnership appears impressive on paper. It is proof of how fast digital development can take place, when supported by a robust platform. The company has embraced headless commerce technology. This should make it, an interesting new entry in the crowded eCommerce suppliers marketplace.
Currently, Enterprise Times is unfamiliar with both the platform and Digital Goodie. But look forward to hearing more information and case studies about this interesting new eCommerce platform.