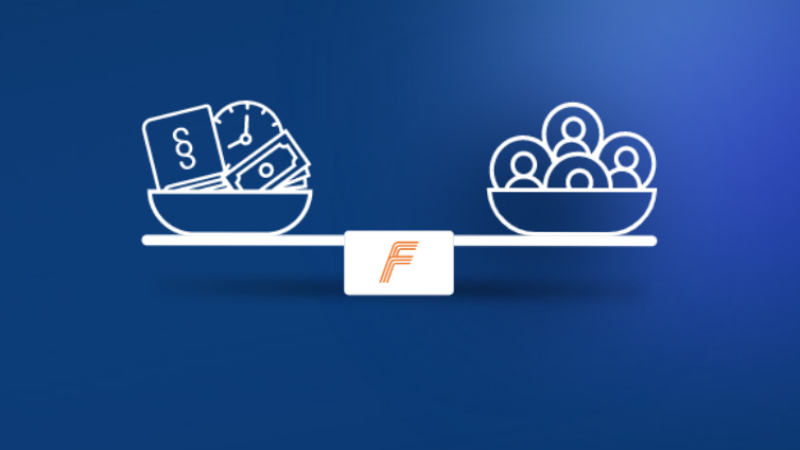 Fractal has signed a partnership with Gnosis Limited. Fractal is a Berlin and Singapore-based identification management start up. Gnosis has developed a conditional token standard which enables users to predict the outcome of multiple events and gain insight into relationships between events. The partnership with users of Sight, a market prediction platform by Gnosis, sees Fractal's identification solution adding bank-grade compliant 'Know Your Customer' (KYC) and 'Anti-Money Laundering (AML) capabilities to Sight's operations.
"For global investors to have access to global intelligence and market insights, they will need requisite digital identity and verification. Fractal's solution helps Gnosis and Sight users to access smart investment intelligence to make better trades and investments," explains Julian Leitloff, CEO and founder of Fractal.
"Increasing the compliance of blockchain-based projects worldwide, will in turn increase the standing of the new ecosystem with regulators. We want to offer a solution to not only giving an impulse to set a new regulatory standard, but also help blockchain companies overcome the cost of compliance, hence making it much easier for new players to find their place within the ecosystem."
The genesis of Fractal
According to McKinsey's Digital Identification 2018 report, there are an estimated 4.4 billion people around the world who:
either do not have a legally recognised form of identification (ID)
or do not have a digital trail.
Possessing a good digital ID is highly beneficial because it:
provides civic and social empowerment
creates opportunities for financial inclusion.
Leitloff came up with the idea for a business in this space after witnessing the 2008 collapse of Lehman Brothers and the inner working of Deutsche Bank. He saw the lack of AML/KYC control as a major barrier preventing healthier financial ecosystems.
In consequence he decided to work with like-minded individuals to start Fractal with the objective of promoting a more open financial ecosystem through non-bank financial institution (NBFI) partners. In effect Fractal's vision is the promotion of financial inclusion at a global level.
Fractal is a start up supported by German Accelerator Southeast Asia (GASEA). This is a partnership between Enterprise Singapore and the German government to facilitate German start-ups' set up in Singapore. Since 2017, Fractal has received US$3 million in venture funding with participation from Coparion, a VC fund backed by the German government.
The relevance of Gnosis
Gnosis builds decentralised infrastructure based on Ethereum, including prediction market protocols and standards. Gnosis, founded within and spun out of blockchain venture studio ConsenSys, builds decentralised infrastructure, applications and practices. In 2017, Gnosis raised 250,000 Ethereum – then valued at US$12.5 million – in a Dutch Auction token offering.
Using this capital raising, Gnosis builds new market mechanisms based on blockchain, decentralised infrastructure and trading protocols. It promotes the redistribution of resources – from assets to incentives or from information to ideas. In the winter of 2019/2020 Gnosis will launch its latest prediction market project, Sight.
Dr. Friederike Ernst, Chief Operating Officer of Gnosis said, "Using Fractal has saved us time getting information from investors to do smart trades. It is great that we can focus on what we love to do – building applications on top of Ethereum."
Requirements and (some) technology details
In order to help break down barriers to services for people with no access to necessary infrastructure, Fractal will make its KYC/AML solution available. Through initiatives like that with Gnosis, Fractal hopes to assist companies remove the roadblocks thrown up by KYC and AML and, thereby, transition to more open and inclusive financial ecosystems.
In this context KYC and AML processes represent critical components of the finance sector. Financial institutions and their regulating entities require:
verified identities
customer diligence
compliance with legal requirements.
Digital ID has been estimated to lower opportunity costs by eliminating frictions associated with customer 'onboarding'. For example, the World Bank's Private Sector Economic Impacts from Identification Systems 2018 report shared that, in the UK, customers or potential customers abandoned one in four financial services applications due to difficulties encountered in the KYC process.
Fractal provides a free tier for KYC/AML solutions. Conceived as a global solution to enable trusted relationships between people and organisations, across borders and languages based on reliable and verifiable information, Fractal's self-serve Software-as-a-Service (SaaS) product aims to:
open up an opportunity for financial inclusion
maintain necessary compliance.
For a new customer, automated verification comprises four plus one, if needed, components:
ID document verification
liveness detection
facial comparison
Politically Exposed Persons/Sanction List filtering
human intervention if one part of the automated process fails.
Enterprise Times: what does this mean
Fractal ID says it is a "user-centric KYM/AML platform specifically built for Finance 3.0 services" – including blockchain fintechs. It claims to be internationally compliant, easy to integrate and with a conversion rate 40% above market average.
It is, however, not the only vendor or financial institution to offer 'improved, compliant onboarding of customers'. For example, Revolut and TransferWise (as financial institutions) have similar capabilities while Blockpass and others do the same as vendors. While the Fractal objective is worthy, Enterprise Times is unable to see (from the light detail available online) what makes Fractal different. That said, others (beside Gnosis) have signed up, including:
Hong Kong's Ocean Protocol, a data-sharing platform
Germany's Bitwala, a virtual bank
Singapore's Piexgo, a digital currency exchange
ALLDEX, a derivatives exchange.