On my courses, I teach how to create and use comments in a Word document. I also use them in many of the documents that land on my desk. Creating a comment is easy but when you receive a document with comments in, want to accept the information and changes while removing comments, it is not quite as straightforward as it might be.
Here is an example document which I shall use for this exercise.

How to create a comment in Word
Place your insertion point where you need this comment to 'spring' from.
Select the Review Tab.

In the centre of this you will find the New Comments Tool.
Select it and this is what you will see.
Firstly, the word next to the insertion point is the trigger for the comment. Secondly, the comment is placed to the right of your text. Here you can type whatever comment you need.
Click in the text area to come out of the comment box.
You then can proceed through your document creating comments wherever needed and as many you like. Save the document and send it to someone to review those comments.
How to review comments
Here is an example of a document that you have received back with comments.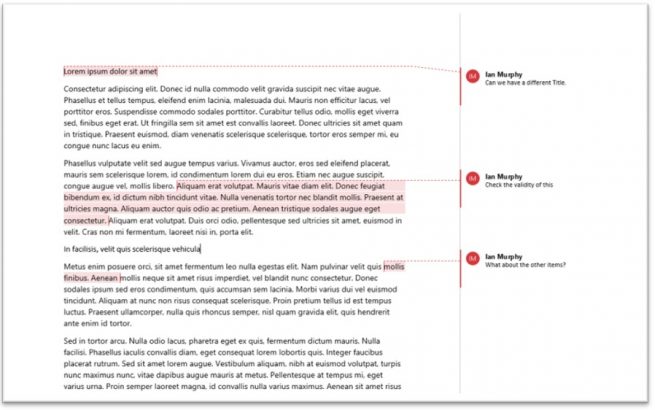 If this document has been sent with comments already in it, that persons comments are in a different colour along with their name in the comment. If the document has been commented on my several people, each will be assigned a different colour.
Click at the very beginning of the document.
Select the Next Comment Tool.This highlights the text involved and the comment bubble on the right hand side. In this bubble there are two words to select. Reply and Resolve.

Reply: allows you to put in your own comment to this one and then you can send the document back to the original editor, who will see it and comment back.
Resolve: this keeps the comment but it is no longer "live".
Move onto the next comment by using the Next Comment Tool. Reply or resolve all comments.
Save and send back the document if this is appropriate.
How to delete comments.
When you have completed what could be many backwards and forwards edits of this document and all comments are resolved you can now clean up your document by removing the comments.
Select the next Comment Tool.
This highlights the comment and the text in the document.
Select the Delete comment tool.

This will delete this one comment.
How to delete all comments
If you are absolutely sure that all comments can be deleted in one action there is this ability in the Delete comments Tool.
Select the drop down arrow below the tool.
This reveals a choice.
Here you can select the third choice to delete all comments in the document at one time.
Handy tool to use for a few comments rather than track changes.
---