NTT is in the middle of a massive restructure. It has formed a new business unit – NTT Limited – into which it has placed NTT Security, NTT Communications and Dimension Data. This includes all of the subsidiaries of these three companies, it has meant bringing together 31 different companies. This level of merger and integration goes far beyond what many organisations experience over decades, let alone in a short period.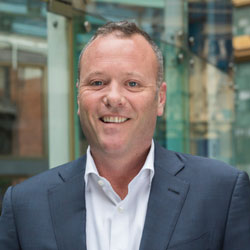 One of the major challenges is how to align, integrate and organise complimentary business units into single functions that operate across the new business. Matthew Gyde is the new CEO of NTT Security. At Black Hat 2019, in a very hot Las Vegas, he sat with Enterprise Times to talk through some of the challenges he and the new company face.
Importantly, Gyde comes from Dimension Data so was familiar with many of his security counterparts across the different operating companies. This, he admits, has made life somewhat easier than if he was new to all the businesses. Gyde is responsible for a team of over 2,500 people around the world. His primary task is to ensure the security of NTT Ltd and then use that experience to secure the security of their customers.
How do you do that? You learn. You learn quickly and you make sure that you apply the lessons and knowledge you have. As Gyde points out: "The quantity of information that we can provide to a client or to ourselves is still so big it's useless. We then take that and put context around that." It's a lesson that not all security vendors understand.
To hear more of what Gyde had to say listen to the podcast.
Where can I get it?
obtain it, for Android devices from play.google.com/music/podcasts
use the Enterprise Times page on Stitcher
use the Enterprise Times page on Podchaser
listen to the Enterprise Times channel on Soundcloud
listen to the podcast (below) or download the podcast to your local device and then listen there