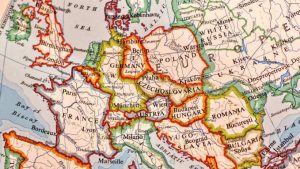 It has been a while in coming but Rootstock has finally announced the expansion of its European footprint through the addition of several partners. The announcement list six "new" partners, although the last, Vanenburg Software has been a Rootstock partner for some time. The six are:
Why are half the partners from the Netherlands
While this is an assumption, the reason for half of the new partners being based in the Netherlands probably comes down to one person, the man behind Vanenburg. Jan Baan founded the company in 2009. Baan also founded the Baan Company, and is seen as one of the early pioneers of ERP software. He is also a founding member of the Rootstock executive council. Baan has a network of contacts through Europe and beyond and it is likely that several of the executives in the other companies are aware if not worked for him in the past.
Balanced Force is a small company based in Zeewolde. It specialises in Salesforce, Rootstock and IoT deployments. It supports and deploys cloud based ERP solutions across the Benelux region.
coServe is a technology solutions company based in KM Baarn, The Nethelands. It also has a global delivery centre in Hyderabad, India and operates across Europe and South East Asia. While it has just partnered with Rootstock it also has links to Infor (offering Infor LN), SAP, Oracle and Microsoft Dynamics. Technology partners include Vanenburg IT.
Rootstock now has coverage across Northern Europe
The other partners compliment the strength that Rootstock already has in the Nordics with both the now wholly owned Rootstock Nordics and Fluido Group. Though the latter was recently acquired by Infosys. Fluido still seems to be operating as a separate business unit and the deal could be good news for Rootstock if it helps to open up a wider conversation with the much larger Infosys.
Per Norling, General Manager, International for Rootstock Software, and formerly CEO of Rootstock Nordic AB commented: "We are delighted to have this knowledgeable and well-respected group of partners join the Rootstock ecosystem. Partners are critical to helping us meet the demand for Rootstock Cloud ERP we are experiencing around the world. Our customers will benefit from their business process acumen and knowledge of Rootstock Cloud ERP."
In France, Flow Line integration is a Salesforce consulting partner and also offers Sage X3, part of the Sage business Cloud. Sage X3 (or as it is now known Sage Enterprise Manager) is not native to the Salesforce platform, although it does have an integration. This may be one of the reasons that Flow Line has taken on Rootstock. Rootstock offers an on platform solution, that Sage does not yet have for manufacturing firms. Flow Line has offices in Lyon, Paris, Caen, Alençon, Nantes, Angers, Lille and Toulouse in France as well as Nyon in Switzerland.
In the UK, RootHub IT will open its doors on 1st January 2019.  While its website may indicate that this is a new startup it was actually created from the larger Intelisense IT. The connection? Amjid Khan is a director in both companies. It is perhaps surprising that Rootstock has not made an effort to launch in the UK before. Expect to hear more from them over the next year. Roothub IT will cover the UK and Ireland as it looks to help manufacturers modernise their legacy ERP solutions with a customer centric ERP solution.
Probably the largest new partner is Optingo. Based in Poland, it operates across the DACH region with an office in Vienna as well. It is also a Salesforce and Oracle CX partner and brings a level of expertise that should help to grow the Rootstock brand across the region.
Enterprise Times: What does this mean
This is cautious but a sensible approach by Rootstock as it looks to expand internationally. It will hope to add to these partners as quickly as possible. However, it will want to boost sales and revenues in the region to fund the expansion of support services for those partners. A measure of success will be when and where it decides to open its next European office.
2019 is an important year for Rootstock. It should see its stature in the Salesforce ecosystem grow. Especially if it can persuade manufacturers, that the route to a modern ERP solution is in the cloud and not rooted in traditional on-premise software.