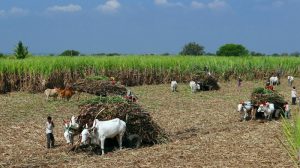 According to Reuters; Coca-Cola and the U.S. State Dept. – along with other companies – have announced they will launch a project using blockchain's digital ledger technology to create a secure registry for workers. The objective is to fight the use of forced labor worldwide.
Brent Wilton, Coca-Cola's global head of workplace rights, said in an email to Reuters, "We are partnering with the pilot of this project to further increase transparency and efficiency of the verification process related to labor policies within our supply chain."
The forced labour context
According to the International Labor Organization, nearly 25 million people work in forced-labor conditions worldwide, with 47 percent of them in the Asia-Pacific region. Food and beverage companies are under pressure to address the risk of forced labor in countries where they obtain sugarcane.
A study released last year by KnowTheChain (KTC), a partnership founded by U.S.-based Humanity United, showed that most food and beverage companies fall short in their efforts to solve the problem.  That study said Coca-Cola, one of 10 global companies looked at by KTC, has committed to conduct 28 country-level studies on child labor, forced labor and land rights for its sugar supply chains.
Coca-Cola intends to complete these studies by 2020. It has said it has been exploring multiple blockchain projects for more than a year.
The new venture participants
The State Department has said this application of blockchain is this agency's first major digital ledger project. It reinforces the technology's growing application for social causes.
The new venture will create a secure registry for workers and their contracts using blockchain's validation and digital notary capabilities, said Blockchain Trust Accelerator (BTA), a non-profit organization involved in the project. BTA offers a global platform for harnessing blockchain to deliver social impact.
The State Department said it will provide expertise on labor protection. "The Department of State is excited to work on this innovative blockchain-based pilot," Deputy Assistant Secretary Scott Busby said in an email to Reuters, noting that while blockchain cannot compel companies or those in authority to abide by the labor contracts, it can create a validated chain of evidence that will encourage compliance with those contracts.
The Bitfury Group, a U.S. tech company, will build the blockchain platform for this project. Emercoin will provide additional blockchain services.
What does this mean
The attraction of an immutable register open to inspection is, possibly, the most effective answer to help address social ills. Child and forced labour fall into this category.
That Coca-Cola and the State Dept. should wish to participate makes sense. Coca-Cola has a valuable name to protect. Accusations of labour exploitation can only harm. This is one way to reduce the risk. Similarly, a part of the State Department brief is to counter forced labour.
All this said, this initiative has one enormous hurdle to climb – what might, after the past week's revelations, be termed 'the Facebook Fiasco'. From the current indicators, and these could be in error, Facebook's real problem with Cambridge Analytica was data was too visible and accessible. In the context of child and forced labour it would be a social tragedy if it was possible to harvest personal information from what should be an invaluable resource.