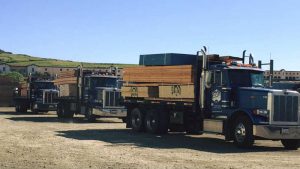 Kerridge Commercial Systems (KCS) has announced that lumber and building materials merchant All Bay Mill & Lumber has selected and implemented its K8 ERP solution. Before implementing the software the company did not use a modern ERP solution. Having seen K8 at an industry event the company decided to invest and has not regretted the decision. Since implementing K8 it has greater control over its growing business and has seen an increased efficiency in operations.
Since its Founding in 1984 by three friends, Guildo Addiego, Charles Brusco, and Ennio DePianto it has grown by introducing new product lines. This expansion has included a new windows and doors division, acting as a supplier of Anderson Windows and Doors. While the company does not yet have a active website, it could now add ecommerce functionality that KCS can offer. Other services include specialized dimensional milling. This diversity is something that K8 should assist with, as it is able to deal with the logistic, retail and manufacturing aspects of the operation. Today, the company is a family run business led by Frank Addiego, President and son of the co-founder Guido. 
Why did All Bay Mill & Lumber select K8? Alan Cross, Executive Vice President North America explained: "We were able to demonstrate to the team at All Bay Mill & Lumber that K8 is a fully integrated solution that is backed by 40+ years of expertise and development. Our dedication to K8 and our customers as well as our commitment the LBM industry made this decision easy for the All Bay Mill & Lumber team."
What does this mean
For KCS this is a win in a fiercely competitive industry.  It also demonstrates that there still opportunities out there with companies still looking to move their administration from traditional bookkeeping systems to a modern ERP.
While All Bay Mill & Lumber has not grown geographically or through acquisition it has grown in complexity as the business has grown. It has also opened up a new division and diversified to meet customer demand. It is counting on KCS to enable it to do more in the future.