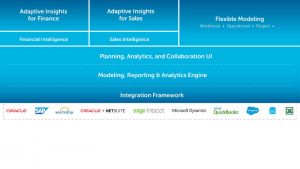 Adaptive insights has announced the Adaptive Insights Business Planning Cloud. This is the latest generation of Adaptive Insights planning platform. In a second announcement the company also introduced Adaptive Insights for Sales. This second announcement brings additional functionality to its planning platform to deepen the functionality for Sales planning.
Business planning Cloud
This latest generation of planning cloud launches with the first domain specific solution sales. Tom Bogan, CEO Adaptive Insights talks in a blog about further modules that will extend the planning capabilities beyond finance. Once complete, other domain solutions will include sales, marketing, HR and operations.
The new business planning cloud consists of several fundamental elements. At its heart lies the modelling, reporting and analytics engine. This can now handle complex multidimensional models with millions of trillions (1018) of cells. That depth allows it to cope with complex models. Under pinning solution is the data that will feed into an organisations future planning.
Adaptive Insights integration framework includes many of the leading ERP and CRM solutions. It includes, Oracle, SP, Workday, Oracle NetSuite, Sage Intacct, Microsoft Dynamics, Intuit Quickbooks, Salesforce as well as Excel. This has allowed it to deliver a comprehensive planning solution for the finance teams in organisations. Customers use the planning, analytics and collaboration UI to plan for the future.
On top of this platform Adaptive Insights now has both its traditional Adaptive Insights for Finance and now Adaptive Insights for Sales. What Adaptive Insights seems to be doing is taking planning beyond the boundaries of the finance teams. Kevin Lyons, Second Vice President of FP&A, Guardian Life commented: "Using the Adaptive Insights Business Planning Cloud, our more than 14 functional and business groups across the enterprise can analyze and model their own aspects of the business at the needed level of detail—and on their own cadences. The real-time nature of the platform enables continuous planning and reporting processes, which helps drive faster decision making across our organization."
Beyond finance into Sales
The new Sales planning solution just does this. It draws in data from CRM platforms such as Salesforce and puts the planning in the language of Sales leaders. Early adopters of the new platform include Acquia, Apptio (NASDAQ:APTI), Ivanti, MongoDB (NASDAQ:MDB), and Winshuttle.
Scott Spilker, Head of Sales Operations, Winshuttle commented: "Adaptive Insights for Sales gives us, for the first time, predictability that allows us to manage our business," he said "Our sales operations team can do what-if scenarios in real-time, analyzing data driving trends and then course-correcting to optimize our performance. As important, linking our sales plans to our financial plans on the Adaptive Insights Business Planning Cloud gives us one common language across our business."
The specific functionality include a specialised extension for territory planning. It also has capacity & quota planning and performance monitoring. Coupled with the what-if scenario planning and "high-fidelity" planning, it enables Sales leaders to not just to deliver a coherent plan to the finance team but more importantly plan for themselves. Traditional planning tools are often finance centric. In language and form that is suitable for finance rather than an output a sales operations team can use. Adaptive Insights for Sales goes beyond this.
For MongoDB the territory planning functionality was critical. said Meghan Gill, Vice President of Sales Operations at MongoDB explains: "MongoDB operates in a large market with a massive community of developers, which makes focus and prioritization critical. We need to ensure that our account executives are investing their time in the right places. Adaptive Insights for Sales enables us to evaluate territories and assign the accounts with the highest ROI, making our sales team more productive."
What does this mean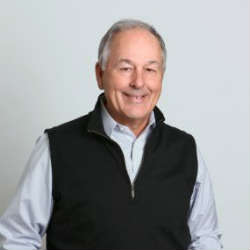 This is an interesting development by Adaptive Insights. It appears to have shifted its architecture to support not just finance but the wider business. In doing so, it is not paying mere lip service to those departments. With its Sales planning functionality it is approaching the new solutions from the departmental rather than finance point of view.
Bogan commented: "In most organizations, manual planning produces an ocean of individual, operational plans, with no ability to see the whole picture. We pioneered cloud planning for finance so companies could streamline their planning process and gain an accurate view of their business. Today's innovation both scales and extends our platform to bring these same benefits to all functions in an integrated planning process. As a result, organizations can make better decisions faster, a true competitive advantage today."
For many businesses this is an interesting approach. R "Ray" Wang, Principal Analyst, Founder, and Chairman of Constellation Research, Inc. commented: "Critical components of the enterprise business stack must include an organization-wide planning platform. A platform that can support both business and finance users presents a significant competitive advantage for organizations to realize the power of integrated planning. When planning extends to the edges of an organization and integrates with the corporate view, businesses can act with speed and agility, democratize decision making, and ensure operational success."