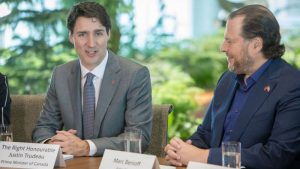 Salesforce has announced that it will invest $2 billion in its Canadian business over the next five years. The announcement came as The Right Honourable Justin Trudeau, Prime Minister of Canada met with Marc Benioff, CEO Salesforce at the newly erected Salesforce Tower in San Francisco.
That meeting also included other tech leaders at a round table at which the issue of diversity was on the table. Trudeau is an advocate on diversity and womens rights.  He recently used Davos as a platform to speak about discrimination against women in the workplace. He commented: "Sexual harassment, for example – in business and in government – is a systemic problem and it is unacceptable."
In Benioff he has an ally. Salesforce is one of the leading firms that has consistently addressed disparity in its male/female pay. It is a four pronged approach that has seen Salesforce invest millions already. In April last year Salesforce added $3 million to its wage bill to eliminate unexplained discrepancies its pay scales. The four prongs are equal pay, equal opportunity, equal education and equal rights.
Further investment in Salesforce Canada
Canada is an important country for Salesforce. It already lists 6,000 Canadian companies as customers and has more than 1,300 employees there. Those customers include Air Canada, Husky Energy, Loblaws, Manulife, Roots, TD Bank and TELUS. Last year, as part of its strategic partnership with Amazon Salesforce opened a new data centre presence in Canada. It is now looking to accelerate its growth in the country. Benioff commented: "Canada is one of the most exciting investment opportunities for Salesforce and we are thrilled to commit $2B over the next five years to fuel future growth. As the world's fastest growing top 5 software company, we look forward to a great partnership and to expanding our employees, customers and innovation in Canada."
Benioff did not reveal the details of the investment. Instead the release focused on the figures in the recent IDC study that cited that Salesforce and its economy would add more than 28,000 new direct jobs and $17 billion USD in new business revenue by 2022. That research might be conservative as the $2 billion investment was not announced when IDC carried out the stidy last year. It will be interesting to see the impact the $2 billion has when IDC carry out the next annual research later this year.
What does this mean
Benioff clearly respects Trudeau. He commented during the meeting: "You have a real friend in San Francisco. As a city we love you, we connect with you on your values. Like you, we are a city that values diversity, equality, and we also value innovation."
Later Benioff also commented: "…He's an incredible leader of the world, focused on things that are important to us here in SF. Equality, diversity, he resonates in a world with more equality, diversity in it."
It is a relationship that demonstrates how important a personal relationship can be between politicians and national leaders. For Trudeau the $2 billion investment comes at a time when another part of his announcement drew negative comments. He called on companies to shares wealth with workers and declined to offer the same tax cuts that Trump has offered in the US. That has led to criticism that firms would not invest in Canada. The $2 billion that Salesforce is investing clearly counters that argument, the question is whether others will follow.