In Geneva last week, Guardtime and Metaco announced the launch of SILO, the aim of which is to enable banks to offer bank cryptocurrency custody for client assets. The SILO solution brings together software from Metaco with hardware from Guardtime. The latter is matters for Guardtime specializes in anti-tamper hardware.
Ben Robinson, Chief Strategy Officer of Temenos which offers SILO to its customers through MarketPlace, its app store, said: "Already an important store of value and an important asset class for trading and investing, cryptocurrencies will increasingly act as a means of democratizing asset ownership through tokenization. Metaco offers the best, most secure platform for banks wanting to provide cryptocurrency services. Our partnership is key to ensuring Temenos' clients will play a meaningful role in the future of money."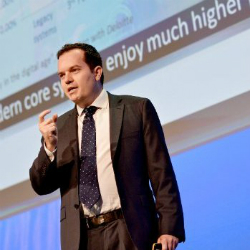 SILO multi-wallet solution
Even though cryptocurrencies, such as Bitcoin and Ethereum, have become wildly popular over recent months, they remain extremely difficult to store, as the US$530M+ loss at Coincheck demonstrates. Individual holders must keep safe a private key, which many forget, lose – or have stolen.
Many cryptocurrency exchanges have gone out of business, committed fraud or been hacked. It is estimated that, just over 2 million Bitcoins have 'gone missing' (stolen at least once). Depending on your valuation date these representing between US$10-20Bn.
The SILO patented multi-wallet solution can be deployed partly on-premise and partly in the cloud. It has as its design point the management of multiple accounts with different currencies. It includes security protocols such as multi-signature and transaction flow limits. This enables banks to:
provide clients with the highest-grade protection of their assets
still offer liquidity to trade and make payments.
Guardtime
Guardtime's first timestamping system went into production in 2008. As such it is one of the early participants in offering cryptographically enabled solutions.
Since then it has added "post-quantum signatures to replace RSA, Anti-Tamper hardware (Black Lantern), a provenance calculus designed to track and trace digital information as it crosses organizational boundaries…". The Black Lantern hardware platform is an interface between an organization's operational environment and KSI infrastructure designed to survive in austere environments, even where physical and virtual control over the device or attached network could be absent. By using active-defense measures, Black Lantern protects itself from nation-state cyber threats, threats to/from uncontrolled physical assets and insider threats.
Mike Gault, CEO of Guardtime, commented: "Cryptocurrencies are an important new asset class demanding highly specialist, secure technology. By combining our experience and expertise with that of Metaco, together we have developed the most secure cryptocurrency platform on the market."
Metaco
Metaco has a history of building digital wallets and custodian solutions for retail customers and of managing cryptocurrencies. In this context, SILO is a wallet-management system suited particularly for hedge and crypto funds.
SILO uses military-grade hardware to provide the highest levels of cyber-security and physical custody to allow hedge funds to store cryptocurrency keys and process transactions securely. It is a multi-account wallet-management system for installation on-premise or for access as a service. It can support multiple cryptocurrencies. SILO posseses full audit trails and there are high availability guarantees as well as dedicated support. By providing this type of cryptocurrency service, banks also cut out counterparty credit risk, such as bankruptcy.
Adrien Treccani, CEO of Metaco, commented as follows on the SILO launch: "There is no question that cryptocurrencies represent the future of money. However, there remains one major flaw, which is likely to get worse now that microprocessor issues have been uncovered: that cryptocurrencies are so difficult to store. The world abounds with examples of bitcoin millionaires who lost their keys or had them stolen. SILO, built exclusively for financial firms, solves this problem and allows individuals to trade cryptocurrencies with true peace of mind while extending the role of banks as custodians into the future."
What does this mean
Holding cryptococurrencies is a problem. In an exchange your crypto assets are vulerable (think Mt Gox, Coincheck and multiple others). A 'soft' digital wallet is not necessarily more secure – you can lose your smartphone or laptop with its digital wallet, or just your access keys. Offline storage, say on USB keys or even on paper runs similar risks.
The attraction of SILO is the combination of what Metaco and Guardtime bring to the party. The latter has a pedigree, not least with Estonia's national digital infrastructure, in proven (if expensive) hardware. Metaco adds the digital wallet experience.
The question is less whether SILO works than whether banks will buy. The atmospherics surrounding cryptocurrences are wild and windy. With even distinguished economists like Nouriel Roubini questioning the point of cryptocurrencies, it will require innovative banks to buy into SILO – even if customers demand the type of service SILO can provide.