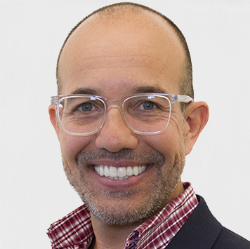 Enterprise Times caught up with Fred Studer at the FinancialForce offices in London. Studer joined FinancialForce just over six months ago. So what are the challenges he now faces? They include authenticity, brand and how inbound and outbound marketing has changed. He also revealed the tools that he uses as a modern marketer working in a cloud software company. These include Influitive, Marketo and Salesforce Einstein. He answers the question about whether FinancialForce will change its name.
He spoke about the role of the CMO and how it has changed in recent years. Studer also shared his views on the art and science of modern marketing and customer advocacy.
To hear more of what Studer told Enterprise Times you can listen to the podcast here. Alternatively you can download it to your local machine and listen to it on your personal device. Our podcasts are also available for Android devices from play.google.com/music/podcasts. You can also access our podcasts via the Enterprise Times page on Stitcher or through the Enterprise Times page on Podchaser.