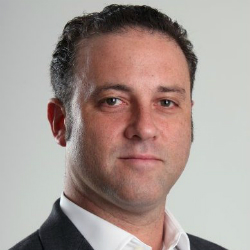 Unionwear are one of Rootstock's most talked about manufacturing customers. We caught up with Mitch Cahn, CEO of Unionwear, an advocate of Rootstock and a recognised industry expert.
Unionwear began life as a manufacturer of USA-made headwear and sewn bags. This includes such things as tote bags and backpacks for the fashion and promotions markets. They made many of the baseball caps for the presidential nomination candidates including Hillary Clinton, Jeb Bush and Bernie Sanders, as well as both the Democratic and Republican conventions. They briefly made hats for Donald Trump and were not the supplier caught up in the not made in USA saga.
Unionwear completely manufacture their goods in New Jersey, they also aim to source as many of their suppliers from the US. However, Cahn admits that some original source materials may originate from outside the US. That should not be a criticism just a fact of availability and good business sense. They went live with Rootstock on January 1st 2014 and while some of the conversation revolved around the industry, we also covered what Unionwear is doing with Rootstock.
After their most profitable year, Unionwear were hit by what could be described as a black swan event. In 2015 several Atlantic City casinos, at least one of which was owned by Donald Trump filed for bankruptcy. Most of their employees, up to 25,000, were members of a multi-employer union pension plan in which Unionwear was also a member. As a result the under funding of the pension plan came to light and the remaining participants approached to top up the fund.
In November 2016 the parent organisation, New Jersey Headwear Corp, filed a voluntary petition for chapter 11 to protect the business and employees against the disproportionate claim. A federal judge has already allowed wages to be paid and the business to continue running until a solution is found. He commented in a letter to clients and vendors last year: "Unionwear will operate normally both during the approval process and after this sale. Orders will be filled. Quality, service and delivery will be maintained. Vendors, lenders, wages and benefits will be paid. All 150 employees, including the entire management team, will be retained." We raised the issue with Cahn and he confirmed that it is business as usual until a solution is found and he expects to exit bankruptcy this year. He will have then successfully protected the livelihoods of staff and the business.
Looking positive in the short term
In the short term though Cahn expects an uptake in orders. He explained why saying: "There is a quirk in the US economy right now. Towards the end of the Obama administration New York and California, where most of the textile business is based, pushed for very high minimum wages up to $15 and benefits. This is far more than someone in a union job in New Jersey will earn. As a result a lot of our competition have closed or raised their prices dramatically and we have not had to rise our prices dramatically. We are seeing a flux of new business coming in and a lot of that is the types of goods that is kept in inventory and that is shipped to screen printers and embroideries overnight."
This surge in demand may be temporary but Cahn is looking to take advantage of it. He is also looking to expand their use of ecommerce. Their updated platform to deliver a more efficient way for customers to place orders. This will also feed into Rootstock for manufacturing planning and stock control. That platform was built on Magento and recently went through an upgrade to update their product list after their latest acquisition.
Evolving manufacturing landscape
Founded on the premise that many organisations wanted union made goods, the company has evolved in part due to the reduction in union strength. In the recent market the focus was more on USA made than union made and we asked Cahn how things have changed over the last year.
He replied: "The Market keeps expanding for the fashion and textile business. We are doing a lot more work for garment industry than we were doing two years ago and I don't know whether that's driven because companies don't want to import from China or Bangladesh for social compliance reasons or because the prices from overseas keep rising. But whatever its we are inundated with work from the garment industry where as a couple of years virtually everything that we made was made because it has to have the made in USA label for some kind of compliance reasons."
We wondered whether that growth has seen an increase in exports for the firm. Cahn answered: "We do manufacture for some brands that export. At present we do not do much exporting because when we decided to focus on made in USA market. Most of the demand for Made in USA for Promotional products type products come from the US. There is definitely a demand for retail products but that is not where we are focusing our efforts until very recently.
"That is an area of future growth and the brands that we manufacture for seem to sell a lot of our products in Tokya, Australia, Canada, Dubai and London and Paris."
This has taken Unionwear from being a niche manufacturer to a much larger player in the market. Unionwear itself has expanded with the recent acquisition of a company that manufactures leather and vinyl folders. We wondered how the ERP solution coped with integrating the acquisition and other market changes.
Evolving their solution
Unionwear has spent a lot of time driving efficiency into the business. They use Salesforce, Rootstock and FinancialForce. However Cahn is looking to replace FinancialForce with another accounting solution, though he would not be drawn as to which one. He did not imply that FinancialForce was failing to deliver what they needed, more that it was too sophisticated for a business of his size and requirements. This is a brave but probably good decision, it demonstrates that Cahn is not afraid to review decisions made.
We asked Cahn what changes have been made over the last year. He replied: "We have spent a lot of time streamlining the Salesforce to Rootstock process. We added an additional Gmail inbox app called Cirrus insight. So we are now able to give Quotes in GMail that can be converted into Sales Orders into Rootstock with the push of a button later on.
"We developed our own CPQ to be used within Gmail where most of our salespeople do our quoting. So that CPQ is tied into Rootstock and flows straight through into Rootstock and ultimately ends up in Financial Force. We are in the process of replacing FinancialForce as our GL service. It was just too robust for a company like ours."
That CPQ system is interesting. The solution was developed to integrate with Rootstock because at the time Rootstock did not have the required functionality within its systems. Unionwear has defined part numbers that effectively translate into a bill of materials for the manufacturing process. This is not a simple process as Cahn explained: "Colour combination, the kind of strap even for bags we have been able to use it with a slightly longer item code but it works. One of the shortcomings at the time of the RootStock CPQ is that it did not enable us to put in interdependencies of components.
"For example: in duffel back manufacturing if we were going to be going with a larger duffel bag and wanted to change the dimensions of the duffel bag we would need more webbing for the handle of the bag and there wasn't any way for us to set that interdependency up."
Cahn admitted that they looked at the Rootstock CPQ solution two years ago but not since and understands that it may have improved since then. It is one of the issues that all businesses need to consider when they buy software. This is not just about understanding what new features they can take advantage of either. It is also worth remembering that decisions made in the past may not be the right ones now.
What does the future hold
Besides the change to the general ledger Unionwear is also looking to implement Rootstock on the shop floor to deliver increased efficiency. In the summer Cahn hopes to have doubled the number of users to 24 by taking advantage of a mobile app on the factory floor. This will enable factory floor employees to enter production data direct into Rootstock.
Historically that information was recorded manually and entered by administration staff. Cahn explains the proposed process: "We intend to implement the mobile factory technology where we are going to take certain aspects of Rootstock that can be done by anybody on the factory floor with a smart phone. Things like moving and completing orders through our departments, receiving goods, recording the issuance of raw materials in production and correcting cycle counts for inventory.
"We are going to be pushing those onto Apps that would be directly tied into Rootstock. They will be used by people in the factory who may or may not have computer skills but have smart phone skills.  They may or may not be able to speak English but will be able to use a simple app to record what they are already recording on paper."
Why is this so important for Cahn? Unionwear do fairly short runs of products. At the moment the manual process has a major lag from the shop floor to Rootstock due to the manual re-entry process. That delay can be as much as 5 -6 days old. By introducing almost instant feedback Cahn and his team can identify and deal with bottlenecks almost immediately. They will be able to spot when production dips by 20% and react, fixing the problem before it causes a major issue.
Interestingly Cahn is not deploying barcodes. This would have been an additional cost for the production line and probably not as simple. Cahn's new mobile app will allow users to scroll and select orders, minimising manual entry and errors in the process.
Biggest challenge is people
As with other industries, talent is a major issue for Unionwear according to Cahn. Cahn explained: "Our current challenge is definitely hiring strategic thinking manufacturing talent because for the last several decades most of the manufacturing was done overseas. So you do not have a lot of strategic thinkers coming out of college saying that I am going to work in a textile factory. As a result we are having a tough time finding people who have the desire to work in manufacturing and have expertise in management doing so."
While this was not a surprise it was not the only people challenge Cahn has. He continued: "Another has been that it has been hard to hire to people to work in the factories, even at a higher wage that they can earn in retail. People don't want to work in factories as a career, they don't see it as a pathway to a career.  Both of those are probably our biggest challenges. We are held back in our growth just by hiring issues."
Conclusion
Unionwear is doing well, it is profitable, growing and improving its internal and externally facing processes constantly. it should exit chapter 11 with no ill affect on employees, supplier or clients.
However, Cahn also recognises that while he is moving his solution forward he may be missing out. He has not found the best way to keep up to date about what Rootstock and other software can do for him. There will come a point when he will need to review the Rootstock CPQ and other areas of functionality that he knows Rootstock has developed over the last two years. Rootstock has continually added customers and functionality since he first purchased the software and he wonders whether he might take advantage of that additional functionality.
It will be interesting to see how much more effective the Rootstock implementation is in a couple of years time, especially when Cahn has implemented all his proposed changes. It was refreshing to talk to a CEO who knows that he cannot just implement and forget a cloud based ERP solution, but needs to constantly improve and evolve it to meet the changing landscape.