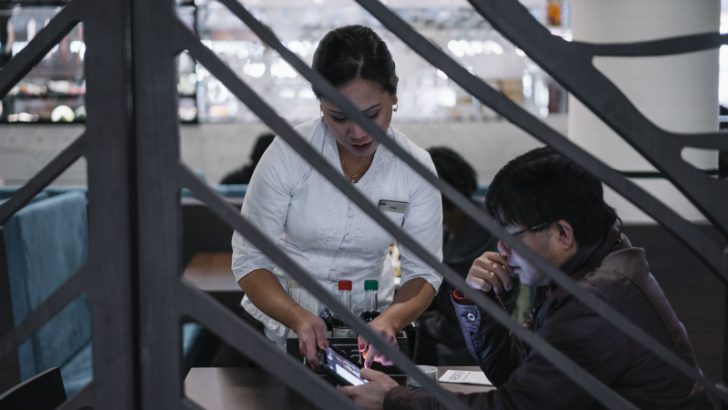 According to QikServe, the Kebaya Asian Brasserie at Amsterdam's Schiphol Airport takes 95% of its orders via a recently introduced table system. This is an astonishing uptake which begs a number of questions.
Marlijn van Straaten, Director Marketing and Communications at HMSHost International, (HMSHI), which runs the Brasserie, said: "The key is to reach travellers at the right moment in the airport, when their time is limited. Our digital strategy is to enable a truly omni-channel experience and reach our guests on all available touch points. This technology allows us to respond to these touch points and to address the increasing relevance that mobile devices now have in daily life. By taking away potential barriers, we want to make ordering as easy as possible for our guests."
In more detail
The Brasserie has introduced a multi-language, tablet system. This allows customers to order and pay for their food and drinks direct. The overall QikServe solution supports multiple mobile devices, tablets, kiosks and web sites. When customers enter the restaurant, they can browse the menu at touch-screen kiosks or, when they sit down at tables, they make their selection (using Samsung tablets).
By doing this, customers improve efficiency for:
Themselves: via faster responses.
The Brasserie: by reducing labour costs, increasing average order size, improving order accuracy and speeding the order through to delivery to the table or take-away.
The system streamlines the process of preparing to eat. The orders are transmitted direct to the kitchen. There is therefore less pressure on staff. Additionally the customer does not have to wait for a waiter to take their order.
Besides the ordering process, several 'downstream' benefits occur. Reduced communication mistakes between order and kitchen, mean less waste and irritation. Bills are ready for when they needed. In addition, back office integration means the Brasserie and HHMSI know what customers ordered, what is popular, what restocking has to take place, what accounting entries are needed, etc.
Looking forward, HHMSI will enable customers to order and pay using their own mobile devices.
In recent months, the company has introduced new developments designed to help increase the flexibility and integration of the technology for the hospitality industry. The product's multi-language capability is particularly relevant for operators in airport environments like Kebaya.
About HMSHost and QikServe
HHMSI creates "shopping and dining experiences" for travel venues and is part of the Autogrill Group. HMSHost operates international brands and proprietary concepts in more than 100 airports around the globe. This includes the 20 busiest airports in North America. Through its HMSHost International division, the company has F&B operations in 18 European airports. It also operates in 21 airports across the Middle East, Asia, and the Pacific.
QikServe's technology enables hospitality operators to provide the ability to order and pay for food and drinks directly from any device. 'Guests' can use mobile devices to order exactly what they want, when they want it. The QikServe solution is available as a standalone, customer-branded app or can be integrated into hospitality operators' existing mobile apps and POS platforms. It makes use of technologies such as in-store beacons or QR codes to alert customers to download and use the app. Once logged into the application, guests can open their check, add to their order, customize meals or room-service orders and pay for them from within the app. QikServe also integrates with the Oracle Hospitality Point of Sale (POS) platform.
Conclusion
From one perspective, as a frantic traveller in any airport competing for staff attention, the concept of fast, personal ordering via a connected tablet has many attractions. You take as much or as little time as you like.
On other hand this feels like an extension of McDonalds. Its great innovation was that customers perform the table clearing. In this case the customer does the 'hard work'. This relieves the restaurant of the need for so many staff (not so good for employment).
One other reservation occurs. You make your own mistakes. How do you decide what you want to eat? Will it be a photo with a translation into whatever language you nominate? Or will a short video clip show a shining example of each dish? You could waste hours salivating and not need to eat at all!
The logical extension, given so many airlines don't wish to feed their passengers without charging an arm and a leg for minimal choice) is that fliers should order from the Brasserie while standing in the line for security, for delivery to seat 24A on Flight XXX leaving at 1200. (Adding at 1400 hours when at 38000 feet is a little impractical as yet.)