This week, Zoho announced significant growth in both India and Spain. The announcement about India came as the company unveiled the latest generation of its collaboration software, Cliq. The announcement about growth in Spain came as the company hosted its latest Zoholic event in the country.
India momentum
India is the home nation for Zoho, and over recent months, it has seen mass market adoption and a move upmarket. It has seen growth in markets such as IT Hardware, BFSI, manufacturing, education and retail. Importantly, it has also grown its partner network by 30% over the last year. This will not only help to increase sales it also shows a vibrant market for professional services around the Zoho platform.
The most commonly used applications within India and driving the recent growth are Zoho One, Zoho CX suite (CRM and CRM Plus), Zoho People, Zoho Books and Zoho Workplace. To help with this growth, Zoho has opened sales offices in Delhi, Mumbai, Bengaluru, Kolkata and Hyderabad. It also claimed that it has expanded its SI partner network. Presumably, this includes the partnership with PwC India.
Vivek Belgavi, Partner & Leader – Alliances & Ecosystems, PwC India, said, "Zoho is a great addition to PwC India's expanding alliance ecosystem aimed at technology and digital transformation landscape. Our joint value proposition with Zoho marks an important step towards shaping the future of digital transformation, as we aim to offer the most relevant and agile transformation solutions to drive growth and success for our clients.
"With Zoho's robust product portfolio and our sectoral and technology expertise, we are in a position to empower organisations in their transformative journeys, delivering human-led, tech-powered innovative solutions."
Spain momentum
Spain is the latest country to experience the Zoholics road trip, with just the event in Utrecht, the Netherlands, still to come on the continent. At Zoholics Espana, the company announced further investment into the Spanish market. It has expanded its office in Valencia and plans to expand the office by between seven and ten times. According to LinkedIn, the company currently has around 8 people located in Spain.
The investment is not just in people. It is also in its products. It recently achieved ENS – Spain (Esquema Nacional de Seguridad) compliance. The ENS is a set of security controls and standards that are required to be implemented by service providers to allow the processing of data for Spanish public services or organisations that work with them.
The company also launched two localisations of its applications for Spain. Zoho FSM, its Field Service Management application. The launch included localised mobile applications for iOS and Android. It also released Route IQ for Zoho CRM. This app allows both field service agents and sales reps to plot the most efficient route for their callouts and meetings.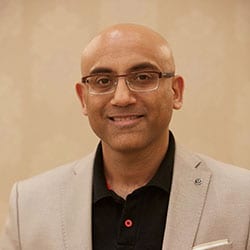 Sridhar Iyengar, Managing Director, Zoho Europe, commented, "Spain has been one of Zoho's key markets for many years. We are now driving further growth through building a stellar and robust team to bring local knowledge and expertise to help serve our customers more effectively. It is a critical part of our growth strategy to partner with customers and work hand in hand to enable them to digitally transform and improve their operations to meet their goals, overcome their challenges and drive further success for the long-term. Nobody can do this better than those who are close to the market and understand all the parameters within it."
Transnational Localism
Zoho is also aiming to bring its ethos of Transnational Localism to its Spanish organisation.  While it has not yet setup the community support that it has in India, nor invested as deeply as it has in the US in Texas, it has begun the journey. Similar to launches in the Middle East, it is working with local organisations to provide training to help small and medium-sized businesses digitally transform. Currently, it is working with the Chambers of Commerce of Barcelona, Valencia and Madrid on this.
Zoho also participates in the Business Plus community, a content platform that aims to help businesses grow and improve their capability through the education of managers and professionals. Content is free and a mix of webinars, events and other content types.
Success means customers
Zoho also shared some of its recent customer wins in the country.
They included:
Iyengar added, "Even though our Spanish customer base stretches back over fifteen years or more, there is still so much potential growth opportunity for Zoho. We are seeing growing interest from larger businesses as our products continue to develop and we introduce more complex solutions for their needs. ENS certification is a further recognition of our stringent policies surrounding the privacy and protection of the data of our customers. We look forward to embedding Zoho as a critical part of many more companies of all sizes and within all industries in Spain."
Enterprise Times: What does this mean
Zoho is already an impressive size with over 100 million users. Its growth in Spain seems assured, with localised applications and a growing band of partners to assist customers migrating to or starting using the Zoho applications. It currently has 22 partners listed on its partner search site, most of which have been partners for several years. This means the partner growth earlier does not appear to have been in Spain unless they are very recent. The newest is Codafish, a German headquartered consulting firm that has offices in Spain and has been a partner for 2 years.
It is early days for Zoho in Spain, and it will be interesting to see how quickly the company grows. Success in Spain could also support further expansion in South America.