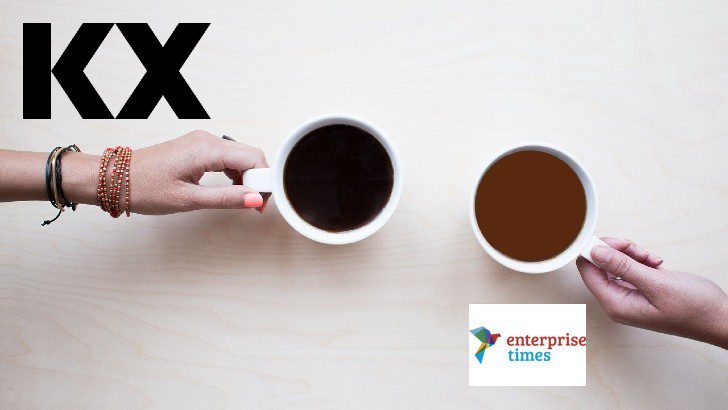 Enterprise Times recently spoke with Daniel Seal, SVP – Streaming Analytics at KX. He is also the head of product strategy for financial markets. KX is a subsidiary of FDTechnologies plc. The first question was to ask Seal to tell us more about KX.
"KX is the world's highest performance time series analytics in real-time decisioning company. For 25 years, we've been solving the hardest data analytics challenges in probably the hardest arena and the biggest data-driven market in the world, which is financial markets and electronic trading.
"We have 39 of the top 42 institutions on the planet as clients. We're now taking that technology to the rest of the world, into manufacturing, energy, utilities, automotive, aerospace, and telco. You will find us at the bottom of the sea, in the world's largest cloud platforms, Formula One teams, and even outer space.
"Whenever people find they have a high volume, high throughput, complex, data-driven business problem that other people can't scale to, KX is the company that they call."
Real-time data analytics?
There are a lot of data analytics companies out there, many of them startups. What makes KX different is its focus on what Seal described as real-time data analytics, but is it?
"The simple way to think about it is probably with an example. If you imagine a stock exchange, there are 1,000s of instruments you can trade, all being quoted by 10s of 1,000s of market participants, who are all providing quotes. What that results in is a very high throughput data feed from the exchange that everybody in the world needs to receive, to be able to make trading decisions because it's an electronic market.
"That data is time-series data. Every time there's a trade or a quote, it's published with a timestamp, an instrument identifier, a price, volume traded, and other elements. Repeat that millions of times a second, 24 hours a day, seven days a week, across hundreds of globally distributed execution venues. You have a very large scale data analytics challenge if you want to participate in those markets.
"Those are patterns repeated in many, many different businesses, Formula One, for example. Instead of stocks being traded on a stock market, you have two cars with 1,000's of sensors on them, each producing time series data. Those sensors log data with a timestamp, a sensor ID, and some readings.
"You repeat that 1,000s or hundreds of 1,000s of times a second. Though it's a sport, in this case, they have real-time business decisions to make based on that data. That's the general shape of the streaming piece.
"The general misconception is it's only a real-time business, and that's not true. Another big part of what we do is provide all of the historical data warehousing for data science and research activities. Because to inform the sort of decisioning and the calculation processes that are happening, you have to analyse the history. So that's another big part of the arena as well."
The KX platform
Where is the KX platform deployed by clients?
"You'll find us in colo data centres. You would find us in the bank's own on-prem data centres. Insights, the latest generation of our technology, is targeted at the cloud. We've been doing a lot of re-engineering work because we're seeing our clients move from on-prem deployments to the cloud. We've been working to re-engineer our stack.
"You will now find us across all of the major cloud providers, and we run hybrid as well. We're not cloud-native. We are cloud-first, or cloud portable, which is a positive thing. Gartner defines cloud-native as tied to a particular singular vendor solution. So you only run on AWS as a native solution, for example.
"Most of our clients need portability and hybrid solutions. You can also find those again in automotive cars, trucks and monitoring and equipment manufacturing. You'll also find us in manufacturing facilities and production lines."
Financial Services and the cloud
With those clients moving to the cloud, does that include financial services? Has that trend accelerated since Covid?
"Yes, and yes. I would hesitate to point to COVID as the reason for it. COVID has driven a lot of general business processes to the cloud. I think financial markets were going there anyway.
"The size and scale of the data and compute problems they solve, the elasticity and agility that you get in the cloud is ideal for solving that. The hard bit is doing that with the performance profile. You have to be at the sharp end of financial market use cases. The cloud providers are getting better and faster and working harder to do this.
"There have been other big barriers to entry, specifically around the availability of real-time market data in the cloud. Fundamentally, if you don't have access to what's going on in the market, and that picture comes from the market data feeds, you can't trade.
"We've seen the LSE buy Refinitiv, as it was last year, Google bought a large chunk of the CME, Bloomberg, and real-time data is now available on AWS. We're seeing the cloud offerings begin to mature in this space.
"That will continue to accelerate the migration because now, the clouds will have a technology proposition and all of the other ancillary services you need to support financial markets. It will increase, and we even see exchanges talking to cloud providers about transitioning exchange matching engines to the cloud."
What changes do you expect to see in financial markets concerning your technology and the cloud?
"Having been around it again for 20 odd years,  the fundamentals of that business and the way it's structured and the electronic nature of that business, the way that the market data firms, you're talking multi-billion dollar companies in Refinitiv, and Bloomberg. The way that they do business hasn't really changed in that time. I think the cloud is going to change all that massively. We're beginning to see the very beginnings of that now."
On product
What were the key product improvements in 2021?
"It was a huge year for us. We launched all of our Insights products and product strategy to the market. That was probably the single biggest update and change in this history. At the beginning of the year in January,  we were working hard on the product behind closed doors, and we launched the KDB+ cloud edition in March last year, which was quickly followed up with the Insights micro service suite in June.
"This year, we'll be releasing the full insights platform implementation, a fully-featured, enterprise-ready streaming analytics platform with the cloud."
What's on the product roadmap for 2022?
"We're hard at work getting the platform ready. We'll be looking at different ways to deploy and provision that across the cloud providers with marketplace integrations. So people can just go to the cloud, click it and deploy it.
"We're looking at managed service propositions for clients as well. A lot of firms are trying to reduce their in-house technology overhead. They want to buy these things as services, as a utility for their core business. We're seeing a lot of drive and requests from clients to run and operate infrastructure. That and continued updates and enhancements and improvements to the platform will be the rest of this year for us."
On challenges
What are your challenges?
"Keeping our potential that's the one challenge that drives me personally. I've been around this technology since I was at university in 2000, longer than I care to admit. It is still, even now, the fundamentals of this technology that separate it from the general offerings out there in the market. Without a doubt, it's a lot more competitive than it used to be.
"There are other good products out there in our space. What we're doing with Insights and the track that we're taking with our partners will change us into hockey stick revenue trajectories over the next three to five years. The challenge is making sure that we can fulfil that potential because the technology is there. We just need to execute it properly."
The book question
What was the latest book you read? And what was your take out from it?
"I've got two young kids, and this job keeps me pretty busy. The last time I read a book, I think it was Flash Boys (by Michael Lewis Amazon Aus, UK, US) when I was on honeymoon about five years ago. It is a story about low latency trading, the people that are now running the iEX Stock Exchange like Rob Park that we do a lot of work with and how technology changes the world and how that can change things very quickly.
"It's definitely worth a read. The story is about a company that physically cut a channel from New York to Chicago. They looked at the telecoms layout and worked out that they could shave something like 17 milliseconds of the round trip time for messages between NYSE and the CME.
"They physically cut a straight line to lay their cable and then went to lease and sell that bandwidth to market participants at massive rates, which I think they managed for about a week. Then somebody stood up a microwave antenna, game over. "