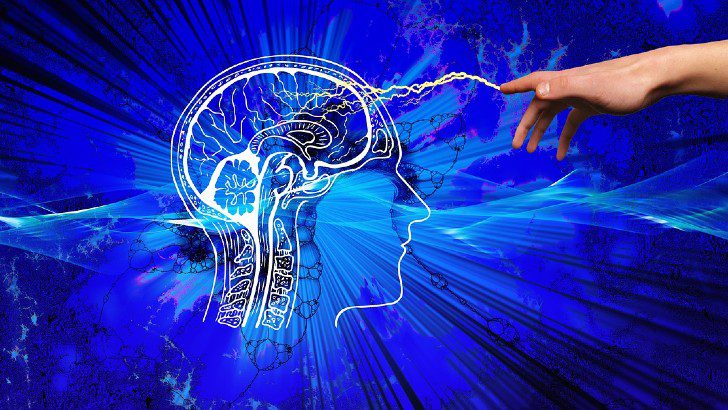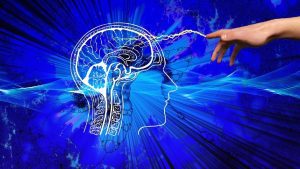 As part of the latest release of its ICI Platform, Icertis has released AI Studio. Powered by AI, the AI Studio surfaces insights about multiple sets of contracts in a single view. The AI Studio does not require a data scientist to operate. Instead, it uses models that analyse multiple contracts and allows the user to act on those insights.
Monish Darda, CTO and Co-founder of Icertis, commented: "CLM is emerging as the fifth system of record, unleashing a new pool of highly valuable enterprise data and driving demand for new AI tools that ensure the intent of every contract is fully realized—but this power needs to be in the hands of users, not just data scientists."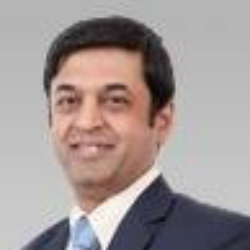 Arguably CLM could equally be described as a system of engagement. Contracts touch many parts of the organisation. The AI Studio is a system of engagement that users can work within daily. Users no longer have to move between different applications to understand the status of their contracts and can act on the insights given immediately.
What does AI Studio do?
Using AI Studio, users can quickly analyse contracts' risk, performance, and obligations within their organisation. Furthermore, the AI Studio is not a static analytics platform. It is a self-learning environment that improves the insights as it ingests more data. Once those insights are highlighted, the user can initiate a workstream, whether for a clause update across multiple contracts or a trigger to carry out a review.
That data is source agnostic. AI Studio can draw from the data held across multiple applications within the enterprise, such as SharePoint, Dropbox, and the ICI platform. Customers can also enhance the AI Studio by creating their own machine learning models to customize the attributes, clauses, risks and obligations that matters.
AI Studio brings together the learnings from the Icertis award-winning AI applications, including DiscoverAI, VisualizeAI, and NegotiateAI. Now located in AI Studio, they combine to form a powerful solution to analyse sets of contracts held within the firm. Icertis highlighted three pain points AI Studio addresses.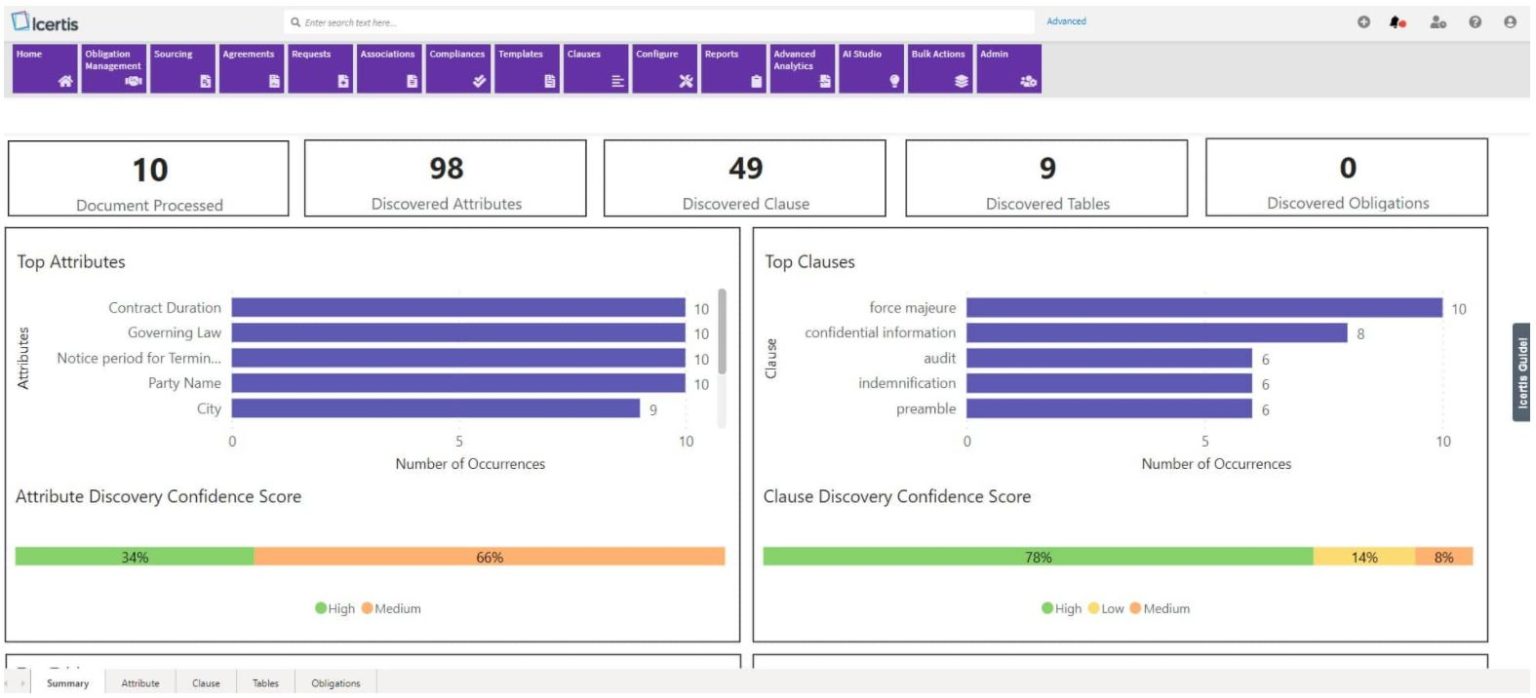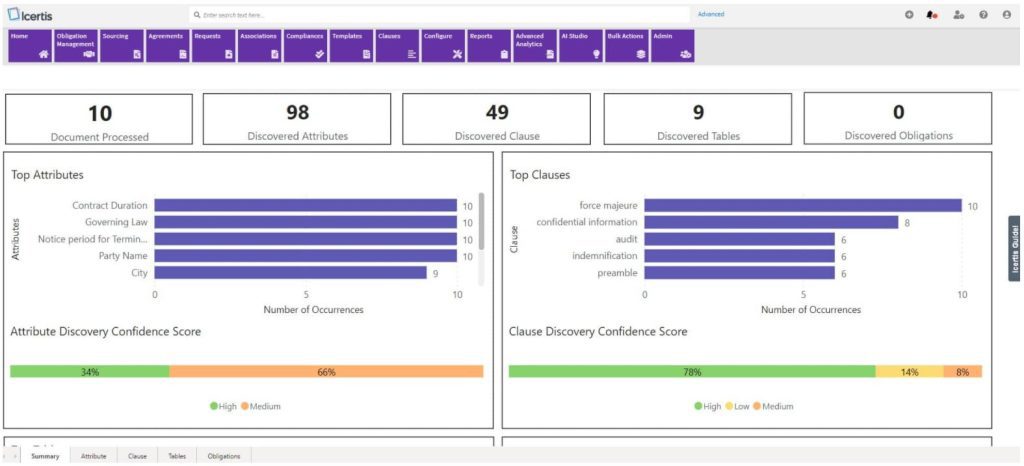 Identify and Mitigate Risk
AI Studio enables organisations to surface hidden risks of attributes, clauses and obligations across different sets of contracts. This is important as the overall risk may be negligible. However, for a certain subset of contracts, there may be a simple action to mitigate the risk. In analysing data from across the enterprise, the customer has a 360 view of their contractual obligations and risks.
Identify Standard and Non-standard Terms:
Non-standard terms are the bane of negotiation. They cost time during the negotiation and can reduce the profitability of contracts. AU Studio can highlight common non-standard terms across different functions, geographies and industries. These insights can help drive better consistency, increase efficiency during negotiations and improve contract performance.
Ensure Regulatory Compliance:
As regulations change, AI Studio can quickly identify those contracts that must be updated and enable the user to initiate action. This can significantly reduce the time organisations need to update contracts. When scaled across thousands of contacts, the CLM platform can identify and initiate the changes required, automating the whole process and saving weeks of work in some instances.
Benefits of AI Studio
Icertis has identified six benefits that AI Studio offers:
Extends product value for business and legal teams by removing the dependency on data scientists.
AI Studio offers unrestricted self-learning using the Icertis machine learning algorithms.
Improves commercial performance with business outcome focus that draws on real-time contract intelligence that adjusts automatically as priorities and external factors change.
Improves benefits due to real-time analysis and the ability to act, mitigate risks or take advantage of opportunities.
Can process multiple documents and associations regardless of source, format, or structure.
Delivers deeper business insights using detailed analysis with advanced reporting and visualisation.
Customers agree with Frank Marty, Global Head, Contract Lifecycle Risk Management, Cognizant, saying: "Using Icertis ICI and its AI technology, Cognizant has been able to rapidly digitize thousands of sell-side contracts, helping our account operations, contracting and finance teams to work more effectively. Perhaps most importantly, Icertis ICI provides us with new efficiencies, insights and capabilities that directly improve client service delivery.
"A centralized AI-enhanced contract data repository gives our executives a 360-degree view of contracts enterprise-wide. We can now provide the C-suite with reports on our contract risk profile, contractual obligation compliance, and other insights that help them run and protect the business."
Enterprise Times: What does this mean
Where CLM is a system of record, or a system of engagement is a moot point. Every company faces the challenges of managing contracts. For some, the challenges are huge with thousands, if not tens of thousands of contracts which may vary slightly as they have iterated over time.
AI Studio brings together the contract intelligence of the Icertis CLM platform and puts it into the hands of the users that can action the changes. They can do without the need of data scientists to surface risks, opportunities or even day to day work.
AI Studio is just the starting point. For organisations with those data scientists in place, it will also provide the vehicle to create the competitive differentiation that contracts can provide across the supply chain.