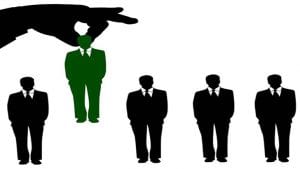 When your company is growing, it's not just about hiring fresh graduates or young talent. A key part of growth is finding the experienced, senior hires that have the expertise to continue to drive the company forward. In any rapidly scaling business hiring for a senior role is incredibly important. They will have a lot of influence in shaping and accelerating the future growth of the company. However, given the speed of growth versus the importance of your company culture, hiring senior team members in the early stages of a business is probably one of the hardest decisions you'll ever make.
When your business is scaling rapidly, senior team members are often needed quickly. In a market where demand for tech talent is high, this can bring challenges. Whether you're a scaling tech business looking to grow, or a company in the process of digital transformation, candidates from the technology industry are in high demand. Businesses across industries know that now is the time to act if you wish to adapt to market opportunities, embrace an increasingly digital world, and grow at pace. Therefore, no one can afford to wait around for talent with the relevant expertise for senior roles to show up at their doorstep.
Finding the right talent with relevant skills or experience without compromising, when both time and financial resources are limited, is a skill in itself. But there are some valuable considerations that may expedite learnings and help support your talent acquisition strategy:
Maturity, independence, and innovation
When determining which candidate(s) to go for, look into how much experience a candidate has and remember that they will likely be working remotely for some time. Maturity and independence should be key factors during the hiring process for senior roles. You should identify the amount of time you have to mentor new hires. If you choose a candidate without the right experience, they might start eating into your time, your team's time, and other resources. With everyone working remotely, senior hires with plenty of experience will be less reliant on the team and can help the business grow at this critical time.
When looking for senior hires for a scaling tech business, you also need to find innovators, those individuals that are brave, bold, and not scared to take risks. To grow a business well, senior players should also have entrepreneurial skills. In a talent market as competitive as the tech sector, the most experienced and skilled talent won't come cheap. Therefore you need to ensure they'll have a real impact on your business. Make the most of their expertise, decisiveness, and ability to innovate as it is critical to your business's success.
Don't just rely on your network
It's time to spread your recruitment wings further than your existing network to find the right fit. Scaling tech businesses are often reliant on their networks when it comes to senior hires, as these former colleagues and friends know of and support their vision. However, recruiting from your inner circles could lead to groupthink; your shared experiences and outlooks could negatively influence decision-making even if your group appears diverse. Recruiting your university friends, former colleagues or personal connections can create a tight management team, which in some cases can be a positive. However, when recruiting for more senior roles, this could cause friction and deter them from joining your team. For success in a scaling business, senior teams need to be balanced as well as reflect a range of opinions and perspectives.
Recruiting for highly specialised senior roles in the tech space is a new discipline. Limiting candidates by only considering Ivy League or Oxbridge graduates with several years' worth of experience is unlikely to end up in success.
There may be candidates with ten years of experience or industry veterans who are perfect but did not attend the top elite schools. Similarly, there could be certain skills within tech like data science or machine learning that are relatively new disciplines, therefore you'll struggle to find people with years of relevant experience. Be flexible about your idea of the perfect candidate. Remember it's not all about what's on paper: for scaling tech businesses it's about passion, drive, and connection to the leadership team's vision.
Differentiate from your competition
Senior hires, especially at the exec level, are harder to come by, and competition will be fierce. Your start-up orientated Employer Brand will be key here. Showing your company culture, emotional motivations and business vision may be the only thing that can set you apart from your main competitors. Think about the aspects of your company that make you unique. You need to also realise that you may not be able to compete with the likes of Google, Facebook, and Amazon. As a scaling tech business, you need to focus on the smaller more emotional benefits your company offers, and leverage these in a way that appeals to like-minded candidates.
Use your website, hiring materials, and communications with potential candidates as an opportunity to demonstrate the unique aspects of your brand, from your company culture through to values, mission, and vision. Now is the time to not only show what your business stands for, but to prove you're dedicated and authentic about this vision; that it's not just for show. When it comes to appealing to talented recruits with years of technology experience and expertise, it's no surprise that technology is important to them. Speaking their language, showing you understand the latest developments, and having knowledge of the software used will elevate you above the competition.
Get digital
Firms need to embrace digital attraction and use it as an element in a dedicated recruitment marketing strategy. Doing so may go a long way to ensuring that the correct people see the job adverts and campaigns and that recruitment budgets are not wasted on unqualified candidates. Candidates searching on job boards are often too junior for vital senior roles but also, by advertising on these platforms you're only likely to reach active candidates, which will significantly limit your search.
A recent survey revealed that candidates use job boards (23%) and social media (16%) to find new roles, alongside their own network and recruiters. This is only set to increase at the moment, as remote working means whether employers like to admit it or not, we're all spending more time than we should be on social media. However, with under 35s twice as likely to use social media to find a job than over 35s, you need to consider where your target audience is likely to be looking.
It sounds simple, but get to know the candidate
You can't rely on algorithms or ticking boxes to find your perfect candidate for such critical business roles. As well as being talented and experienced, you need to know they're passionate about your business and goals if you want someone who will stay with you for the long-haul. This approach may take longer, but ensures you cut down the risk of having to recruit again.
Follow the talent acquisition formula
Ultimately, you need to weigh up your budget vs. their experience vs. your ability to get them up to speed. Hire people that will be truly beneficial to your business and ensure that they are on board with the company mission, vision, and strategy. Resources might be tight, but finding the right hire will undoubtedly propel company growth and team strength.
---
Talent Works enables organizations to scale through powerful talent attraction solutions. Allowing businesses to realize their true potential through talented people. They combine RPO, Recruitment Marketing and Digital Resourcing solutions that deliver unparalleled results that scale with an organization's needs. Most importantly, they place the organization at the heart of everything they do. Building, enhancing and amplifying employer brand, reflecting culture and ambition.