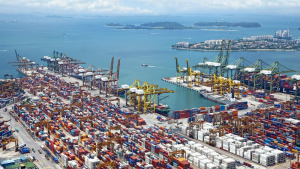 There were two key announcements during the virtual SAP Ariba Live 'event' last week. Goldman Sachs is to offer global payments on the Ariba Network and SAP Ariba plus SAP S/4HANA Cloud is now fully integrated to deliver an end-to-end source-to-pay process. In both announcements, the premise is that participants on the SAP Ariba Network will find it easier to do business with others that are part of the Ariba Network.
"We continue to expand our portfolio of ecosystem partners to add more value for customers," said Sean Thompson, executive vice president, Network and Ecosystem, SAP Procurement Solutions.
"Partnering with Goldman Sachs Transaction Banking allows us to deliver more innovative financial solutions, starting with these cross-border payment capabilities, which is critically important for so many of our customers on Ariba Network doing business in the global economy today."
The Goldman Sachs link to the SAP Ariba Network
SAP and Goldman Sachs are joining together to facilitate how millions of buyers and suppliers on the worldwide Ariba Network, where >US$3T in commerce transacts each year, can do business. Goldman Sachs' cross-border Global Payments capabilities will become available in select SAP Ariba solutions. This should make it simpler and less costly for buyers to pay foreign suppliers in local currencies.
Among the benefits claimed for this tie-up are:
a streamlined process for paying foreign suppliers in local currencies at lower cost with competitive foreign exchange rates
improved operational efficiency through improved reconciliation of payments to invoices
real-time payment tracking (which SAP Ariba hopes will reduce payment-related supplier inquiries)
cost transparency over bank fees
optimised payment routing – offered via Goldman Sachs' machine learning techniques
reduced risk – as a result of better visibility and control over foreign exchange payments and currency exposures (this applies particularly for those in the Procurement and Treasury functions)
improved buyer-supplier relations, because transactions can happen using each party's preferred currency yet with minimal change management,
"We put clients at the center of this product to create a frictionless payment experience and provide competitive and transparent pricing," said Hari Moorthy, global head of Transaction Banking at Goldman Sachs.
"We are proud to partner with SAP to introduce this innovative yet simplified approach to making payments across the globe on Ariba Network."
Integrating SAP Ariba solutions and S/4HANA Cloud for source-to-pay
With the Q1 2020 release, SAP Ariba and S/4HANA Cloud now fully integrate to deliver an end-to-end source-to-pay process. This is a part of SAP's continued delivery of intelligent solutions which:
adds next-generation spend management process integration
provides complete visibility and control.
The source-to-pay process within the intelligent suite means customers can manage all spend categories – both direct and indirect goods and services – through an end-to-end procurement process which takes advantage of the Ariba Network. SAP Ariba claims this:
redefines the procurement experience
enhances the return on existing SAP investments
offers a 'harmonised user experience' with embedded intelligence
is based on a single platform for trading partner collaboration
exploits integration to the SAP S/4HANA Cloud.
The benefits that customers can expect include:
the harmonised experience and simpler change management – with a consistent user interface across all solutions, including guided tours, embedded learning and a digital assistant
faster, more informed decision-making through immediate access to embedded intelligence (including proactive alerts to support smart and secure buying)
improved visibility and real-time reporting, along with end-to-end analytics
reduced TCO through the unified integration which eliminates costly services and support
a smooth end-to-end experience across data and processes
a unified view across user interfaces, application programming interfaces, identity management and user provisioning.
According to newly appointed SAP Procurement Solutions President Chris Haydon: "By providing transparency across the source-to-pay process and fully integrating with an organization's enterprise resource planning systems, the intelligent suite – aided by cognitive technologies such as artificial intelligence and machine learning – reveals insights and opportunities to create value that was never possible before.
"Through intelligent insights and an enhanced user experience, businesses can anticipate and act on changes in supply and demand by enabling buyers and suppliers to collaborate in real time with ease and simplicity on a unified platform."
Enterprise Times: What does this mean
Both these announcements are logical. Exploiting Goldman Sachs is a no-brainer (and it is interesting that Goldman is looking for business in the usually less than glamourous world of trade and supply chains). Equally, integrating S4/HANA Cloud is an obvious next step (some might wonder why it had not occurred sooner).
Arriving in the middle of the Covid-19's global interruption of commerce, it is challenging to assess the the value of these SAP Ariba announcements. In theory both should contribute to making it easier to do business and then pay for transactions. This could become significant if/when Covid-19 is in the past.