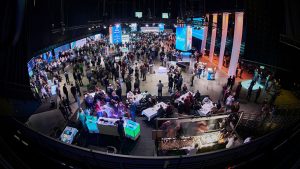 The Nordics Infrastructure Conference (NIC) 20/20 Vision, hosted by Crayon, kicked off today in Oslo. Having recently been named Microsoft's global No. 1 Partner of the Year for AI and ML, it came as no surprise that Jason Zander, Executive Vice President of Microsoft Azure was on hand to give the keynote.
Zander gave the audience a good look at where Microsoft's cloud journey is and what it sees coming. In the middle of it, there was a demo of Azure Arc and mention of some other technology only available in customer preview mode at the moment.
As with most keynotes today, Zander peppered it with key numbers for Microsoft. Among these were:
50 billion connected devices by 2030
175 ZB of data by 2025, 79 ZB from just IoT devices
56 Azure regions globally
130,000km of fibre network
7 trillion messages per day in Azure IoT (a number that is growing exponentially)
US$5 billion in IoT and IoT investments to span both Microsoft projects and those from partners.
Unlike most keynotes, the impact of the numbers became clear as Zander worked his way through Microsoft's Azure and other technologies.
Why Azure, why now?
Every major technology vendor has their own cloud story and why you should throw your corporate budget at them. Zander's keynote was no different except the breadth of tooling and offerings is truly wider than its competitors. This is also a Microsoft that has evolved over the last decade and now embraces competitors as part of the wider customer technology pool.
Microsoft has significantly matured its Azure offering in recent years. It now offers a version as small as 7lb in weight and capable of being carried in a backpack up to a full blown data centre. If there is a cloud model you can name, Zander believes Microsoft can deliver it.
That includes addressing the need organisations have for hybrid cloud and the ever growing threat of compliance on data. Microsoft has been building out its Azure cloud regions around the world. There are now 56 of them with the latest two located in Oslo and Stavanger, both in Norway.
One of the key messages from the Azure cloud story is that it doesn't matter where you are, what you do or if you have a guaranteed connection, Microsoft is building an Azure solution for you. Hype? Well maybe a little rah rah in places but it is a position that Zander backed up during the keynote.
Big data, very big data and driving that AI story
Dealing with the never ending increase in data is also something that Zander focused on. It is not just about the existing data as the numbers above show. There is a predicted increase in data from IoT devices of 79ZB in the next 5 years.
This plays to several things that Zander talked about. The ability to push Azure to the edge through small Azure instances up to full racks on site. That data can be processed more quickly and efficiently close to the point of capture.
Customers that need to process multiple large silos of this data will soon have access to a new Microsoft Azure solution, Azure Synapse Analytics. It is currently in private preview but Zander encouraged delegates to take a look at what it offers. Importantly, it also solves one of the challenges of building machine learning systems. Rather than replicate lots of data for use inside and outside the ML system, this solution allows SQL queries to be run against the ML data set. This opens up access to those systems from traditional computing solutions as well as AI.
AI is also an area where Microsoft, like many vendors, is spending big. One of the challenges for many businesses is how to get started. Tools and languages are great for developers and data scientists but they take time to learn. Microsoft has a number of pre-built models and there are more from its partners. Zander's view is that the quickest way to get AI running is not to get bogged down with building from scratch but start with those models.
There are other reasons to look for pre-built models. The increasing issues over compliance and the need for transparency over data usage means building all of this into the core AI model. That takes time, training, experience. A pre-built solution and working with a specialist partner is a faster way to get started.
The rise of the digital twin and a big IoT investment
Digital Twins are something that engineering companies have recognised the benefits of for a few years. It has changed how aircraft engines are charged for and helped identify problems with components. Microsoft is moving into this space with its own Digital Twin plans using Azure as the platform.
There is a good reason for this. It is capturing all the IoT data into the Azure platform. This can then be extracted right into the Digital Twin and ensure that the data is as close to real-time as it is possible to get. It is also working with customers to allow them to test new configurations against the Digital Twin before deploying solutions to production environments.
From a customer perspective this has a significant benefit. When an upgrade or fix comes from their vendor it arrives when needed. It means the supplier can be sure that it won't cause unnecessary downtime. This is critical if the component is a lift, an oil platform, a critical generator or other component central to an organisation.
As part of this programme, Zander talked briefly about the $5 billion that Microsoft is investing into IoT projects. This is also about supporting Microsoft partners as they develop IoT solutions. With Azure IoT, Microsoft believes it can support the wider increase in usage and the predicted 79ZB of data it will generate by 2025.
Enterprise Times: What does it mean?
With any keynote you expect a bit of razzmatazz. Zander, however, kept that to a minimum with a few short customer videos and a demo. This is how keynotes should be. Lay out the case, present the products and leave the audience believing that their partners are able to execute on the strategy.
While Zander didn't spend much time calling out partners, it was clear, listening to delegates later, why Crayon managed to get Zander to do the keynote. They liked what they heard, they see where cloud can take them and more importantly, they also like what Crayon has done. Among the latter is its involvement in helping build AI and ML solutions and get customers into the cloud. It explains why it won the award from Microsoft in this space.
Looking forward, it will be interesting to see how quickly this moves forward. The Nordics region is very disconnected by the nature of the landscape and the weather. Yet some of the capabilities on show will appeal to the large and small manufacturing companies that are major employers. More importantly, the small-scale ruggedized versions of Azure fit well into the other main industries here such as oil, gas, hydroelectric, forestry and fishing. Zander managed to get in a message to all of them at different points in his keynote.
Crayon is also doing its part. It is talking a strong game at this conference judging by the responses from delegates. Can it hold onto that number 1 spot for AI and ML with Microsoft? On the evidence here, there is no reason why not.