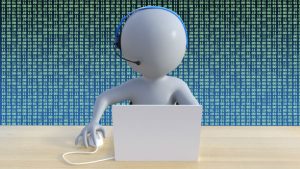 A short time ago the idea of call centre agents enhanced through the use of artificial intelligence seemed more like science fiction. However, recent announcements by vendors such as Contexta360, NICE and Pegasystems have brought this closer to reality. Research carried out by Opinion Matters and sponsored by Contexta360 has found that it is rapidly becoming the norm. The survey polled 250 contact centre managers in the UK. It found that 92% have speech analytics deployed and a staggering 43% deployed it in the last year. Another 7% plan to implement it in the future leaving 1% apparently with no plans to do so.
What is speech analytics used for
Companies are leveraging speech analytics for three primary reasons:
Improved customer satisfaction 45%
Greater Customer insight 38%
Improved compliance levels 37%
The research split its findings into two groups; contact centres having more than 5000 employees and those with 500-4999 employees. In the larger call centres, compliance was seen as the primary benefit by 45%. Further breakdowns and differences between the two groups are highlighted throughout the report.
Does speech analytics deliver?
It appears that vendors the haven't quite delivered on the promises. Respondents highlighted challenges with the existing systems which mainly use analytics on speech. 12% of respondent found it difficult, if not impossible to obtain high quality, actionable intelligence from speech analytics.
It seems the idea of having multiple applications to derive multiple benefits from recordings is also not that viable. Nearly half (46%) stated that they were unable to effectively re-use recordings with a second platform, though it isn't clear why. While most managers are seeing the benefits of the analytics. There is clearly still work to do to make it easier. Perhaps this also includes fixing existing deployments.
How can speech analytics deployments improve?
The report highlights some interesting statistics about the maturity of speech analytics but did not compare this year's results with last year. That so many have adopted speech analytics recently, makes it harder to gauge if maturity is based on new deployments or embedded solutions.
The inference is that some companies are still finding their way in the solution and have not yet reaped the full benefits of what they can deliver. The report does highlight that the some of the more complex uses of speech analytics are not yet in use, statistics include:
59% cannot tailor their platform to their sector by training it to recognise industry jargon or product names.
54% have no AI and deep learning capability
54% have no ability to identify key sales phrases. (which rises to 63% for larger organisations)
In general it feels that only half the respondents are actually able to leverage close to the full promise of speech analytics. Coincidentally, this is nearly the same as those solutions deployed for over a year.
Andrew White, CEO, Contexta360 said: "The research indicates that enterprise adoption of speech/chat analytics is at an inflection point: companies are deploying the technology but not necessarily accessing the full range of advantages that are available. Interoperability with third party solutions is a challenge, especially for newer users, while use of the more advanced automation features offered by AI-powered interaction analytics platforms is not yet widespread. It is also clear that legacy vendor solutions are not easy to use or align to customer needs.
"There is a clear opportunity for contact centres to deploy these additional capabilities to improve efficiency, accuracy and agent productivity. When scoping out providers, the focus needs to be on open, flexible technology that offers fast time-to-value."
Are the call centres days numbered?
The research also looked at the future of call centres and whether the voice channel will survive in the age of other digital channels. 23% of respondents felt that "the voice channel is a premium customer contact channel of high value to our organisation." However, 14% felt that its days were numbered and 11% felt that its importance was decreasing in favour of digital channels.
Voice is probably here to stay. Mid-sized organisations are more likely to aim to eliminate the channel entirely. By comparison, larger organisations want it to become more cost effective. Therefore, as speech analytics improve delivering better actionable insights and automation in contact centres, costs should fall. This is good news for Contexta360 which provides one of the leading speech analytics solutions. With more use cases available, they will need to publish more case studies with a clear return on investment.
White noted: "The voice channel continues to be important to consumers, particularly in the moments that matter when they need urgent help, when there is a high value transaction or customer conversation or a sensitive escalation, therefore it is still important to businesses.
"If contact centres can see beyond using speech analytics mainly for monitoring and compliance purposes, and realise the automation and real-time agent augmentation that AI-powered platforms can deliver, they can turn that channel from a costly burden into a competitive advantage."
Enterprise Times: What does this mean
There are some interesting findings buried within this report. It is, however, awash with statistics and would have benefited from more visual analytics. If the same survey is carried out in a years time it will be interesting to see the changes. Contexta360 may also have found out which contact centres were using which software and analysed the satisfaction levels for each of those surveyed. There is clearly room for improvement in many call centres. However, it is unclear whether those call centres are part way through a phased deployment and gradually improving their solutions or have completed their investment.
For Contexta360 and others there are clearly some opportunities. Call centre customers can look forward to improved customer service from their call centres with better hand offs. They won't yet be talking to an AI agent, but those days may be coming. Perhaps a question for next year? Certainly some of the responses customers will get will be more intuitive and driven by AI rather than a simple script. This may, however, mean more upselling and cross selling unless empathy models are built into the platforms.