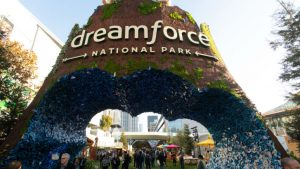 Aphria is a fast growing multinational cannabusiness in Canada. It recently deployed a combination of Salesforce, Rootstock and ComplianceQuest to replace a multitude of legacy systems in an organisation built through acquisition. At Dreamforce this year Enterprise Times sat down with Tim Purdie, CIO and CISO Aphria as well as Prashanth Rajendran CEO, ComplianceQuest and Tom Brennan, CMO Rootstock to talk about the project.
Purdie explains how the company has grown rapidly and noted: "As that scale changes dramatically you get a more sophisticated workforce that has expectations about tools and enablement."
He talks through the selection process of Salesforce in combination with Rootstock and ComplianceQuest to meet its CRM, ERP and compliance requirements. He was particularly impressed by the maturity and simplicity of Rootstock which delivered the ability to meet the seed to sale requirements of Aphria. It also enabled them to leverage the Salesforce platform to meet the specific requirements of Aphria, especially its differentiating cultivation processes. Additionally, the functionality of ComplianceQuest impressed one of his team in an astonishing way.
Purdie was keen to adopt the best practice processes offered by Rootstock. This enabled him to meet, with the help of an internal team and consultancy, the aggressive four and a half month timescale for implementation. The deployment included the use of several Microsoft Hub 2 which they use as mobile platforms in the cultivation buildings.
This is not Purdie's first ERP deployment. He has implemented 13 ERPs in the past, including SAP and Oracle. This is the first time he has implemented one on the Salesforce platform with Rootstock and ComplianceQuest. He is enthusiastic about them saying: "These tools are the best and I don't say that lightly."
Solving the problem of a disappearing workforce with Salesforce
Finding and retaining qualified manufacturing staff is difficult. It is a challenge well known to Purdie. He believes that now he has deployed Salesforce he has a greater chance of retaining key staff wherever they are. The advantage of the Salesforce deployment is that he can solve the remote working, security and compliance challenges.
To hear more of what Purdie, Rajendran and Brennan had to say, listen to the podcast
Where can I get it?
obtain it, for Android devices from play.google.com/music/podcasts
use the Enterprise Times page on Stitcher
use the Enterprise Times page on Podchaser
listen to the Enterprise Times channel on Soundcloud
listen to the podcast (below) or download the podcast to your local device and then listen there