Constellation Network (Constellation) – a software, big data and blockchain company – is integrating its secure communications protocol with Quant Network's (Quant's) Overledger. The latter is an operating system which addresses interoperability of blockchain protocols at scale. The partnership represents a next step towards commercialisation of blockchain technology – by providing an end-to-end path from testing in closed environments to production-ready real-time digital systems.
"The third generation of blockchain technologies includes plug-in-play interfaces with functional operating systems, like the Quant Network, and robust developer solutions that meet the existing needs of data science" said Benjamin Jorgensen, CEO, and Co-Founder of Constellation Network.
"With nearly 28 billion devices coming online by 2022, that's nearly 4 devices for every person that produces 1.7megs of data every second. The Quant and Constellation partnership introduces an end-to-end development ecosystem that accommodates a world of big data."
Smart Cities and IoT
Smart (or Connected) Cities can exploit IoT to develop and connect digital ecosystems. Multiple benefits arise, including:
improved energy distribution
more efficient waste collection
connected cars
improving air quality.
In recent years, investors, businesses and governments have poured billions of dollars into developing concepts to underpin a Connected City. But the lack of a sufficiently powerful, secure, flexible and interoperable technology, able to interconnect the many blockchain technologies already in use, has held back progress. These technical barriers to deploying the technology at scale have also inhibited mainstream adoption of blockchain technologies.
The Constellation Network and Quant Network partnership seeks to change this – by providing an end-to-end path from testing in closed environments to production-ready real-time digital systems.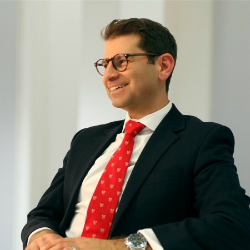 "Truly Connected Cities is an exciting prospect," said Gilbert Verdian, Founder and CEO Quant Network, "and we're delighted that this partnership with Constellation will make a significant contribution to accelerating their development.
"We live in a hyper-connected world which is only going to grow, together we're laying the secure and interoperable foundations to make machine-to-machine communication and data a reality."
The Constellation/Quant integration
The two companies explained the integration in a recently released paper (An Internet for Automation with IoT and Edge Devices). This sets out how Constellation and Quant will provide:
robust security for IoT
interoperability of data between systems and devices
use cases, including for connected cities.
To the partnership Constellation brings a secure communication protocol and a network called HyperGraph. Built to process and organise data streams, Constellation provides application support and developer tools which integrate with:
existing data management and tech stacks
consensus as a service, based on reputation
democratic real-time verification of data.
By appending Constellation's developer tools to data pipelines, this provides a way to secure those pipelines at scale while creating an immutable audit trail to big data feeds. The Constellation designed HyperGraph to:
accommodate production ready data environments
be compatible to existing tech stacks like StackPath, MongoDB, Databricks and Cloudera.
By comparison, Quant developed a blockchain operating system called Overledger. Overledger enables customers to connect to any supported blockchain with just three lines of code. Clients can choose between multiple blockchains and protocols to create multi-chain decentralized applications (mApps).
Because blockchain has a myriad of use cases and infrastructures, Quant assists companies to 'abstract away' the complexity of blockchain technologies – via a single gateway connecting to the underlying blockchain infrastructure. This opens up the ability for enterprises and organisations to:
minimise or avoid technology and vendor lock-in
take advantage of interoperability
benefit from combining the features of different blockchains to develop rapid prototypes and production applications.
The results should appeal to a myriad of use cases in Government, Financial Services, Healthcare and IoT/Mobility – including Smart Cities.
Enterprise Times: what does this mean
As observed above Smart Cities are a great idea. There are smart initiatives in cities as varied as Dubai, Milton Keynes, Southampton, Amsterdam, Barcelona, Madrid, Stockholm, Copenhagen, New York as well as in both India and China. Yet most of these have been held back by various technological as well as practical constraints, not least the proliferation of blockchain solutions. Nevertheless, there is a growing desire to take blockchain to new levels which see it incorporated into real world, scaleable environments – like Smart Cities.
The Constellation and Quant Network partnership aims to provide a scaleable infrastructure capable of supporting real-time verification of streaming data and offering developers the tools to establish secure data pipelines. If executed as Constellation and Quant Network envision, this could:
create a complete ecosystem and one-stop place for blockchain solutions
establish new standards and capabilities for data
encourage a next generation of applications.