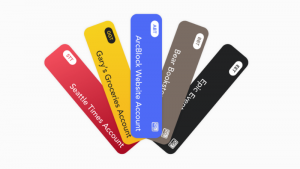 ArcBlock has released a new version of its decentralised identity wallet, ABT Wallet 2.0 along with developer tools. With these, ArcBlock believes it is delivering a new decentralised identity wallet experience which is both dynamic and supports users' daily life. ArcBlock claims ABT Wallet moves beyond static interactions so that anyone can take back control of their digital identity (DID) and day-to-day activities with nothing more than a mobile device.
"We are excited about the release of ABT Wallet 2.0 and enabling decentralized identity to be a part of everyone's daily life. For the first time, users can experience the benefits of decentralized identity and blockchain technologies, but in a way that makes sense," said Robert Mao, CEO of ArcBlock. "Today, most people are using mobile devices throughout their day, and the new ABT Wallet is designed to extend the capabilities of their phone by allowing them to use these next-generation blockchain services in a way that is already familiar. Every interaction is designed to be useful and user-friendly. Moreover, we've added new capabilities that allow users to manage their personal and professional digital properties with ease."
The ArcBlock ABT Wallet 2.0
The ABT Wallet 2.0 implements an industry-standard decentralised identity protocol – DID:ABT.  This allows users to create decentralised identities, created in a wallet, to be:
under the control of the user
independent from any centralized registry, identity provider or certificate authority.
The ABT Wallet 2.0 now includes:
a new user-experience for managing accounts and digital properties
easier ways to connect and interact with applications, services and connections
a streamlined way to check activities and transactions.
With these new features, users can use their mobile device, with the ABT Wallet app, to:
interact and manage their daily digital experiences
possess on-going confidence that their data is secure.
The attraction of the ABT wallet is that:
everything happens with a few actions
users can have confidence only they know their identity data
the experience is 'fun', whether it's logging into a dashboard for work or buying event tickets for pleasure.
In the next few months, ArcBlock says it will be releasing an updated Wallet Software Development Kit (SDK) to enable developers and businesses to launch their own identity wallets. To learn more about decentralized identity, the ABT Wallet
ArcBlock, ABT Wallet and DID
ArcBlock has integrated decentralised identity with its interoperable blockchain network. Any identity created on the network automatically receives a DID, thereby helping anyone wanting to build and deliver services which use DID, flexibility.
To enable this, ArcBlock is an active member of:
the Decentralized Identity Foundation
the W3C CCG working groups who are actively working to establish decentralised identity standards.
After the release of the first version of ABT Wallet, ArcBlock's team worked with users and customers to obtain feedback on what they wanted in a subsequent release. With ABT Wallet 1.0, users could use secure sign-up and login, easily verify claims, proofs and attestations, and had unparalleled privacy. However, the feedback demonstrated that these interactions focused on people already familiar with blockchain.
ABT Wallet 2.0 changes this. ArcBlock is seeking to make DID useful to everyone in ways that are familiar. With ABT Wallet, users can:
log in and access at their place of employment
create and use websites and applications with user-defined profiles
request, share and send documents
make payments at their local coffee shop
and more.
Enterprise Times: what does this mean
A recurrent criticism of blockchain wallets is that they are impenetrable except to those with blockchain, a reality confirmed by ArcBlock's own research. The ABT Wallet 2.0 seeks to reverse this.
From an Enterprise Times viewpoint, it is the promised development tools which have the potential to be more interesting. That is if ArcBlock can – as it says it is trying to do – transform the way enterprises develop, manage and deploy blockchain-enabled applications.