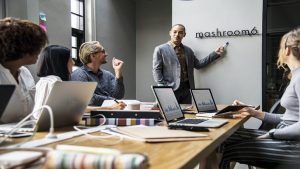 Zigurat Innovation & Technology Business School and consultancy Setesca, have published a report "Future of Jobs in the Digital Era." The report highlights the impact of the digital transformation in the labour market and on new emerging professional profiles. The analysis is part of the new edition of Zigurat's Global MBA in Digital Business, training that responds to the growing demand for digital profiles.
Digitisation, an international reality
Three hundred and seven companies from Spain, Canada, US, Austria, Switzerland, Italy, Great Britain and Columbia participated in the analysis. More than 85% were implementing digital transformation processes. This compared to the 15% who admitted not having started their path towards digitalisation yet.
Among the most widely implemented digital solutions, Big Data came first with nearly 70%. This is followed by Cloud Computing 57% and CRM 52%. Artificial Intelligence (AI) has made a niche for itself in the digital infrastructure of many companies 34.8%, occupying the sixth position.
Training – essential in digital transformation
Predictive Systems 33% and Blockchain technology 22% were identified as third and fourth key digital solutions having the greatest impact on their current clients. Surprisingly, these solutions do not stand out as the most implemented in companies. Training in management 50%, or technical competencies 31%, could resolve this gap between a potential market need and the availability of professionals prepared to meet it. This is confirmed by the analysis.
According to report, individuals are improving the employability of individuals in the marketplace by creating their own business 42% or participating in startups 31%. Other individuals are acquiring a new role with more working options 27%.
Automation: enemy or ally?
Ninety-six percent of respondents indicate implementation of digital tools and processes will improve company's results in the short and medium-term. Furthermore, 63% of companies have invested more than 100,000 euros in implementing digital processes. No respondents are worried about the disappearance of their profession in its entirety. However, 50% of those surveyed predict that between 0%-25% of their tasks will be automated sooner rather than later. This is compared to 33% who see between 25%-50% of their functions automated in the near future. The rest 18% believe that between half and 75% of their tasks will be automated in the near future.
Originally founded in 2001 as an e-learning education school for engineers and architects. Zigurat was relaunched as an Innovation & Technology Business School in 2017.
Mercer's talent trends report
A similar technology theme emerges from Mercer's annual Talent Trends report, 'Connectivity in the Human Age'. The survey provides a similar global perspective on the current talent landscape.
Over the past year, Mercer surveyed more than 800 executives, 1,600 HR leaders and 4,800 employees across 16 countries across the globe. From these interviews, the company produced a report that captures trends HR teams and candidates need to be aware of.
How are business leaders and employees adapting to new technologies, such as AI and machine learning? What do we really want from our working lives? And what are the biggest challenges ahead, for business leaders and their staff?
Rise of the gig economy
One of the key lessons from the report was that 79% of executives said they expect to replace full-time workers with freelancers over the coming years. Full-time employees are getting used to a 'gig economy' mindset. Fifty-one percent of respondents say they would move into a temporary role in order to gain experience. Furthermore, 82% said they would be willing to work on a freelance basis.
This may be a result of businesses wishing to become more agile. A full-time employee is a big commitment – especially when their skill set may not be that useful in a year's time. By working with freelancers, businesses can access deep expertise in one area, without committing to a long-term agreement.
Executives are feeling bullish about disruption
In Mercer's 2018 report, 27% of executives said they expected significant disruption in their industry over the next three years. Disruption such as 'challenger' start-ups entering their industry or new technologies like AI that change the way we work. This year, that number almost tripled, reaching 73%. On top of this, 99% of executives said that they are preparing for the new world of work. The majority of executives are confident that their business is ready to lead disruption in their field.
Enterprise Times: What this means for business?
We're living in a period of profound social and technological change. Much has been written about the 'gig economy' and its impact on the use 'self-employment' status for workers. However, both reports are fascinating reading – the Mercer Report is also pretty long. But they highlight the fundamental changes taking place in the jobs market.
Technology is disrupting every aspect of business. Inevitably, this trend is having an impact on the skills required and the nature of the job market. Business planning horizon is shortening. The time to develop new products or services, to form new strategic partnerships, or critical new competencies requires new skill sets. Nearly every company in this year's Mercer report is consciously incorporating change. In fact, 99% of companies are taking actions to prepare for the future of work. As the report suggests, 'The move to a more team and project work is an enabler of this trend.'