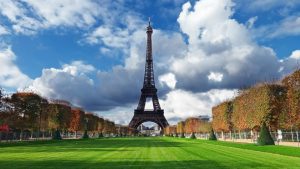 At Zendesk Showcase in London, Enterprise Times had the chance to talk to Grégoire Leclercq, Directeur Général Adjoint (Deputy Managing Director), EBP Accounting Software. EBP has been a client of Zendesk for less than two years. The implementation of the solution has radically changed the customer service experience of the multinational software firm. EBP is a French based Accounting firm that provides solutions for more than 600,000 VSE and SME businesses to several international markets including France, Belgium and Morocco.
Zendesk published a case study on the implementation that highlighted several impressive statistics.
In two months Zendesk processed 15,000 tickets
60% of tickets are now processed in less than 24 hours
Customer Satisfaction for ticket processing rose to 82% from 71%
In the beginning
Before Zendesk EBP used a mix of Outlook and Excel spreadsheets to manage a growing requirement for support. This was unsustainable through its international growth and it looked at the offerings on the market. Besides Zendesk Leclercq also considered BMC Remedi, and despite it having an aggressive price point compared to Zendesk it had too much of an internal focus.
The project started in October 2017 and took two months to complet, going live in December 2017. That is fairly quick as Leclercq explained: "We decided to organise a very light project. In the past tried to launch Salesforce and it was a huge project, it was too big, it was a disaster. Therefore we decided to have a short project with a small team, it was very agile.
"Each week, we organised live sessions with everybody. We organised tests and training for new users. Nothing complex, no macros, no integration. We just took the tool we used to train and went live."
Five phases to success
EBP have not continued the Agile approach in a traditional manner, but have planned five phases for Zendesk. It is not a continuous change, as it allows time for each phase to bed in. It has completed three of them.
The first step was completed in December 2017 when EBP went live with tickets for both emails and chat. The second phase, and one of the most successful, was the implementation of the Zendesk Guide and chatbot after six months. Again a small team implemented this, creating a lot of knowledge base articles and training the chatbot.
The third step occurred last winter with the integration of Zendesk to EBP's own accounting system. This allows the company to see ticket information from within the accounts system. ET asked Leclercq whether this was a product that the company will look to sell on as an enhancement to its cloud ERP solution. At the moment it is not productised and they do not sell it to their customers.
This summer they will enable CTI (Computer Telephony Integration). Each call will automatically create a ticket. This will automate much of the ticket creation process when the support interaction is initiated via a phone call.
The fifth phase will be to extend the solution to the sales team in November 2019. ET asked him about the Duet announcement but he stated : "We are not ready to choose to a CRM".
Change management key
Leclercq stated "change management" as the key challenge within the project. However, everything from the phasing to the communication seems to address that point. Coming from an Outlook based solution Leclercq added that "Anything is better".
As an IT company, it is little surprise that EBP used an internal team to do most of the implementation work themselves. They used Zendesk consultants to advise on best practice. It demonstrates that if a company is willing to change its processes to suit the best practise of the software they are using, an implementation is often a lot smoother. Zendesk also trained the trainers and EBP now have their own trainers to deliver any future requirements.
ET asked Leclercq whether he would do anything differently if he did a similar project. He replied: "We would implement sales team before. Today service teams are well equipped and sales teams are not. We do not have the same point of view for the customer the Sales persons cannot see the tickets."
Has it made a difference?
The initial roll out significantly improved the both internal employee and external customers satisfaction. However, it was the implementation of the chatbot and knowledgebase that has fundamentally changed things. Leclercq stated: "We have incredible statistics for knowledge base. When we launched the guide we had 160 articles and 18 videos. Eleven months later, today, we have 1152 articles and 82 videos.
"Since December the number of queries on the guide is higher than the inbound calls, we have had around 150,000 queries (to the knowledge base)."
The main benefit Leclercq explained, is that on Monday morning staff do not come in to a queue of messages from the weekend. The chatbot answers and closes many of the calls and the remaining are already prioritised and assigned to service agents. Before Zendesk there was a manager assigned to triage queries because there was a single mailbox that received them all. This also means that EBP have a far better view of resource requirements, enabling them to reassign technicians as required.
On Zendesk Showcase
EBP now have 290 enterprise Zendesk user licenses and is clearly an advocate in what is a growing, but small, user community in France. This was one of the things called out as a reason by Leclercq for attending the event in London. He commented when asked about why he was attending: "News about product, good tips from other users who are more advanced compared to us.
"In France there is not a huge community so difficult to find those users. In France we have one competitor, Sage (that uses Zendesk)."
Leclercq clearly feels that the fierce competition between them means that conversation between the two organisations are limited. The product news that stood out for Leclercq was not Duet but Content Cues, one of the new administration tools for Guide Enterprise.
Finally ET asked Leclercq on his views on Zendesk now he is a customer. He answered: "They are really motivated to become a huge actor of the conversational tool tomorrow. They can be a hard competitor to Salesforce, they have a real advantage they know the first key point is to be customer centric and intuitive, Salesforce is not, Salesforce is too heavy and too big to keep that agility."
On EBP
EBP is a company in transition. It has reinvented its service desk with the help of Zendesk. It is now in the process of reinventing itself as a cloud company. In 2013 it had zero per cent revenue from SaaS. That figure is now 20% and growing fast. The aim, according to Leclercq, is to reach 50% within three years.
It is taking a more modern approach for cloud and now tying itself to a single vendor. Initially it launched on Azure, two years ago it also hosted its applications of AWS. Now discussing a deal with Google. One of the reasons may be its international expansion. Leclercq informed ET that it is looking at expanding into Africa, notably those countries that have accounting systems similar to the French standards. This is not only the North African countries such as Morocco but also 14 countries in West and Central Africa that were once French Colonies.
EBP is poised for expansion at the right time. While Intuit, especially, are looking to grow its market share, EBP has reorganised itself to defend against newcomers, expand its share against legacy vendors, and compete against its main rival Sage.
Enterprise Times: What does this mean
EBP is a company in transition. Zendesk has them on this journey. What is interesting about the implementation of Zendesk at EBP is that it is staggered. This has not only simplified the change management process that EBP went through, it has also delivered understandable and measurable results. The support teams have identified the advantages of the Chatbot in conjunction with the knowledge base, rather than obfuscating it as part of larger project. This has allowed Leclercq to invest where it will most benefit the company as it looks to future growth. One might say that Zendesk has revolutionised the support function at EBP, radically changing and improving it over several months.