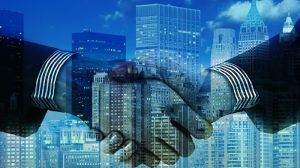 A collection of innovative law firms and technology companies have agreed to work together to further the launch of a public, permissioned blockchain network, the Agreements Network. This seeks to redefine how legal products and services support the networked economy.
"As the world moves ever further down the path of digitization the legal functions of most businesses are being forced to migrate and update their systems," stated Casey Kuhlman, CEO of Monax. "This is, fundamentally, a good thing. It will eventually reduce errors, increase certainty, decrease risk, and streamline operations at a core level."
The participants
The law firms partcipating include:
BakerHostetler
LegalBono
ErdosIP
Joining them will be tech companies:
Clause
Crowdcube
LexPredict
Libra
Mattereum
Monax
Rymedi
TransparentNode
Wolfram Blockchain Labs
In combination this collection of organisations should bring practical and innovative tech solutions to life.
The Agreements Network
The Agreements Network is a new tool for delivering legal know-how to the market. In a networked economy, legal contracting:
happens less on paper
moves to devices and software.
Using the Agreements Network, lawyers and companies can design and operate contracts to perform legal tasks, including:
contract management
collecting, storing and proving evidence.
The Agreements Network's legal reference layer is a novel tool for tracking important information like chain of custody for assets. It also supports creation of new products that may yet transform legal contracting in the years to come.
The Agreements Network founding participants will collaborate to:
validate, refine and test operation of the technology
address the issues which will facilitate adoption and scaling of 'legal product' solutions geared to meet the explosion of demand for legal 'smart contracts'.
Enterprise Times: what does this mean
'Legal products' augment traditional bespoke legal services. 'Legal products' work by executing simple legal functions automatically at the network level. They are then available for marketing and sales across a global peer-to-peer network. Complementary 'legal products' may also bring innovation and opportunities to:
lawyers
clients (who may find a more diverse and competitive marketplace for all consumers).
If ever there is a logical place to 'test out' smart contracts and blockchain it is in a legal context. The Agreements Network is certainly this.
For Enterprise Times the success, or otherwise, of the Agreements Network will be judged on two criteria:
does it work for lawyers and clients as a service?
will it prove, or disprove, the smart contracts concept?
Watch for developments.