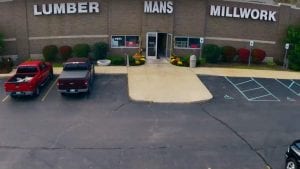 Epicor has announced that Mans Lumber and Millwork has replaced ECS Pro with Epicor BisTrack. The decision to do was spurred by differential in investment that Epicor is making between the two applications. While Epicor still supports its legacy solution, it was keen to highlight at its annual conference earlier this year that companies should consider upgrading to its most modern applications. These are where they are making investments not only in specific functionality but also in integration with supporting modules such as analytics.
Like many LBM businesses, Mans Lumber has been through some tough times since it was founded in 1900. In 2005, just before the housing bubble burst it employed 210 workers across five locations with sales of $85 million. Within a few years sales had plunged to $20 million and the employee count to 60. It has since started to rebuild its fortunes with 135 employees across its two locations.
It needed to invest in new software but sensibly focused on the outcomes it was looking for rather than purely functionality. Pete Mans, Vice President of Operations, Mans Lumber explained what they looked for in the new software: "The biggest question for us when looking to change software solutions was, 'Will this investment be better for our customers?'. After educating ourselves on what BisTrack software could provide, the answer to that question quickly became, 'Yes'. "
Improving operations at Mans Lumber
In moving to Epicor BisTrack Mans Lumber expects to improve operational efficiency around inventory control, customer services and especially pricing. Anna Motschall, CFO, Mans Lumber commented: "I'm optimistic that BisTrack software will help us refine pricing. Currently, we use a lot of special price lists which are very reactive to market changes. By having up-to-the minute data, we'll be able to keep our prices at par with the market and increase our revenue."
What isn't clear is whether Mans Lumber will deploy Epicor BisTrack on-premises or as a cloud application. However, Epicor software now has a single code line for its applications. This makes it easier to upgrade in either environment as new releases are unveiled. In addition to the pricing improvements Motschall also believes that BisTrack can help the organisation in other areas. Motschall added: "BisTrack software will help us be more organized, more professional, and allow us to focus our resources on the right things. Whether it is with concentrating on customers, inventory, or operational inefficiencies that spread us thin."
What does this mean
These are the kinds of deals that Epicor needs to accelerate. It has taken a while for Mans Lumber to decide to refresh their business software after the housing slump. However, they can now reap the rewards of doing so. The company can now leverage far greater functionality from the move to BisTrack. This includes analytics, ecommerce, online account management and mobile functionality.
Kevin Hodge, senior LBM product director, Epicor Software commented: "We are pleased to have Mans Lumber join the extraordinary lumber and building materials (LBM) client base that is continuously demonstrating growth through their use of the BisTrack solution. It's proven that investment in new, robust technology leads the way for increased profitability, enhanced customer satisfaction, and business growth."
Mans Lumber are ahead of the curve, a recent IBISWorld report indicates that conditions, despite the underlying improvements in the construction industry, are still volatile. There is a lack of reinvestment in modern technology. The dearth of workers is another issue.
A Roland Berger Focus report stated: "A workforce shortage has consistently plagued the sector with 56% of homebuilders reporting a shortage of labor on projects.". LBM businesses need to reconsider their investment decisions. In making efficiencies in technology in store they can free up workers to carry out more installations.
For Epicor this is one of many customers they need to convince to upgrade to their most modern platform. It is a challenge that will take time. Competitors such as KCS are actively looking to convert Epicor customers. Success at Mans Lumber will demonstrate that a company run by four generations of the same family can modernise and thrive on Epicor BisTrack. Others may get closer to their decisions on replacing ECS Pro and other legacy solutions.