Sales Enablement by Byron Matthews and Tamara Schenk does what the title says.  The authors are experts in their field. Byron Matthews is the CEO of one of the best known sales consultancies Miller Heiman and Tamara Schenk is the Research Director at CSO Insights, itself part of the Miller Heiman Group.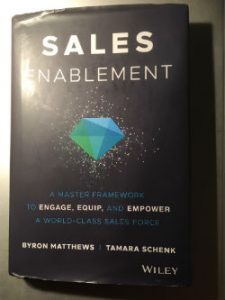 This book should become the must read book for Chief Revenue Officers and CEO's for any sizable company.  Having said that, as a small business owner there are some useful lessons that can be picked up for SME's. While the Clarity model, shaped and faceted like a diamond, is a good basis for many companies there are some elements a smaller company might find harder to apply. If the authors consider a second edition, and they should, a chapter with examples that relate to smaller organisations would be a useful asset.
The book itself is divided into five parts. Each has an introduction that describes its purpose. In addition, chapters end with questions to consider and an immediate action the reader should perform.
Introduction
This lays the groundwork for the book in terms of how the sales organisation in the modern enterprise should work. One might have expected this to include the definition of sales enablement but this, arguably correctly, is left to the next section. The authors also consider the wider organisation to be part of the sales organisation. They do not go as far as Daniel Pink's view in To Sell is Human, that everyone is involved in sales though.
Laying the Foundation
This chapter defines sales enablement clearly at a high level. It then describes the Clarity Model. The model is focused on the customer and draws different facets together providing a framework for companies to follow. Fundamentally the sales enablement function should orchestrate the sales process.
Enablement Services
The section describes the different services that Sales enablement should help to orchestrate. The authors are clear, quite rightly, that they are not responsible for delivering them always.
The chapters relate to content, training, coaching and a chapter in delivering constancy through value messaging. It delivers practical steps and recommends the creation of a playbook, giving a framework for the document. This is to help ensure that content is used correctly through the sales process. It also touches on AI and paints a future vision that is nearer than one thinks but does not cover the subject in any great detail.
The Inner workings of enablement
Where to go from here: This is probably the weakest chapter. Not because the content is poor, but because the section could have been a book in itself. The section on IT Tools is interesting but barely scratches the surface of what is available. It also approaches the subject of IT enablement from a functional point of view.
The risk is that this promotes shadow IT leading to a hairball of solutions. Companies should also consider their software architecture as a whole before making commitments that can lead to later integration issues. The final chapter in this section, on measuring results, has a number of key takeaways about both subjective and objective metrics.
Where to go from here:
Refreshingly this is not a plea to call Miller Heiman but delivers practical advice on how business leaders can assess their own operations. Having said that the final and immediate action recommended is to download an assessment tool from the Miller Heiman website.
Summary
Regardless of the final closing statement this book provides a comprehensive guide to a function that is becoming increasingly important in organisations. It includes practical advice, sample documents and some excellent insights.
The book could be improved with a few more anecdotes, not just positive ones but those that highlight what bad looks like. One might have expected that over the years the authors will have seen what can go wrong in sales enablement and such anecdotes would have brought some points home better.
The book is well written and easy to read. At 217 pages it is also not too long. Importantly, there is little in the way of padding within the book and it leaves the reader wanting more.  It does deliver insights and practical advice.
For some though the idea of taking the book and applying it within their organisation will be too big a step without advice. This is where Miller Heiman Group will be happy to fill in the gaps one suspect. Other sales and solution consultancy companies exist.
Note: Enterprise Times were sent a complimentary book to review.
Buy at Amazon.co.uk
Buy at Amazon.com