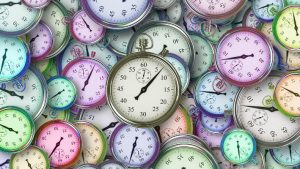 A year ago FinancialForce announced that it would no longer invest in developing its HCM solution.
This, as Enterprise Times called out, was a brave decision that Tod Nielsen made to allow the company to focus its attention on Financials and Professional Services Automation (PSA). It also formed a strategic alliance with ADP to migrate its existing US based customers to Workforce now and develop HCM integration with its software. It has now issued an update.
Are customers moving?
FinancialForce boldly announced that 57% of its HCM customers "have migrated or expressed strong interest in migrating to ADP." Several of these customers, according to FinancialForce CMO Fred Studer, have already migrated. The press release mentions two of them. Of the other 43% there has only been a low attrition rate with several companies investing in premium support. This allows them to defer their decision until 2022 when FinancialForce will sunset the product.
This number is up from November 2017 when FinancialForce stated:
"Over 35 percent of FinancialForce's HCM Cloud customers have migrated or expressed interest to migrate to the ADP partner solution."
At that time Rebecca Heyman, Product Strategy Director commented: "The customers who are not yet migrating to ADP are taking their time to decide and many are staying the course until we sunset the product in March 2022. There's still plenty of time and therefore not an urgent rush for customers to be spurred into making final decisions."
It appears therefore that several have made the decision which is good news for the partnership. However, these numbers are US customers and there is still no news for either Australian or UK HCM customers. Enterprise Times asked Studer about what they are doing in Australia in UK. He answered: "We have not yet decided on a strategic partner, we have worked with several companies and will continue to do so.  There are several companies that offer HCM compatible product, one of those is XCD who we continue to work with."
Johnny Ola, vice president, Global Alliances and Business Development at FinancialForce commented: "Our partnership with ADP has exceeded expectations, giving migrated customers a broader array of HCM services…Customer interest in our joint solutions continues to accelerate because of the value they deliver. We're proud of our partnership with ADP and we are committed to further innovations to support our customers."
What is convincing those extra customer to start investing in ADP? FinancialForce have announced some of the development work that both it and ADP have worked on over the last year.
Good things come to those who wait
True software integration takes time. There has been a distinct dearth of announcements over the last twelve months about the integration. However, the project was approached with a sensible degree of caution. First a roadmap was agreed that will benefit the three important parties: FinancialForce, ADP and most importantly FinancialForce customers. Ola commented: "Customers are at the heart of everything we do."
Early adopters seem to agree. Richard Tolocka, vice president Technology Operations at Phase 2 Technology commented: "Integrating our PSA and HR systems has created predictability and efficiency in a key process for us: getting new hires up and running quickly, and getting them scheduled and billable on client work as soon as possible. The ability to keep financial data about each resource in sync across two systems is a game-changer."
The new integration between ADP and FinancialForce applications are available as part of the Spring 18 release. The new features include:
Single Worker Record from ADP Worker to PSA Resource
The ADP employee record now acts as the system of record for FinancialForce personnel data. The integration means that employee records within the Salesforce platform is maintained by ADP for new hires and any data changes. This is an important first stage. FinancialForce acts as a subscriber to ADP using REST API's. This means that data undated in FinancialForce is not automatically transferred to ADP.
The system has customisable field mapping capability which allows companies to configure their systems appropriately. While more than fifty fields are carried across including 15 customised fields skills are not replicated. This is mainly due to the specific work that FinancialForce is carrying out in its skills capability solution.
Absence automation
Absence management data within ADP is replicated within the PSA tool for resource management. This enables project managers to have complete visibility of available resources within having to key in absence data. It should drive better resource management. This automation of resource elements is critical for improving resource management and thereby utilisation.
One shortfall is that pending vacations are not visible in FinancialForce. This was highlighted in a Q&A session, but during the design phase it wasn't raised as an issue by customers.
General Ledger Integration
DP is one of the largest payroll software vendors in the world. The financial information available in its payroll software is automatically transfers to the FinancialForce general ledger. This reduces the necessity for journals and improves accuracy for financial reporting. There are again some limitations with this integration, but FinancialForce have or are looking to create work arounds.
Only journals are created. There is currently a limit of 1800 journal lines for each journal. FinancialForce split a bigger journal up into multiple balancing journals automatically. Thus eliminating much of the work that companies need to do. Journal line type only default to GLA line type, bank line types are not yet available.
The roadmap is not finished and more features will become available in the future.
Mutual software usage increases
FinancialForce uses ADP HCM software and will extend its use of the HCM solution further later this year. ADP have started to implement the FinancialForce PSA solution to consolidate its project resource management for its embedded services division.
Adam Bush, vice president, Client & Associate Innovation National Accounts Services at ADP commented: "Successfully delivering our FinancialForce integrations on time and as expected gives ADP the confidence that we are partnering with the ERP market leader. We implemented PSA to run the ADP service business, and are confident that the relationship between our two companies is unparalleled in the industry."
What does this mean
This is one of the most significant plays for both ADP and FinancialForce. Now that there is greater integration between the two products it will be important to see whether ADP is able to penetrate the Salesforce market and disrupt the agreement between Workday and Salesforce in the US. It will at least give the customers choice. A joint go-to-market approach is now possible and FinancialForce, with a mature HCM product such as Workforce Now could see more opportunities.  They may also bring on board some ADP partners as well.
Importantly FinancialForce have created open API's while working with ADP. This means that they can also integrate to other payroll and HCM solutions. For companies that have to export, manipulate and import payroll data into journals this is functionality that will appeal. Customers not using ADP may look to create integration to FinancialForce for other solutions which might in trun lead to more partnerships for FinancialForce.