Enterprise Times attended the Infor Financials Customer Day this week in London at the Stock exchange. The audience was treated to a packed day that included presentations about  SunSystems, Infor Expense Management, Infor Birst, Infor Treasury Management, Infor Enterprise Management Asset (EAM) and Infor d/EPM.  There were also presentations from Carol Fitzgerald Tyler, Global Senior Practice Director – Organizational Change Management at Infor. Enterprise Times also recorded a podcast about the state of change management that will be published at a later date.
SunSystems is one of the products that seems to have taken a back seat in the Infor strategy in the last few years. While it was one of the first systems hosted in the cloud it hasn't made the full transition to an Infor CloudSuite. That is about to happen. Tariq Hawa, Product Manager – SunSystems at Infor revealed the upcoming changes to a very engaged audience.
The audience highlighted one of the issues that Infor has with its legacy customer base. They are a conservative bunch and don't want to move to the cloud. Much of the reticence is due to functionality available within the on-premise application which is not available in the cloud due to security reasons.
In many cases there are alternatives though. For example, CloudSuite will not offer a direct ODBC connection but customers can integrate applications using Infor Ion API's. This is something that Infor will need to improve their communication on. Another is that many in the audience appeared to still use Excel with macros, something that Infor quite rightly sees as a security issue. It is a problem that won't go away, perhaps until the roadmap is realised.
SunSystems roadmap
Hawa was keen to point out that SunSystems is now part of the Infor OS. This brings several advantages to the product as it will become integrated with other Infor solutions.  There are plans to integrate Infor Birst, HCM, HMS (Hospitality Management) and CRM from 2019. The integration of Birst may see some customers adopt the powerful BI tool and rethink their reliance on spreadsheets.
In the second half of 2018 SunSystems will also see improved localisation for Spain and the UK. The latter will deliver Making Tax Digital (MTD). It wasn't clear whether this was just the VAT reporting for 2019 or the or the wider taxation requirements. It is also adding Hungarian, Bulgarian and Greek language packs as Infor look to extend the 9,000 customers it already has in the mid-market to other regions.
It will also enhance the ION Workflow in the system delivering the platform functionality that should see SunSystems better compete in the cloud ERP mid-market.
Hawa also unveiled the updates that will be seen in SunSystems 6.4. These include:
Additional procurement enhancements: Includes work delegation, email notifications, Invoice work queues and extending approvals through ION Desk for purchase orders and invoices.
Intercompany postings: The ability to generate intercompany company postings across business units. These can also be carried out direct through the Ledger entries or Sales order functions. There is also the ability to transfer inventory between companies
64-bit support: This is the first 64-bit version of Infor SunSystems and helps with scalability of the product.
Infor API adoption for Infor OS: This include integration with Coleman AI. This first phase will add chat-based queries for certain tasks. It will also add the ability for customers to create Apps using Mongoose and exposed API's
Hawa also revealed that the development of Infor Q&A will come back under the SunSystems development team. It is another indication that Infor are now increasing the importance of SunSystems within its portfolio.
Infor becomes more vocal on security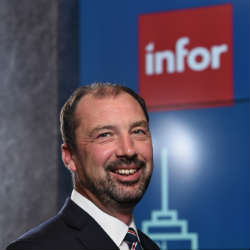 Hawa also revealed that Infor will improve vulnerability scanning and further strengthen security. This was a theme also highlighted by Phil Lewis, Vice President, Solution Consulting EMEA at Infor during the earlier keynote. Infor are now one of the few ERP companies talking in more detail around what its platform delivers in terms of security. It is something that Enterprise Times has been asking vendors to share for some time.
The Infor platform provides a common security model for an increasing number of its solutions. That model includes:
Single sign on
Security settings by Users/Roles/Groups
Auditing and Monitering
Risk & Compliance
Insights
Lewis also commented that Infor uses an ethical hacking team that spend their time trying to break into the Infor products. This is a very sensible approach and companies should take a level of confidence from this. Customers need to be asking their vendors what they do to test and ensure better security. At the same time, ERP companies need to be more willing to talk openly about how they are protecting customer data. With recent legislation such as GDPR there is an increased focus on security as a differentiator.
What does this mean
As a customer day this was a well-attended event. Infor also set aside times for attendees to have a Q&A session about features, opening up the debate on the product to a wider audience that just its customer councils (or equivalent). Sensibly this was at the end of the day so customers could see the current roadmap and upcoming features and highlight the ones they want to see added.
For customers that still want to stay with their older version, Infor is still maintaining the product. It highlighted though that Oracle will no longer support older versions of Java from January 2019. That and other support issues will eventually push companies to upgrade to more modern and potentially cloud-based versions of the solution.
Lewis spoke about the Infor platform in a message that is maturing rapidly. There is now a clearly defined integration strategy for GT Nexus as well as Birst. While the acquisition of the first was earlier there wasn't always an understanding of how it would fit into the wider set of Infor applications.
Infor has won some significant deals in the last few months and is continuing to win across several sectors. Many of these wins have been in retail and manufacturing can the reinvigorated SunSystems start to regain market share again?