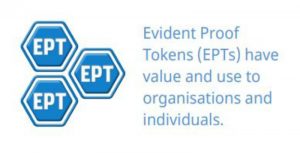 Evident Proof has launched an Ethereum-based blockchain and token-based service (to use Evident Proof Tokens or EPTs) to 'make' evidence immutable, thus providing proof chains. It envisages a platform which will enable individuals to provide proofs of personal activities and data. In its vision it will offer control of who sees these proofs and when.
In this context Evident Proof hopes its solution will transform the the storing and storage of proof chains. Key to this is the use of incorruptible logs as part of immutable proof chains held in blockchains.
This approach:
transforms data storage
provides indelible evidence
meets compliance, provenance and other data verification requirements
creates data from which new ways to generate wealth (from data transactions) is possible.
"The amount and value of data in the world is growing exponentially, while compliance requirements are growing and becoming more stringent and the ability to prove provenance is increasingly important. We recognised that the tools previously available to address these issues had limitations and saw a critical need for a service that would provide immutable, unhackable proof securely, efficiently and cost effectively," said Adrian Clarke, CEO of Evident Proof.
Proof of evidence blockchain
The service provides a provenance record where it is not possible to alter, destroy or falsify data. With such dependability, accessible to third parties, it is possible to inform lawsuits. But the implication could go further, by enabling:
the identification counterfeit products
the extraction of business intelligence at a granular level.
For example, data owners who store digital records on the Evident Proof platform, will be able to request proof certificates which provide evidence of compliance or provenance. In turn these can be used for:
dispute resolution
court-ready evidence
anti-counterfeiting measures.
Evident Proof
The Evident Proof approach derives from its founders with work at the UK Microsoft Technology Centre. There they with Microsoft to see if they could create an immutable, unhackable and 100% verifiable database using blockchain and Ethereum.
The Evident Proof service works by encrypting digital records that are delivered to the platform, and immutably storing them on the system's proof chain. Data owners, or permissioned third parties, can then request proof certificates when verification of provenance, authenticity, or compliance is needed.
The mechanism for requesting proof certificates is the Evident Proof token, which is only generated at the point that data is stored on the platform. Tokens are the property of the data owners, who can use them to request proof certificates, to provide permission to third parties to request evidence, or to pay service fees.
The 'proof chain' that Evident Proof has developed is a public blockchain plus a private blockchain. The public blockchain ensures immutability, while the private chain is used to increase speed and as a secondary level of verification.
The implementation approach exploits the Ethereum Blockchain infrastructure, with cloud platform-as-a-service (PaaS) technology, the use of 'Restful' messaging and Ethereum smart contracts. Two domains of architecture exist (more detail is available here):
the Primary Service User Organisation Architecture; although this will vary from organisation to organisation it exposes two elements (by aggregation) as a business function abstraction (of all the user behaviour) and a system software element (as an abstraction of the 'local evident agent' installed into an organisation's IT)
the second architecture is the PaaS, a componentised and optimised architecture of the Evident Token central infrastructure; this approach has a high dependence on established PaaS elements which enables flexibility when choosing and orchestrating elements which in turn will configure and operate via scripted programs.
What does this mean
Evident Proof regards its approach as revolutionary. It asserts "Evident Proof is set to revolutionise this market, and will be holding a token sale in the second quarter of 2018."
Yet it is not the first to suggest the merits. The UK's Ministry of Justice has considered how blockchains might assist the courts and associated processes.
While the relevance seems clear, the mention of the Evident Proof aspiration to launch a token sale opens up different issues. Token sales may be all the rage. But their reputation is not yet for the very qualities that Evident Proof wishes to deliver: dependability, immutability and accessibility. For ET that raises at least an orange flag.