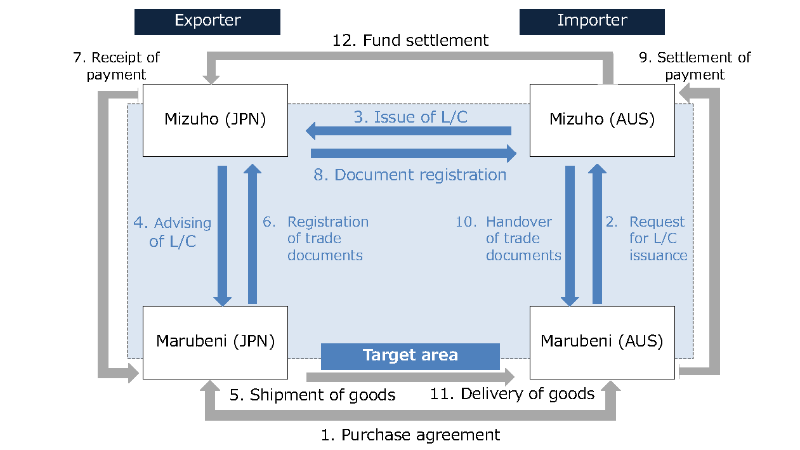 Mizuho started a trade finance initiative using blockchain earlier this year. It has now completed a trade transaction between Australia and Japan in which the participants were:
Mizuho Financial Group, Inc. (Mitzuho)
Marubeni Corporation
Sompo Japan Nipponkoa Insurance Inc.
In this context blockchain is a form of distributed ledger technology (DLT). It utilizes a system of consensus formation among participants to enable transactions to take place even in the absence of a trusted central authority. Because a blockchain is easy to audit, it provides built-in protection against duplicated entries. It is virtually impossible to falsify transactions. As such the technology has a broad number of potential applications across a wide range of fields in the financial services sector. These include:
payments/settlements
securities
asset transfers, such as land registration.
Why does blockchain for trade finance matter?
Trade finance transactions necessitate the communication of information such as country of origin or product details. This varies from transaction to transaction between a large number of parties.
The diversity of information involved has hindered digitization. Conventional processing still requires a significant volumes of documentation. This leads to high costs and administrative work spread across the international trading environment.
The recent project trial involved a trade transaction between Australia and Japan. All trade-related processes, from issuing the letter of credit to delivering trade documents, completed entirely via a digital platform using blockchain/DLT using the following steps (also illustrated above):
Purchase agreement
Request for Letter of Credit (L/C) issuance
Issue of (L/C)
Advising of L/C
Shipment of goods
Registration of trade documents
Receipt of payment
Document registration
Settlement of payment
Handover of trade documents
Delivery of goods
Fund settlement
Benefits and issues
As a result of the project, Mizuho and the other involved parties were able to identify the following benefits and issues regarding the use of blockchain/DLT in trade transactions.
The benefits included:
shorter delivery times for trade documents – reduced from multiple days to two hours
a reduction in the time required to create and transmit documents
reductions in labour and other costs through document digitization
increased transparency for all, by sharing transaction details with all parties
Two primary  issues arose:
it is not possible to transmit trade transaction information in digital blockchain / DLT format to parties who do not use the platform; transactions must be conducted as before
enabling the transmission of the wide variety of information necessary for trade transactions will require standardization of the information needed for trade finance and blockchain/DLT at an international level
What does it mean?
Mizuho has announced this concludes its trial of a trade transaction using blockchain and distributed ledger technology. Despite the issues identified above, Mizuho says it aims to explore further the practical business application of blockchain/DLT in order to offer technologically sophisticated, client-focused services going forward.
But the two 'issues' are enormous in scope and implications:
there is, at present, no way for participants in a particular trade finance operations to work together unless all participants use and agreed on DLT platform; or, put another way, who will establish a common platform (much as SWIFT offers for international bank payments
any aspiration to define international standardisation is likely to move at the speed of glue (and is a goal that has eluded trade finance for centuries).