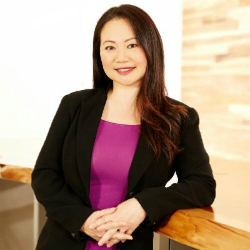 Infor has announced that Mayumi Hiramatsu is to become Senior Vice President of Cloud Operations at the company. Lisa Pope's departure from Infor to join Epicor left a hole in the leadership team that Charles Phillips, CEO Infor has now filled. Hiramatsu is not however taking on Pope's old role as SVP, Global Strategy and Sales. Instead this appears as though it is more of an architecture and operational role, reporting directly to Phillips. Interestingly she will not report to Pam Murphy, the COO who is : "responsible for Infor's Cloud Operations and Infor Labs/DevOps functions."  The announcement comes just before the annual Infor conference, Inforum, being held in New York. Where the dividing line in responsibilities come between these two should become clearer over the next few days.
Phillips commented: "Infor has built one of the largest cloud companies delivering business applications as a service and that business now represents the large majority of our new sales and customers. Mayumi's leadership and deep cloud pedigree and experience will help ensure optimal support for our cloud customers."
Cloud is critical to Infor
The appointment underlines the importance of cloud to Infor and the stake it will have in the future. Phillips has led Infor in its journey to cloud. It still has many on-premises customers using older versions of its software. However Phillips has enticed customers to invest in Infor's cloud solutions with programs such as Lift and Shift. It also launched a cloud financials suite last year and the investment by Koch Industries was a welcome boost.
Hiramatsu has experience at eBay, Microsoft, Cisco, Autodesk and most recently Cisco again leading cloud operations. Her new role sees her in charge of automation, scalability, security and self service capabilities. These previous roles means that Hiramatsu has deep experience in security and scaling cloud solutions. It will be interesting to see how she leverages the AWS platform to deliver her responsibilities.
Internally Infor invested in Cyberbit's Endpoint Detection and Response solution. It will be interesting to see how she extends and improves the available security for customers. As a cloud vendor Infor is the custodian for customer data. It will be aware that while it relies on AWS it also needs to provide additional security layers itself.
There will be a lot of attention on how Hiramatsu reduces operational overhead across cloud operations through scalability and automation. While moving the customer base towards a more efficient multi-tenancy solution she will also want to reduce the maintenance windows for customers. This is an area that competitors are looking to attain zero down time in.
Inforum should provide some of the answers to these questions and it will be interesting to see what the roadmap is for the architecture of the platform. In particular, support for Infor's initiatives in IoT and the M2M given Hiramatsu's significant expertise in these areas.
A champion of diversity and education
Hiramatsu also brings a renewed focus for both diversity and education to the company. The Infor Education Alliance Program has been growing steadily in recent months. Announcements including initiatives in Thailand, France and the UK have followed those in the US at Inforum 2016. Hiramatsu also has an interest in promoting STEM (science, Technology, Engineering and Mathematics) . She was a keynote speaker at 'STEM Innovation Challenge' in 2016 and is also a board member of GirlsInTech. This is a non profit that focuses on the engagement, education and empowerment of girls and women passionate about technology.
Hiramatsu shares Infor and Phillips's commitment to STEM education and diversity. We expect her to work at further expanding Infor's efforts to arm the next generation with critical new economy skills and increase minority representation in technology.
What does this mean.
It is too early to tell what the full remit of Hiramatsu is. Her impact could be considerable. It is a smart move by Phillips to replace Pope with a product leader rather than sales hire. Pope was a big loss to Infor and a significant gain for Epicor. Her work at Infor to promote the CloudSuite ERP was well advanced. That work will carry on and what Hiramatsu can deliver is the expertise to solve the next set of challenges for Infor that Pope's success may have brought. Among these are delivering ERP at scale and integrating different technologies into the platform.
One area not mentioned is development. Hiramatsu started life as a developer at Charles Schwab. At both Cisco and Autodesk she led initiatives to introduce Agile methodologies into departments. It will be interesting to see whether she also influences how the disparate Infor development teams work over the months and years ahead.